---
21 Russian Cities Cancel V-Day Parades As Tit-For-Tat Drone War Heats Up
Russia has witnessed several drone attacks against its territory and infrastructure over the past 24 hours, following the pair of drones sent against Kremlin buildings in the heart of Moscow, which was denounced as an assassination attempt on Putin. 
Separate overnight drone attacks damaged oil refineries in the southern oblasts of Rostov and Krasnodar. The Krasnodar attack involved four drones and caused a large fire, while the Rostov attack resulted in limited damage.  Russia's RT counts multiple recent incidents, detailing: "Earlier in the week, there was a drone incident at another oil facility in the same region, and last week, an oil terminal was hit in the city of Sevastopol in Crimea."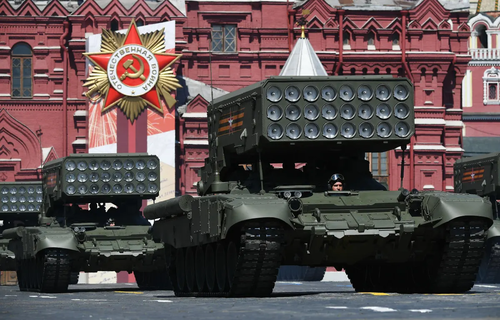 "Kiev claimed responsibility for the latter, stating that the attack was meant to disrupt Russian military logistics ahead of the long-expected Ukrainian counteroffensive."
This flurry of attacks from Ukraine, possibly with help from Western intelligence (as Moscow is currently alleging), has put the Russian population on edge just ahead of planned annual military parades commemorating the Soviet victory in World War II. Last year's events, nearer the start of the war, were also toned down and some of them scrapped altogether.
The 'Victory Day' holiday on May 9th typically involves large military parades in the centers of dozens of cities, but the stepped-up drone attacks have unnerved authorities:
At least 21 Russian cities have called off their annual military parades marking the Soviet victory in World War II next week, the independent Vyorstka media outlet reported Thursday, as the country has alleged a flurry of drone attacks on its territory ahead of a Ukrainian counteroffensive.

...Cities near Russia's border with Ukraine, which have faced repeated shelling and drone strikes in the 14 months since Moscow launched its offensive on Kyiv, will not hold their Victory Day parades.
Already Moscow authorities are taking extreme precautions, which has included sealing off Red Square to the public for two weeks ahead of festivities.
Locations of fuel depots/oil refineries struck inside Russia in the last week:

🟢Sevastopol - 29 April
🟡Volna - 03 May
🔵Il'skii - 04 May
⚪Novoshakhtinsk - 04 May (No images, claim only)
🔴Stavropol - 04 May pic.twitter.com/yyny9uYgUY

— Kyle Glen (@KyleJGlen) May 4, 2023
Some of the westernmost regions near Ukraine had already canceled their pubic events weeks ago, including hard-hit Belgorod as well as Kursk regions. Belgorod recently had four civilians die as a result of Ukrainian drone and missile strikes. It has suffered sporadic cross-border incidents throughout the conflict, given its close proximity to the border.
No-fly zones, including for small drones, have also been imposed over major cities, notably Moscow and St. Petersburg. This as the Ukrainians have gotten more brazen, even as the much-touted Spring counteroffensive has stalled, with the main reason given being the mud and weather factors.
Ukraine is bracing for Russian retaliatory attacks...
Drones over Kyiv downtown, air defense at work.#StandwithUkraine pic.twitter.com/Wr2XliMelv

— Arad Benkö (@AradBenkoe) May 4, 2023
Later into the evening hours Thursday (local time), intense drone activity was reported over Kiev. It seems Russia has initiated a retaliatory response for the Wednesday drone strike on the Kremlin.
Stunning video has emerged of a successful intercept by anti-air defenses over the Ukrainian capital: 
⚡️#BREAKING Video shows air defence taking down drone in Kyiv pic.twitter.com/BZeoJEd69H

— War Monitor (@WarMonitors) May 4, 2023
Air raid sirens reportedly went off in the capital as the Ukrainian population braces for more possible Russian retaliatory strikes, which have already increased in prior days amid reports Kiev could be finally readying its major counteroffensive.
Meanwhile on the ground in Turkey...
Scuffle over the Ukraine flag during the Black Sea Economic Cooperation Parliamentary Assembly in Turkeypic.twitter.com/GzfaI6QQcB

— Citizen Free Press (@CitizenFreePres) May 4, 2023
Loading...