---
At Least 44 Killed In "Human Avalanche" At Israeli Religious Festival
In what's being described as the biggest mass-casualty event in Israel to take place in many years, a stampede early Friday during a religious celebration attended by thousands of ultra-orthodox Jews has killed at least 44 people, with dozens more injured.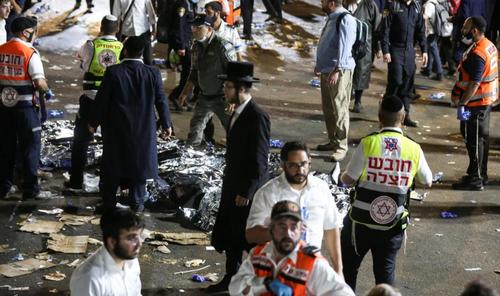 Some estimates put the size of the crowd at 100K people, all of them crammed together starting late Thursday to celebrate the holiday of Lag b'Omer, where they danced and made bonfires around the tomb of a prominent rabbi from antiquity.
Critics have warned for years about the gathering site at Mount Meron - citing its patchy infrastructure that they said could not safely accommodate large crowds.
A video said to be taken just before the stampede appeared to show a mass of people moving in unison to music, celebrating ecstatically.
Thousands of revellers were seen chaotically attempting to flee, as at least 44 people died in a stampede at a religious festival near #MountMeron, in northern #Israel, in the early hours of Friday morning. pic.twitter.com/YY46IKBllX

— Ruptly (@Ruptly) April 30, 2021
Video taken after the incident purported to show rows of body bags.
At least 44 people have been killed and 100+ critically injured at a mass stampede during Lag B'Omer celebrations in Mount Meron, Israel.#MountMeron pic.twitter.com/RHROEB8atr

— 🧢מאק (@beingrealmac) April 30, 2021
Western media outlets like Britain's Sky have incorporated phone video taken from the scene into their reports on the tragedy. Their footage showed debris, including shoes, hats and plastic bottles, littering the passageway following an evacuation of all revelers.
Dozens of people died in the northern Israeli town of Meron on Thursday night after a stampede at a large public gathering to celebrate the Lag B'Omer Jewish festival.
Rescue services say at least 44 people were killed and some 150 hospitalized in the incident.@SkyNews pic.twitter.com/hzvRta1aZt

— Ayub Minhas (@daribaalam) April 30, 2021
According to the New York Times, early accounts of what triggered the stampede varied. Initial reports indicated that a grandstand collapsed, but as more details emerged, it appeared that the crush had started after some celebrants slipped on stone steps leading into a narrow passageway with a metal floored slope, setting off what one website described as a "human avalanche".
Chaim Vertheimer, whom the NYT described as one of the injured, said that the slope had become slippery from spilled water and grape juice.
"For some reason there was sudden pressure at this point and people stopped, but more people kept coming down," Mr. Vertheimer told Ynet, speaking from his hospital bed in the holy city of Safed. "People were not breathing. I remember hundreds of people screaming 'I can't breathe'."
Others described a harrowing scene, with one saying he saw the dead bodies of children among the deceased.
As medics tried to treat the injured amid the chaos, prominent Israeli rabbis remained onstage, trying to restore calm by reading psalms for the wounded.
But as the death toll climbed Friday morning, questions arose about poor planning and negligence surrounding the celebration. Video footage appeared to show a side door that had been locked shut, possibly contributing to the high death toll.
Eli Levy, a spokesman for the local police, told reporters that an investigation is underway, but that it was too early to assign blame or speak of negligence. He also cautioned against drawing conclusions from isolated video clips. Levy added that despite calls to evacuate the mountain, some celebrants had refused to leave or tried to make their way back. On Thursday, before the stampede, the Israeli police said they had arrested two people for disrupting officers' efforts to maintain order at the site, but the police added that forcing people to obey remaining COVID-19 restrictions had been virtually impossible.