---
Lindsey Graham Says Iran More Of A Danger Than Russia & China
Authored by Dave DeCamp via AntiWar.com,
Senator Lindsey Graham (R-SC) railed against Iran while in Jerusalem on Monday. He warned the Iranians were more dangerous than Russia and China and compared the Islamic Republic to Nazi Germany.
"Russia and China are rational actors, even though their behavior is thuggish," Graham said, according to The Jerusalem Post. "Iran is a theocracy motivated by religion that compels them to purify their faith and have the world submit. The Nazis wanted a master race, and the Iranians want a master religion. People like that cannot be ignored."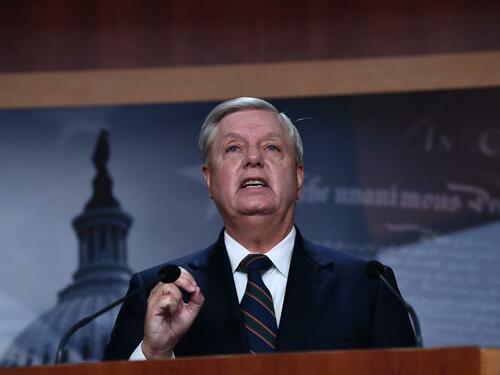 Graham suggested if Iran acquires a nuclear weapon, it could start an arms race in the region, ignoring the fact that Israel has a secret nuclear program. He argued that Israel wouldn't be able to live with a nuclear Iran.
"I guarantee you the Jewish people can't live that way. One Holocaust was enough. There will be war. Why can't Iran have nuclear weapons? Because Israelis say, 'Never again,'" he said.
Graham's unhinged comments come as the US and Iran appear to be close to reaching an agreement in Vienna to revive the Iran nuclear deal, known as the JCPOA. Even though the JCPOA puts strict limits on Iran's civilian nuclear program and makes it subject to the most stringent inspections in the world, Graham is against a revival of the deal.
While in Israel, Graham met with Israeli Prime Minister Naftali Bennett, Foreign Minister Yair Lapid, and Defense Minister Benny Gantz. Graham said he raised the idea of a mutual defense treaty with Israel to send a message to the world that the "destruction of the Jewish state means war with the United States."
Gantz opposed the idea of a mutual defense treaty with the US when it was discussed during the Trump administration, warning it could endanger Israel's freedom to launch attacks in the region. Graham said that he "would never suggest that any defense agreement would restrict Israel's ability to act on their own."