---
Lukashenko Says Wagner Chief Prigozhin Is Now In Russia
Authored by Dave DeCamp via AntiWar.com,
Belarusian President Alexander Lukashenko said Thursday that Wagner chief Yevgeny Prigozhin was now in Russia, raising questions about the deal between Moscow and the mercenary leader that ended his short-lived mutiny.
"As for Yevgeny Prigozhin, he is in St. Petersburg. Maybe he went to Moscow, but he is not on Belarusian soil," Lukashenko said, according to the Russian news agency TASS.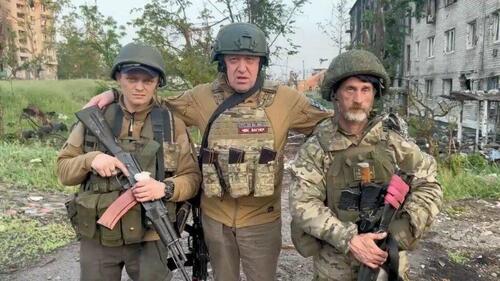 Prigozhin initially traveled to Belarus after the two-day mutiny that took place on June 23 and 24. According to media reports, the understanding was that Prigozhin was going to live in Belarus in exile and that charges against him would be dropped.
Wagner fighters were given the option of going to Belarus, signing contracts with the Russian Defense Ministry, or going home to their families.
Discussing Lukashenko's comments with reporters, the Kremlin said they would not track Prigozhin. "No, we are not tracking his [Prigozhin's] whereabouts, have no possibilities and desire to do so,"  Kremlin spokesman Dmitry Peskov said.
Lukashenko also discussed the possibility of Wagner fighters being deployed to Belarus. Some members of the mercenary force are expected to go to Belarus, but it's not clear how many or in what capacity. Lukashenko said those decisions were up to Russian authorities.
"It will all depend on the decision of the company's management and Russian authorities. If they consider it necessary to deploy some troops [from Wagner] in Belarus for some rest and training, I will certainly execute my order," he said.
The Belarusian leader said that for now, Wagner fighters were at their "permanent base camps" where they withdrew to after the battle of Bakhmut.
Loading...