---
Lukashenko Teases Belarus Hosting Russian Strategic Nukes While Urging 'Truce'
Belarusian president and close Putin-ally Alexander Lukashenko warned in a Friday speech: "As a result of the efforts of the United States and its satellites, a full-scale war has been unleashed in [Ukraine]... a third world war with nuclear fires looms on the horizon."
While his warnings of spiraling toward nuclear catastrophe are nothing new, his call for a truce with no preconditions is something unusual. He urged in the televised state-of-the-nation address, "We must stop now, before an escalation begins. I'll take the risk of suggesting an end of hostilities... a declaration of a truce."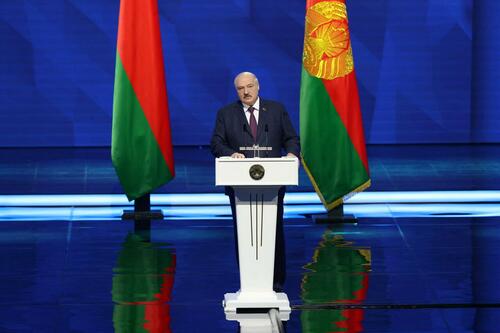 "All territorial, reconstruction, security and other issues can and should be settled at the negotiation table, without preconditions," added Lukashenko.
Last weekend, Russia's Vladimir Putin announced plans to station tactical nuclear weapons in neighboring Belarus for the first time since the war in Ukraine began. Lukashenko addressed this, saying the step is necessary due to "unprecedented" Western pressure on Belarus.
That's when the Belarusian strongman went further, and introduced the possibility of intercontinental nuclear missiles, which would indeed be taken as a huge escalation by Europe and the US.
"Putin and I will decide and introduce here, if necessary, strategic weapons, and they must understand this, the scoundrels abroad, who today are trying to blow us up from inside and outside," he said. "We will stop at nothing to protect our countries, our state and their peoples."
"We will protect our sovereignty and independence by any means necessary, including through the nuclear arsenal," Lukashenko continued. "Don't say we will just be looking after them, and these are not our weapons. These are our weapons and they will contribute to ensuring sovereignty and independence." He suggested Belarusian control over the nuclear weapons stationed on its territory, interestingly.
As significant as this fresh nuclear rhetoric is, it remains that it's somewhat inflated given Russia's nuclear-capable missile arsenal is certainly already capable of reaching locations in Europe, and doesn't need to be deployed from Belarus.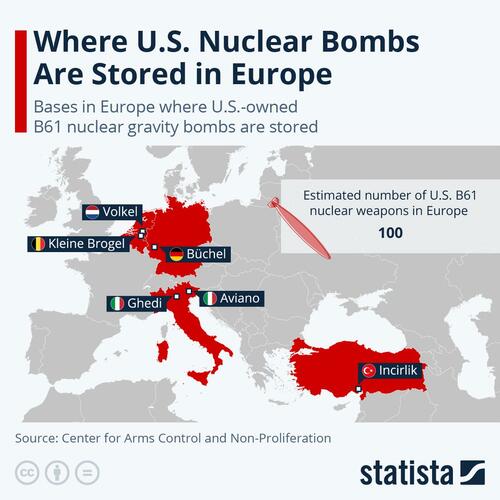 You will find more infographics at Statista
We also recently noted just how close US nukes have been to Russia's borders for many decades now, given the NATO nuclear-sharing program, which has placed US nukes at bases in Belgium, Germany, Italy, the Netherlands and Turkey. The Kremlin has pointed this out, saying this is why it's hypocritical of the West to scream about Russia moving nuclear weapons just across its border to ally Belarus.
Loading...