---
Lukashenko Orders Military To React "Without Warning" If NATO Forces Violate Western Border
A huge rally of tens of thousands draped in red-and-white opposition flags brought the center of Minsk to a standstill on Sunday, in what's become a near daily occurrence for weeks since the Aug.9 reelection of 26-year ruler of Belarus, President Alexander Lukashenko.
Local unrest and clashes with police, however, could easily give way to a major event along Belarus' border, given Lukashenko on Saturday gave his boldest and most provocative order yet. Convinced that "NATO is at the gates" threatening his removal by force, he's told his defense minister to "react without warning" to any potential border violations.
Issuing what's essentially a "shoot to kill" order, Lukashenko said on Saturday, "There won't be a warning. We warned them. If they violate the state border, we react without warning.
Sunday in #Minsk, Belarus: Tens of thousands protesting government & calling on Lukashenko to resign.

Very big rally despite arrests, threats and crackdown from Gov. since election on Aug. 9: pic.twitter.com/oQZcAeVtO1

— Joyce Karam (@Joyce_Karam) August 23, 2020
Reacting to Lukashenko's prior assertions of a US-NATO backed 'color revolution' in progress, during which there's growing momentum within Belarus for him to step down or at least hold new and "fair" elections (amid accusations his reelection to a sixth term), early last week Secretary-General Jens Stoltenberg responded with, "NATO does not pose a threat to Belarus and has no military buildup in the region," according to an official statement.
Belarus' top brass has since claimed that NATO troops, particularly in neighboring Lithuania, are indeed headed toward the border as part of the alleged externally-driven pressure campaign: 
The Defense Minister reported to the President that NATO troops in Lithuania "are approaching the border, turning around and leaving." "But we see them. If on Sunday it is [the movement of forces] in our direction if this happens, then we will act in accordance with the situation," Khrenin said.
Major General Viktor Khrenin suggested further, consistent with President Lukashenko's claims this past week, that the crisis is being coordinated by Washington and it's anti-Russia European allies.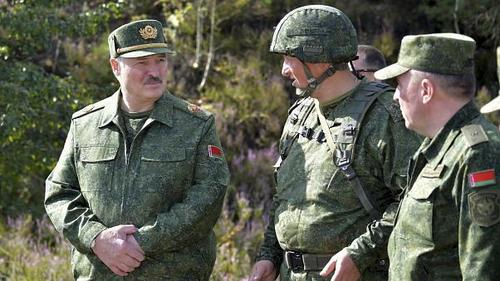 Defense Minister Khrenin said in Saturday statements: "it is possible that destructive forces, supervised by the special services of Western countries, enter the territory of the western regions of Belarus, both by legal and illegal means to increase efforts to destabilize the situation."
NATO has vehemently denied any build-up of forces near Belarus' Western border.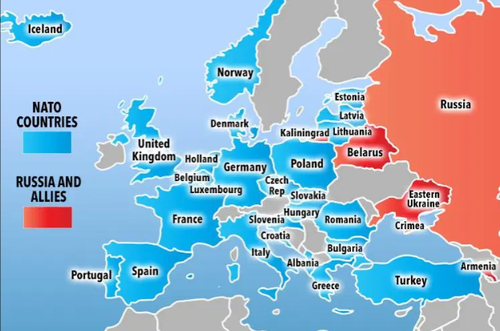 "At the same time, various provocations are possible to violate the airspace and the state border," Khrenin added.
As we've underscored before there seems to be growing consensus that the Kremlin is not wedded to Lukashenko and may be through with him, yet wants a transition in a way that does not create "another anti-Russian, NATO leaning bulwark on its borders".
But certainly any real level of NATO military threat or intervention, which at this point remains highly unlikely (aside from the possibility of "covert support" to the political opposition and people in the streets), would be met with Russia in turn getting more involved militarily along the lines of another Ukraine crisis scenario. The embattled Belarusian leader has already long hinted that Moscow has vowed as much.