---
Macron Says "Prepare For The Worst" In Ukraine After Disheartening Putin Call
On Thursday French President Emmanuel Macron held his third phone call with Russia's Vladimir Putin, coming also on the start of the second week of war. A statement from Macron's office said the call was 90-minutes long, but by all accounts didn't go well in terms of any prospects for an immediate cessation of hostilities in Ukraine.
A Macron aide later told AFP that the French leader "then called President (Volodymyr) Zelensky" in Kiev. After the lengthy talk with Putin, France is said to be "preparing for the worst."
"There was nothing that Putin said that reassured us," a source in Macron's office was cited as saying. Macron reportedly told Putin: "you are lying to yourself" while explaining that the continued invasion will only "cost Russia dearly" and lead to international isolation, as well as economy "weakened under sanctions for a very long time".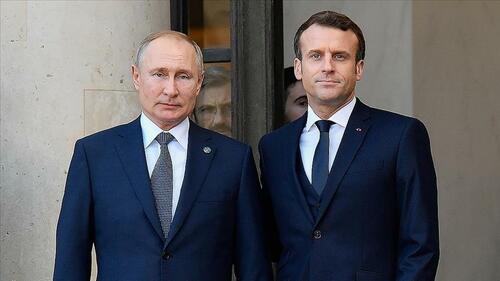 Macron said that Putin showed "determination to carry on operations" - according to a French official commenting on the call. Macron further retorted when Putin described war against a "neo-Nazi regime" that the Russian leader was "deluding" himself. 
Further Putin reportedly denied that civilians were being targeted or attacked during the ongoing operations, or that Kiev is being bombed. Macron replied that Putin is making a "major mistake" concerning his assumptions about Ukraine or its president. 
Putin took the opportunity to reassert Moscow's objections, saying that only if Ukraine enters a state of "neutralization and disarmament". Putin stressed that this can either happen diplomatically, or through the continuation of military operations. Details of the call went public just as the Russian and Ukrainian delegations sat down at a neutral location on the Belarus-Poland border.
Putin is going to need even longer tables.

— Max Abrahms (@MaxAbrahms) March 3, 2022
In the Macron-Zelensky call that followed, Ukraine's leader informed Macron that his country will not surrender, and that legitimate negotiations can't be held with "a gun to his head".
In the midst of the threats and counter-threats, Russia's foreign ministry and even Moscow's ally China has continued blaming NATO for what's happening in Ukraine. 
PRC Foreign Ministry spokesperson again blames US & Nato for Ukraine crisis https://t.co/Kzx9DyuRU2 pic.twitter.com/4kk7z5SX9B

— Bill Bishop (@niubi) March 3, 2022
Putin and other Russian top officials have been warning of 'red lines' for months, centered on NATO military expansion into Ukraine.