---
Pentagon Belatedly Reveals Two Dozen US Personnel Were Wounded In Spate Of Drone Attacks In Iraq, Syria
Update(1910ET): The Pentagon revealed in a late Tuesday statement that in just the past week, US and coalition forces have been attacked at least ten times in Iraq, as well as three times in Syria "via a mix of one way attack drones and rockets," according to Brig. Gen. Pat Ryder, speaking to NBC.
But the real bombshell development, which Biden's defense officials have apparently sat on for several days, is that some 24 US personnel were wounded in the attacks. According to the NBC statement:
Two dozen American military personnel were wounded last week in a series of drone attacks at American bases in Iraq and Syria, U.S. Central Command told NBC News on Tuesday.

The Pentagon confirmed the attacks last week, but the number of U.S. casualties has not been previously disclosed.
"Twenty American personnel sustained minor injuries on Oct. 18 when at least two one-way attack drones targeted al-Tanf military base in southern Syria, CENTCOM said," the report continues. 
It appears all the injuries were deemed minor, given Gen. Ryder described that all personnel returned to duty after being evaluated and threated, and there was no significant damage to base installations. However, in Iraq, "The U.S. shot down the one-way attack drones, but the debris from one destroyed a hanger that contained small aircraft, CENTCOM said."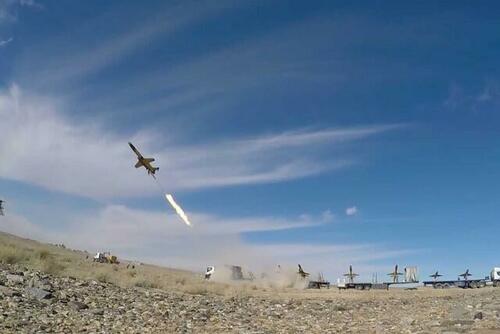 The defense official said that amid the attacks there was a contractor that suffered cardiac arrest and died while sheltering in place, but the Pentagon isn't necessarily considering the casualty to be the direct result of the assault. 
The Pentagon may have concealed the information until now not only to properly account for all the instances and wounded personnel, but possibly to avoid escalating tensions by releasing the news. The Biden administration has vowed to respond 'decisively' if Americans in the region come under attack by Iran. 
The militias operating in Iraq and Syria, believed to be behind the uptick in attacks, are widely viewed by Washington as being supported from Tehran. 
* * *
Update(1550ET): It's never a good sign when the United States says it "doesn't want war" - at a moment a long known geopolitical flashpoint region stands on the brink. Secretary of State Antony Blinken on Tuesday delivered a stern warning to Iran before a UN Security council meeting, saying the US is prepared to respond "decisively" if Tehran or its proxies launch attacks on Americans in the Middle East.
Not only does the Pentagon still have thousands of troops and assets in Iraq, long under the domination of Shia paramilitary influence, but it has up to a thousand or so troops occupying broad oil and gas regions of eastern Syria. Missile and drone attacks on Pentagon outposts in Syria and Iraq have been rising in the last days. But the real concern is on Israel's northern border, where Hezbollah has launched multiple guided missile and anti-tank attacks on Israel border posts, including on Tuesday. 
"The United States does not seek conflict with Iran," Blinken told the UNSC "We do not want this war to widen. But if Iran or its proxies attack US personnel anywhere, make no mistake: We will defend our people, we will defend our security, swiftly and decisively." Russia's President Putin, who since 2015 has stationed major assets in neighboring Syria, just the day prior blamed Washington for stoking "escalation" in the Middle East by moving two US carrier strike groups into the region. 
There are building fears that Iran-backed Hezbollah would launch an all-out war on Israel if the IDF moves in full force into Gaza. The only thing which apparently has stalled these plans is the slow release (so far up to four hostages) of Israeli and American captives by Hamas. Domestic political pressure is also building against the Netanyahu government, led by families who see in Qatari mediated efforts hope that loved ones will be released. Hamas has demanded that fuel be transferred into Gaza via the Rafah border, but Israel has countered that all hostages must be freed first. 
🚨 JUST IN: ISRAEL DOES NOT WANT WAR WITH HEZBOLLAH

"We don't want a confrontation in the north, but if Hezbollah drags us down - Lebanon will pay the price. Hezbollah is playing with fire" pic.twitter.com/Xm6jvu9p2Z

— Mario Nawfal (@MarioNawfal) October 24, 2023
"We call on all member states to send a firm, united message to any state or non-state actor that is considering opening another front in this conflict against Israel or who may target Israel's partners, including the United States: don't. Don't throw fuel on the fire," Blinken said. But the historical pattern has been that when the US moves such huge naval power into the Mediterranean and Mideast waters, it plans to do something with it.
Jordan (and others), have at the same time warned the UN assembly that there's "real danger" of a bigger war which draws in superpowers like Russia, or even potentially China, which also has interests and military assets in the region. 
"We're all doing everything we can to stop it. There's the threat of this expanding into the West Bank, into Lebanon, into other fronts. None of us want that, we're all working against that," Jordan's Foreign Minister Ayman Safadi told the UNSC. 
* * * 
French President Emmanuel Macron has traveled to Israel Tuesday, the latest Western leader to do so, where he's meeting with Prime Minister Benjamin Netanyahu and other top officials in what's scheduled as a two-day trip. He's met with families of the Oct. 7 Hamas attack as well.
He arrived in Tel Aviv just after Gaza's health ministry announced that deaths from Israeli airstrikes have soared past 5,000 killed. Just in the last 24 hours, officials said that 704 Palestinians have been killed. Additionally the ministry has warned that hospitals and medical centers are shutting down at rapid pace, with lack of resources including fuel and electricity. 
Macron, while meeting Netanyahu in Jerusalem on Tuesday, conveyed that the release of the over 220 hostages held in Gaza should be the "first objective" of Israel and its allies. Macron appears to be backing Biden's appeal for Israel to stall the ground invasion in order to provide more time for negotiations. So far, four women have been released from Hamas captivity, including two Americans from Chicago. 
But Macron has also made headlines in proposing that France help provide a military solution. He has offered that France's counter-ISIS forces be utilized for anti-Hamas action. He said his country stands ready "to beef up what we are doing in the coalition against ISIS. We are available to include Hamas in the coalition against ISIS depending on what Israel will ask us to deliver."
Macron said at a press conference alongside Netanyahu that terrorism is "our common enemy". Referencing the Islamic State, he explained, "France is ready for the international coalition against Daesh in which we are taking part for operations in Iraq and Syria to also fight against Hamas." 
Shortly after Macron's proposal grabbed international headlines, an Elysee Palace official clarified that "Not every country is fighting on the ground" and that "Much will depend on conversations we have with our allies." The official stressed that Paris will still seek a "more crucial, more decisive peace process," and added:
"If you want to fight effectively and if you want to have everyone with you, you have to offer a political perspective," the official continues. "We need to know altogether why we are fighting."

"The cause that Israel is fighting for is our cause as well."

...France wants to "consolidate the perspective of a ceasefire. I know it is very delicate to discuss. But we need again to know where we are going to have the instruments available that can bring back peace and stability."
Importantly he stressed that in Jerusalem, Macron asked PM Netanyahu for "clarity about the endgame, the modalities with which you operate, the conditions which you create, your political motivation."
France had previously confirmed losing 30 of its nationals during the Oct.7 terror assault, nine of which are still missing - presumably in captivity in Gaza.
🚨 JUST IN: The IDF has distributed fliers in the Gaza Strip, appealing to Palestinians for information on hostages held by Hamas.

They pledge "security, as well as a financial reward" to those who provide valuable information.

Source: Times of Israel pic.twitter.com/4RjKgQcjuP

— Mario Nawfal (@MarioNawfal) October 24, 2023
The question of "clarity" regarding Israel's goals and strategy is also high on the US administration's agenda. A Times of Israel report this week, commenting on what US officials told The NY Times, issued the following blunt words: "The Biden administration is reportedly concerned that Israel lacks achievable military goals for its operations in Gaza, leading US officials to believe that the IDF is not yet ready for a ground incursion."
Macron's visit, during which time he's seeking "clarity" on objectives, will only heighten this pressure on Netanyahu to convey a clear plan and exit strategy. The fear also is that Israel's military could get bogged down in a costly Gaza fight, leading to escalation and quagmire, including in the north with Hezbollah.
Loading...