Headlines are suggesting it's a "now or never" opportunity to bring the five-year long war in eastern Ukraine to an end, and to initiate a lasting peace. The meeting dubbed the "Normandy Four" summit kicked off in Paris Monday, crucially including Russian President Vladimir Putin and his Ukrainian counterpart Volodymyr Zelensky, and German Chancellor Angela Merkel and France's Emmanuel Macron playing host for the talks.
It marked the first face to face meeting ever between Putin and Ukraine's leader, who assumed office in May of this year, after an unlikely landslide victory based largely on promising to end the war in Donbass and improve relations with Russia.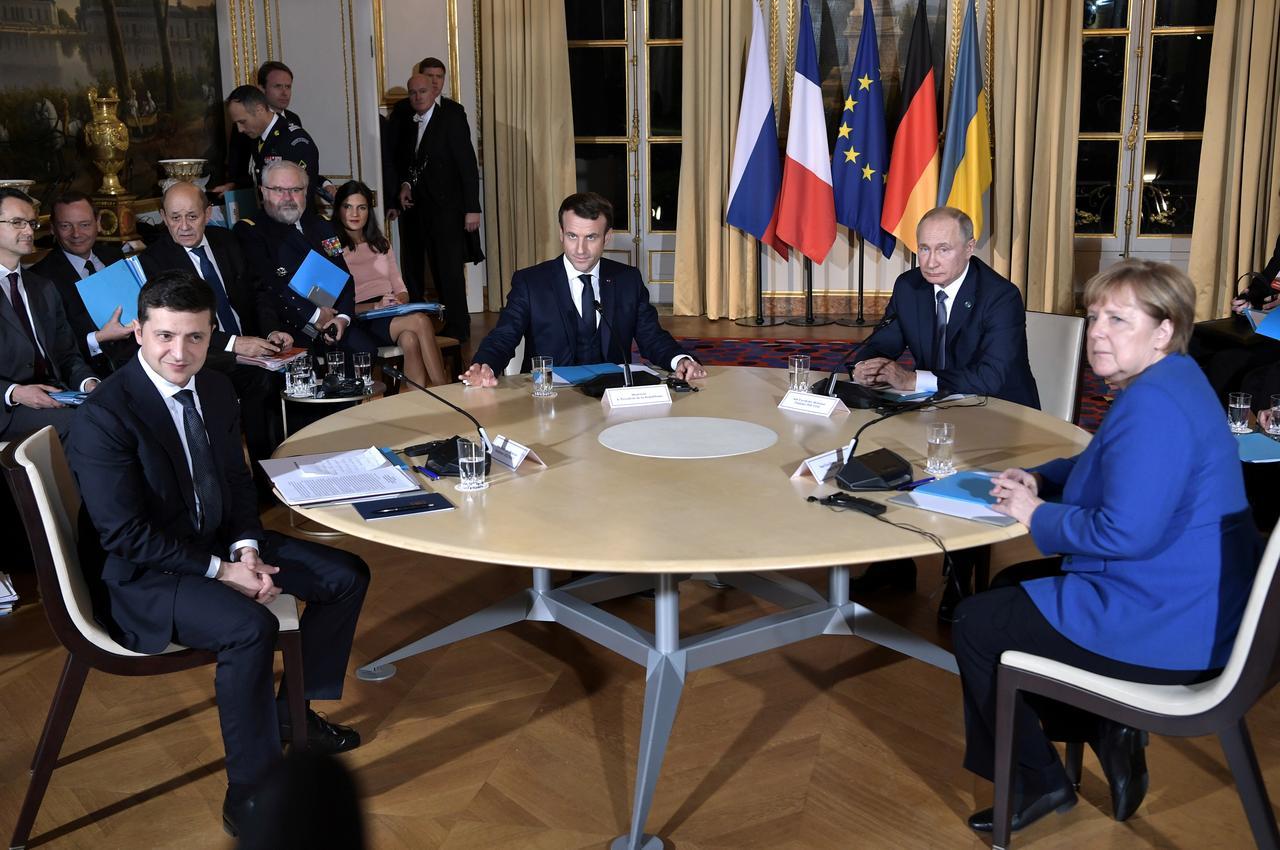 The Minsk agreements brokered with the help of Germany and France have been largely a stalled disappointment in terms of solving the stalemate. 
Though the conflict has been in and out of the headlines, a shocking 13,000 people have died since 2014, including civilians and militants on both sides, according to UN estimates. A further nearly four million people have been displaced by fighting, and a fragile ceasefire is currently in effect in the region.
Zelensky has lately come under fire especially from Ukrainian nationalists over his controversially agreeing to major concessions based on a road map to peace, including holding elections in the Russian-speaking war-torn region; however, he's said "there won't be any elections under the barrel of a gun," meaning pro-Russian separatist militants and their backers would have to lay down their arms for it to work.
The summit kicked off with a few awkward moments Monday, with Putin appearing to give some cues to the lesser experienced Zelensky:
Путин подсказал Зеленскому, что нужно развернуться для совместного фото pic.twitter.com/Q88g9GMQjf

— Кремлевский пул РИА (@Kremlinpool_RIA) December 9, 2019
There have been few significant statements given to the press, as the schedule appears to have shifted, and no 'breakthroughs' on the Ukraine crisis are expected, but it's hoped that the meeting will reinvigorate negotiations potentially leading to a permanent ceasefire. 
But at home Zelensky is facing threats that civil unrest could break out if he says anything seen as giving Putin too much.
Protest underway against tomorrow's talks between Zelensky and Putin in Paris. Crowd probably over 4,000 but not as big or as energized as October demonstrations. Most flags are Ukrainian and the nationalist Svoboda party, which lost in parliamentary elections. pic.twitter.com/yLRvGWUdPw

— Christopher Miller (@ChristopherJM) December 8, 2019
The iconic Maidan square has since filled with thousands of demonstrators Sunday into Monday, with one prominent speaker addressing the crowd with a warning for Zelensky himself: "Your flight will be not from Paris to Kiev, but from Paris to Rostov[-on-Don]. If it won't be tomorrow then it'll be a bit later," prominent news host Vitaly Gaidukevich warned, referencing the southern Russian port city as a potential place of exile. 
Hardline nationalists have promised to effectively overthrow the young Ukrainian leader should he cross 'red lines' in Paris.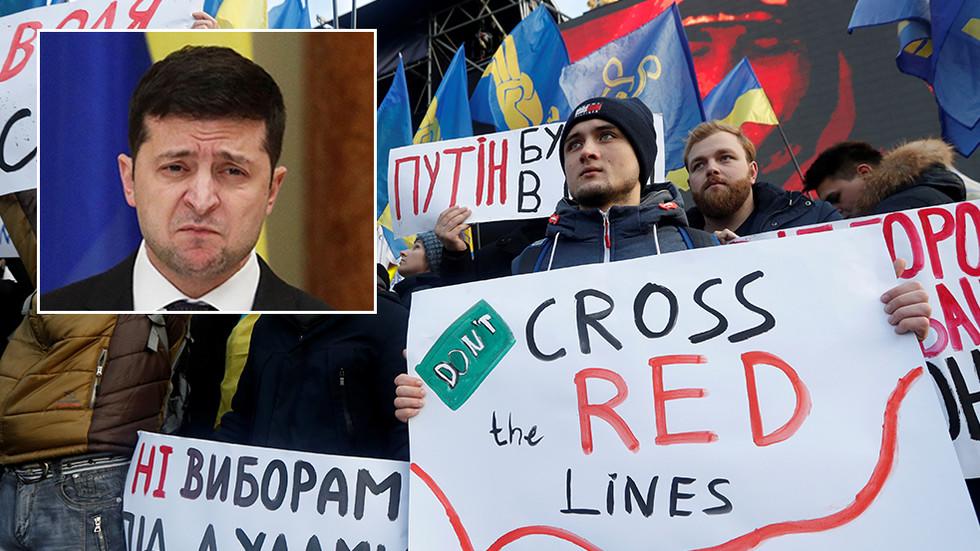 This also as the Russian and Ukrainian leaders are expected to engage in an unprecedented one-on-one meeting later in the summit :
A special bilateral meeting of the presidents of Russia and Ukraine – Vladimir Putin and Vladimir Zelensky – is scheduled for Monday at the Elysee Palace after the completion of the negotiations between the leaders of the "Normandy format" (Germany, Russia, France, Ukraine). This was announced by a source close to the organization of the summit in Paris.
The protesters, in a reminiscent scene to 2014, have demanded that Zelensky not cave to a "peace at any cost" program, including holding the line of 'no compromise' when it comes to "de-occupation" and return of Crimea.