---
Prisons In Uproar As Italy Expands Lockdown, South Korea Reports Huge Drop In Case, Washington Confirms 4 More Deaths Tied To Nursing Home: Live Updates
Summary:
First 2 Coronavirus deaths recorded in Germany
Washington State confirms 4 more deaths, 30+ more cases as nursing home finishes tests
South Korea reports 131 new cases for Monday, a sizable drop
7 dead as prison riots spread across Italy
Italy reports 1,797 new cases, bringing total to 9,172 as deaths increase by 27% overnight, to 463
Santa Clara reports second coronavirus death
3 more deaths confirmed in Washington State
LA reports first case of community spread
De Blasio says NYC quarantine "a possibility"
WHO's Dr. Tedros says threat of pandemic has become "very real"
Confirmed cases near or pass 1,000 in France, Germany and Spain
US deaths hit 22
Canada reports first death in British Columbia
Germany state of Brandenburg has between 4k and 5k in home quarantine
Trump to meet with Wall Street CEOs Wednesday
South Korea imposes travel advisory, confirms another 96 cases; 3 new deaths (total: 54)
Hungary stops flights to and from Northern Italy
PM Johnsons says UK won't close parliament
Trump to hold WH meeting on fiscal stimulus
Italian PM promises "massive shock therapy" to save economy from coronavirus
Amazon asks employees in NY, NJ to work from home
Deutsche Bank cancels 150-year-anniversary celebrations
Dozens of flights leave northern Italy despite quarantine, even as airlines cancel routes
Moody's says US economy headed for recession
Cuomo confirms 142 new cases in New York State, bringing total confirmed in NYC to 19
NY has started making its own sanitizer
Columbia University cancels classes, Princeton moves lectures online
78 new public health labs open across US Monday
Spain PM says he will have 'emergency plan' to tackle outbreak
UK confirms another 45 cases
VP Pence will hold press conference at 5:30ET Monday
Amtrak shutters 'Acela Corridor'
Korean construction worker contracted by US military tests positive
Total number of cases jumps above 9,000 while deaths hit 463
'Grand Princess' docks in Oakland
Another cruise ship disaster might be shaping up in Fla.
Trump congratulates VP Pence via tweet
New cases in South Korea drop as Philippines case total doubles
EUCO President says conference call will be held to coordinate EU response
Germany and France finmins hold talks to discuss crisis
Missouri declares first "presumptive" positive Sunday night; father of patient breaks quarantine
Dutch infections climb to 321
* * *
Update (2145ET): Here's some more grist for a market rally.
Following what has been by all accounts a well-organized and properly orchestrated containment plan, South Korea reported another 35 cases early Tuesday morning in Seoul, raising the total cases confirmed on Monday to just 131 cases.
That brings South Korea's total to 7,513, according to the Korean CDC.
* * *
Update (2130ET): The Life Care Center of Kirkland, the nursing home in Washington State's King County that has emerged as the epicenter of the coronavirus outbreak in that state (how the virus arrived in the home is still unknown, officials say), has finally finished testing the rest of the three dozen or so patients who remain at the facility following a recent outbreak of novel coronavirus.
By Monday, the number of residents remaining at the facility - which recently held as many as 120, and as many as 55 over the weekend -  residents remain at the post-acute care center, which had 120 residents as recently as Feb. 19. Of the 35 residents tested, 31 tested positive, 3 tested negative, and one case was inconclusive.
Shortly after the facility, which is currently being aided by a state 'strike team' of 30 doctors and nurses, announced the testing results, state officials confirmed more deaths and positive tests.
According to KIRO7, on Monday, Public Health - Seattle & King County - announced three new deaths and Overlake Medical Center announced one death, bringing Washington's statewide total to 23. The four new deaths were all Life Care Center residents. The county also announced 33 new cases, bringing the King County total to 116.
Roughly two dozen cases from the nursing home - including residents and staff - have already been confirmed, and more than 16 residents have died. All four of the new deaths in the county confirmed on Monday were said to be associated with the home.
Family members of the facility's residents are furious that its operators didn't close the facility as soon as the first case was detected, and state officials, including the County executive of King County, have attacked the home's Tennessee-based owner for being difficult to deal with.
WaPo's coronavirus tracker, one of the most up-to-date records of cases in the US, hasn't yet factored in the numbers announced by Washington State officials.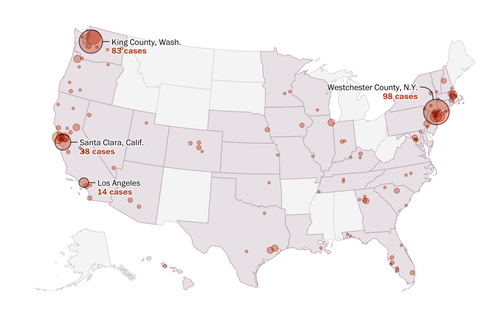 * * *
Update (2000ET): In what was undoubtedly Prime Minister Matteo Conte's boldest moment since rising from relative obscurity to lead a coalition government forged between two ideologically-incompatible parties back in 2017, the Italian prime minister declared during a press conference from the Palazzo Chigi, the PM's official residence, that the extreme quarantine measures leaked to the public just two days prior simply weren't comprehensive enough to suppress the outbreak.
Unfortunately, things have gone too far for that Conte said, and declared, as we described below, a China-style lockdown that requires everybody in the country to basically remain where they are - no traveling - and, for the elderly and high-risk especially, it calls for the cancellation of almost every conceivable activity except jobs that can't be done from home, leaving people with little option but to hang out at home or in small groups (where risks of an outbreak are lower).
Unused to such heavy-handed government, the Italian population has accepted the government's yoke with surprising deference so far. Well, except for one notable group: prisoners.
As we mentioned earlier, prison uprisings that began in Modena have spread throughout the northern lockdown zone. Since this morning, another inmate has been declared dead, bringing the total death toll from the riots to seven, while two guards were briefly captured at a prison in the town of Pavia on Sunday, but have since been released.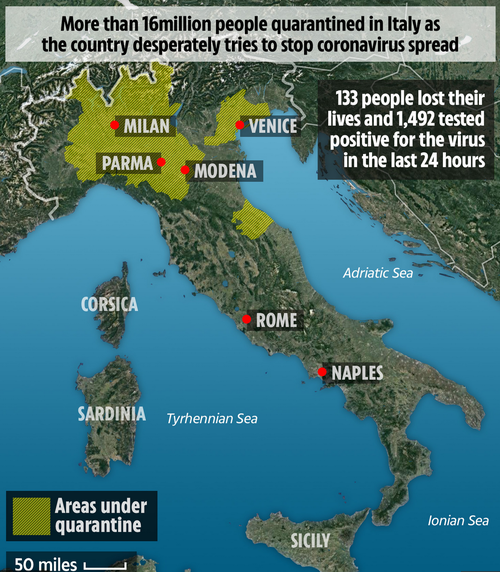 According to Reuters, inmates revolted in Milan's San Vittore prison, taking to the roof and unfurling a banner demanding a general pardon. Moving further South, prisoners in the Tuscan city of Prato set fire to mattresses.
Even further south, riots took root in Sicily and the southern city of Foggia, where a tank was reportedly dispatched to look for 50 escaped inmates (though, as one twitter wit joked, locals needn't worry about the prisons thanks to the quarantine: they'll be stuck inside anyway).
🚨#BREAKING 🚨 #ITALY🚨

The Italien Army has deployed a lot of tanks in the city of #Foggia as around 50 prisioners escaped from local jail. #COVID2019 #COVID2019italia pic.twitter.com/n2b3Pjkve1

— ISCResearch (@ISCResearch) March 9, 2020
In Sicily, inmates rebelled at Palermo's Ucciardone prison, which houses several high-profile Mafia convicts. Fortunately were able to regain control of the situation according to officials.
In Modena, officials blamed three of the deaths on 'drug overdoses' after prisoners raided a prison hospital and stole methadone and benzodiazepines.
Experts have applauded Conte for taking such a bold step, but whether Italians obey the quarantine still remains to be seen. Hopefully, the images of the prisons in chaos instills a sense of duty in them, as they're offered a glimpse of what chaos could like look if things really spin out of control.
* * *
Update (1640ET): Is Italy really trying to beat China at its own authoritarian game?
In a stunning announcement late Monday evening, PM Giuseppe Conte revealed during an announcement from the Palazzo Chigi that he would be expanding Italy's strict quarantine travel restrictions to the entirety of the country, Corriere Della Sera reports.
The restrictions will last for two weeks, and during that time, movement will be restricted across Italy.
ITALY PM CONTE SAYS WILL NO LONGER BE "RED ZONE", ALL OF ITALY WILL BE UNDER SAME CONDITION
ITALY PM CONTE SAYS MOVEMENT WILL BE RESTRICTED ALL OVER ITALY
CONTE SAYS ITALY WILL LIMIT PUBLIC ASSEMBLY THROUGHOUT COUNTRY
CONTE TO SIGN MEASURE TO EXTEND MEASURES THROUGH COUNTRY
The shutdown of schools and universities across the country will be prolonged until April 3.
The unprecedented nationwide quarantine comes as the Italy's new cases soar by a record high 1,797 to 9,172 as the deaths increase by 27% overnight, or almost 100, to 463.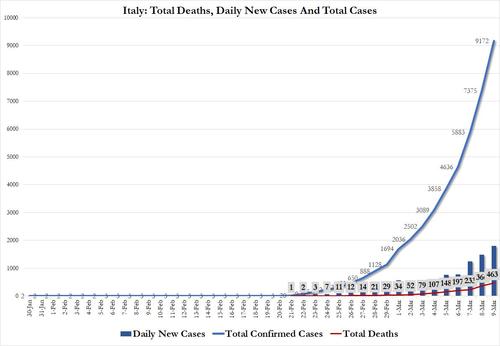 The right behavior now, Conte said, is for people to just stay home.
Pretty soon, this map will be obsolete: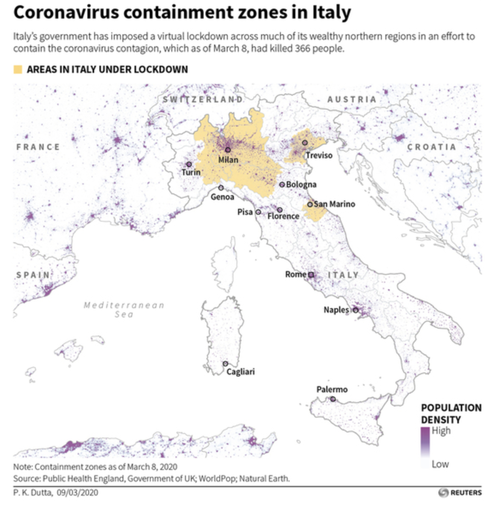 * * *
Update (1550ET): Santa Clara County has reported its second coronvirus-linked death.
The Fulton County, GA teacher diagnosed with coronavirus fell ill while teaching at a middle school on Friday and 911 was called. The teacher had "a lot of contact with students," according to the district. It is not known how the teacher got the virus.https://t.co/vh8efKmR2u

— Steve Lookner (@lookner) March 9, 2020
According to KRON 4, the woman who passed away was in her 60s, and was in the hospital for several weeks before passing away. She was the first confirmed case of COVID-19 in the county who had not traveled internationally, or had contact with an already infected patient, which suggests it was a 'community spread' case.
Overall, she was the third case in the county, and the second death. The two prior had a direct, easily traceable line of transmission. The patient died at El Camino Hospital.
This comes after health officials in King County Washington reported another 3 days earlier, raising the total to 22, along with this death, which raises the US death toll to 23. All of them were residents of the Life Care nursing home in Kirkland.
LA County, meanwhile, reported two new cases, including the County's first case of community spread, while Mayor De Blasio said during an interview with CNN Monday that declaring a city-wide quarantine is a "possibility" as the total number of cases in NYC alone hits 16. The three new cases announced earlier by Cuomo on Monday involved two residents from Brooklyn, and one from Queens.
Back in LA, one of the two new patients had a recent travel history to Japan. The close contacts of both individuals would be traced, LA Times reported. Officials said between 80 and 100 tests have already been run in a local lab.
"It's a possibility but I do think people are getting a little ahead of ourselves and we should be careful," de Blasio said.
He added the school closures also possible.
* * *
Update (1545ET): As we near the end of the US trading day, let's review some important developments from the last few hours.
Qatar has become the latest Gulf State to place restrictions on travel; the tiny kingdom said it would ban travelers from a list of 14 countries. Asian FIFA World Cup 2022 postponed several qualifiers. Saudi Arabia has temporarily suspended land and sea travel to and from Oman, France, Germany, Turkey and Spain on Monday for citizens and residents to help block the virus, a local media outlet reported, per Bloomberg.
Al Jazeera reports that 'bootleg' booze has killed 27 people in Iran after rumors that drinking alcohol could help cure the virus led for a spike in demand for moonshine in the notoriously alcohol-intolerant Muslim nation. A spokesman for Jundishapur medical university in Ahvaz, the capital of Khuzestan, said 218 people had been hospitalised there after being poisoned. The poisonings were caused by "rumours that drinking alcohol can be effective in treating coronavirus," they said. Saudi Arabia has also said it would impose a fine of up to 500,000 riyals ($133,000) on people who do not disclose their health-related information and travel details at entry points
The CDC said earlier that the death toll in the US had climbed to 22, while the WHO pointed out that the US is "under testing."
WHO says mortality rate for COVID-19 is ~3.4%, consistent w/ US reporting of 565 cases & 22 deaths, BUT the US is also *under testing.*

— Bree Newsome Bass (@BreeNewsome) March 9, 2020
As of Monday morning, more than 560 people have been diagnosed with the new coronavirus in dozens of US states, while 22 deaths have been confirmed in the country in connection with the outbreak, with the deaths recorded in Florida, Cali and Florida.
* * *
Update (1445ET): Public health officials in Canada have confirmed the first death tied to SARS-COV-2, better known as the novel coronavirus, which causes the illness known as Covid-19.
The man was living in a British Columbia nursing home. He passed away last night, said Dr. Bonnie Henry during a press conference roughly an hour ago.
Doctor Henry, her voice shaking, just announced a patient passed away last night.

Canada's first death to #COVIDー19. pic.twitter.com/ITPHYuUTe2

— Mike Gibbs🏳️‍🌈 (@Mikeggibbs) March 9, 2020
Two other residents and an employee at the BC facility have also tested positive for the virus.
* * *
Update (1440ET): During NYC Mayor Bill de Blasio's latest update on the coronavirus situation, he reportedly asked New Yorkers to 'consider' working from home, if they aren't already doing so.
Join us at @NYCEmergencyMgt headquarters in Brooklyn with an update on our city's response to COVID-19. https://t.co/FHc5EcCiix

— Mayor Bill de Blasio (@NYCMayor) March 9, 2020
Around the same time, Amazon reportedly advised New York and New Jersey employees to work from home from March 10 until the end of the month if possible, WSJ reports.
In other news, a US Marine who tested positive for the coronavirus in Virginia - one of the first two cases to be confirmed in the state - reportedly worked at the Defense Security Cooperation Agency, which is situated near the Pentagon.
New York and New Jersey offices include employees in marketing, fashion, advertising, cloud computing, plus the company's Audible division.
* * *
Update (1340ET): As the government boosts testing following the imposition of a sweeping quarantine impacting most of the Italian north, for the third day in a row, officials have pointed a more than 1,000-case jump in the total coronavirus infections, and a 25% increase in deaths.
On Monday, officials reported 1,797 new cases, and 93 new deaths.
ITALY REPORTS 9,172 CORONAVIRUS CASES, 463 DEATHS AS OF MONDAY
The new cases pushed the total global case number above 110,000. Earlier, Spanish authorities reported 2 new deaths as the Catalonian health department has confirmed "the death of a 97-year-old man and an 88-year-old woman," bringing the total number of coronavirus-related deaths in Spain to 28.
During its regular press briefing, the CDC announced that 78 labs across the country in all 50 states and Washington DC have been certified to test up to 75,000 people for the coronavirus, according to Dr. Nancy Messonnier, director of the US Centers for Disease Control and Prevention's National Center for Immunization and Respiratory Diseases.
Wall Street execs will reportedly visit the White House on Wednesday to discuss the country's response to the coronavirus and what can be done to save the economy, according to the Washington Post. Trump is supposed to meet with his top economic advisors, including Treasury Sec. Steven Mnuchin, on Monday afternoon with markets back near their lows of the day.
* * *
Update (1300ET): It looks like another troubling cruise-ship coronavirus disaster is shaping up in Florida, one of three states that has recorded fatalities related to the outbreak.
According to CNN, two recently diagnosed cases in Florida are tied to a cruise that recently docked in Port Everglades. Broward County in Florida announced that two of the three presumptive positive cases of coronavirus in the county are related to people coming through Port Everglades. Port Everglades is among the most active ports in the US for cruise ships, cargo and petroleum products. However, the county wont' say more than that: Were these individuals passengers on a cruise ship? How were they exposed.
* * *
Update (1240ET): During the WHO's daily press update, Director-General Dr. Tedros Adhanom Ghebreyesus said Monday that the global coronavirus outbreak, which is closing in on its 4,000th death, is beginning to look like a "real pandemic."
Dr. Tedros said the WHO is "encouraged" by Italy's quarantine, and hopes that these methods will "prove effective" in the coming days. The rule of the game, he added, is "never give up."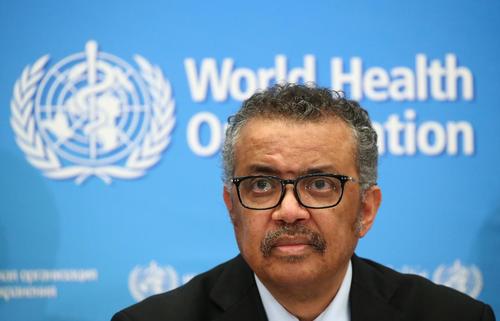 Of the four countries with the worst outbreaks, China is bringing its epidemic under control, and South Korea is now reporting a decline in cases, he said.
Both countries have demonstrated that "it's never too late" to turn back the virus tide. Every country with confirmed cases of the virus has an opportunity to follow in their footsteps, Dr. Tedros said, because so far, most countries are only seeing "clusters" of community transmission. As long as that's the case, these clusters can be contained, he said.
"For the moment, only a handful of countries have signs of sustained community transmission. Most countries still have sporadic Covid-19 cases or defined clusters," he said.
Watch the daily briefing here:
LIVE: Daily media briefing on #COVID19 with @DrTedros #coronavirus https://t.co/cN3WfNcsyd

— World Health Organization (WHO) (@WHO) March 9, 2020
Gov Cuomo made a similar comment earlier:
"This is not the ebola virus. This panic that you see is unwarranted. We have dealt with worse viruses," Cuomo said.
* * *
Update (1200ET): South Korea showed once again that the pace of new infections has continued to slow on Monday, while also raising its travel advisory for northern and central Italy
S. Korea raises travel advisory for northern, central Italy https://t.co/z4bJncNuBu

— Yonhap News Agency (@YonhapNews) March 9, 2020
This follows SK's second case update for Sunday: 96 new cases, which were identified between midnight Sunday and 4 pm, have brought the nation's total number of infections to 7,478, the Korea Centers for Disease Control and Prevention said, according to Yonhap. That follows 248 new cases detected earlier. About an hour ago, the Korean CDC confirmed 3 new deaths, bringing its total to 54.
After recording its first coronavirus case last week, Hungary has stopped flights to and from northern Italy and cancelled its March 15 national day celebrations amid growing fears that the outbreak will spread, according to the FT.
In the UK, a fourth coronavirus patient died on Monday. The patient was being treated at the Royal Wolverhampton Hospital and was in their 70s with underlying health conditions, UK health authorities confirmed. The person had contracted the virus in the UK and efforts are being made to trace their contacts.
* * *
Update (1140ET): Port Authority Executive Director Rick Cotton has been diagnosed with the coronavirus. Cotton, the executive director of the Port Authority of New York and New Jersey, the independent quasi-public government agency responsible for the port, apparently contracted the virus after visiting airports and other Port Authority facilities.
He is at home under quarantine, NY Gov. Andrew Cuomo said.
During what has become a daily (sometimes twice-daily) live press update, Cuomo confirmed that the number of cases in New York State has climbed to 142, with 16 new cases in Westchester, 7 new cases in NYC, 12 new cases in Nassau County, 2 new cases in Rockland County and 1 new case in Ulster County: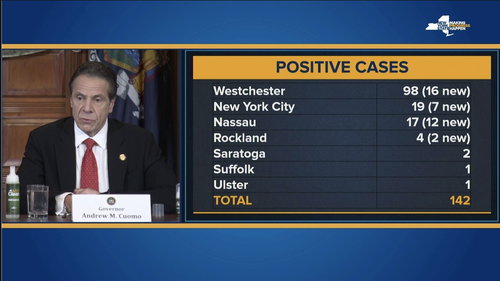 With 142 cases of the new coronavirus, New York has 6% of the cases in the nation, however, only 8 of those people are hospitalized currently.
After reiterating that the panic and hysteria is far out of proportion to what's actually happening, Cuomo said Monday morning that as the national run on Purell continues, the state will produce its own hand sanitzier, which it can accomplish at a cost of $6 a gallon to make the NYS hand sanitizer. 
The product is being produced at the Great Meadow Correctional Facility in Washington County. Unfortunately for NYC residents, the hand sanitizer is not available to the general public; it's being provided, for free, to school districts and municipalities.
Cuomo added that the NYS hand-sanitizer has "a floral bouquet" - before adding that he was joking, though in all seriousness the governor said he did detect a "hint of citrus."
Speaking after Cuomo, NYS Health Commissioner Howard Zucker says the state, in consultation with the CDC, is considering a closure of the public schools in New Rochelle for a period of weeks. Jewish schools in the city, a locus for new coronavirus infections, are already closed. Zucker added that New York state's public health labs can test "several hundred" coronavirus samples each day.
In addition, Cuomo said the state has shut down nursing homes in the Westchester County city of New Rochelle to visitors. He urged other nursing homes to be cautious because "this is the vulnerable population." Cuomo said he spoke with VP Pence on Monday about NY getting approval for automated testing.
Cuomo gave the first gallon of NYS hand sanitizer to @J__Velasquez pic.twitter.com/R5QwtgdCDy

— Jimmy Vielkind (@JimmyVielkind) March 9, 2020
Outside the evacuees, at least 15 patients have recovered: Six in California, four in Nebraska, two in Illinois, one in Washington, one in Arizona and one in Wisconsin.
Here's an updated case map of the US, courtesy of NBC News: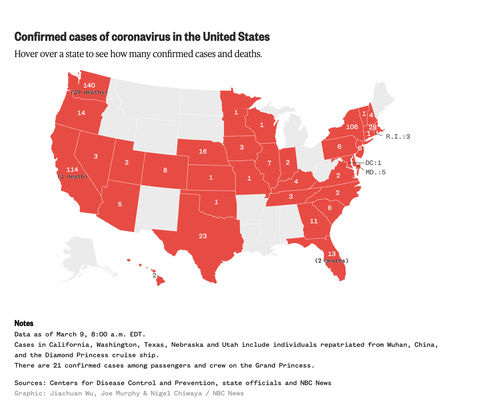 * * *
Update (1130ET): In a landmark moment for the coronavirus outbreak in Europe, German health officials have reported the first coronavirus-linked death on German soil, Bild reports.
Moments later, the German health ministry confirmed that two patients have died on Germany soil.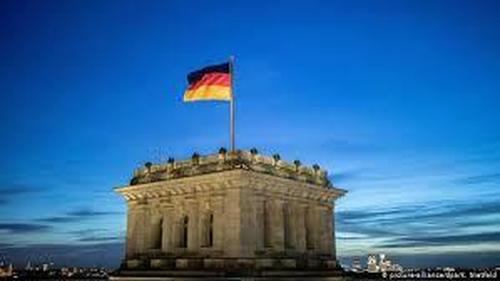 This comes after a German man died in Egypt yesterday.
* * *
Update (11:25ET): A statement delivered minutes ago by the CDC asked colleges and universities with students studying abroad to consider bringing them back to the US, and that upcoming study abroad programs should be cancelled.
* * *
Update (1120ET): Italian PM Giuseppe Conte promised earlier on Monday a "massive shock therapy" intended to revive the Italian economy during comments to La Repubblica.
Italian Prime Minister Giuseppe Conte promised 'massive shock therapy' to overcome the impact of the #coronavirus outbreak, after his government shut off much of the country's industrial and business heartlands https://t.co/MjxzarFrJt pic.twitter.com/bUYP0bUHsA

— Reuters (@Reuters) March 9, 2020
Conte also urged Europe to embrace "strong" action to stop the outbreak. These sentiments were echoed by French President Emmanuel Macron on Monday, when he demanded that Europe come up with a "strong, massive and coordinated response". During a euro zone finance ministers meeting next week, the bloc is expected to come up with a plan to revive to Continental economy and avoid a brutal downturn.
* * *
Update (1115ET): The German state of Brandenburg, which encircles Berlin, has reportedly between 4,000 to 5,000 locals in an at-home quarantine following a "presumptive" case was confirmed in the area. Dozens of cases have been confirmed in Berlin, but 'community transmission' in the region hasn't been confirmed.
Elsewhere in Germany, Deutsche Bank has reportedly cancelled festivities scheduled in Berlin on Saturday to celebrate the bank's 150-year-anniversary.
* * *
Update (1058ET): If there was ever a moment that an aide needed to seize the president's phone...this is it.
So last year 37,000 Americans died from the common Flu. It averages between 27,000 and 70,000 per year. Nothing is shut down, life & the economy go on. At this moment there are 546 confirmed cases of CoronaVirus, with 22 deaths. Think about that!

— Donald J. Trump (@realDonaldTrump) March 9, 2020
Trump has become one of those "it's only the flu" people? Hasn't somebody explained to him why this is a flawed argument?
Coronavirus has 10x the mortality rate of flu and 3x the RO.

With your attitude I'll stay short, thanks.

— Mark B. Spiegel (@markbspiegel) March 9, 2020
He really doesn't get that this is his Katrina Moment, does he? https://t.co/sAdp6CkeOv

— Diogenes (@WallStCynic) March 9, 2020
Hopefully, they can keep the US death toll below that of Hurricane Katrina, at least. More US classes, including Colombia University in New York, are cancelling classes for the rest of the semester, while Princeton, an Ivy League institution in New Jersey, is moving its lectures online.
Meanwhile, Irish carrier Ryan Air has stopped more flights to and from Italian cities. Other carriers to drop some or all flights to and from Italy include Alitalia (the country's flagship carrier, which is only flying domestic right now), Delta Air Lines has also cancelled some flights, has has British Airlines.
However, despite these cancellations and the quarantine, there are still dozens of flights leaving northern Italy on Monday.
Several airlines have cancelled their flights to and from northern Italy, but still there are quite a lot of flights operating to and from the 5 airports in Milan and Venice (MXP, LIN, BGY, VCE, TSF) pic.twitter.com/E8pqwB15zs

— Flightradar24 (@flightradar24) March 9, 2020
* * **
Update (1045ET): President Trump, oil analyst, has checked back into the chat.
While we suspect Trump is less-than-pleased with today's equity-market selloff (hence the headline a few moments ago about a White House meeting to discuss economic stimulus plans), the president has proven time and time again that he doesn't really understand the downside of falling oil prices (though the Fed very much does, thanks to Powell's comments on HY credit).
Which is why he didn't hesitate to celebrate the drop in prices as a de facto 'tax cut' for Americans.
Saudi Arabia and Russia are arguing over the price and flow of oil. That, and the Fake News, is the reason for the market drop!

— Donald J. Trump (@realDonaldTrump) March 9, 2020
Good for the consumer, gasoline prices coming down!

— Donald J. Trump (@realDonaldTrump) March 9, 2020
It's good for the consumers: In other words, the federal government is telling them they should avoid traveling or even leaving the house. But if they decide to roll the dice, at least gasoline will be cheap, cheap, cheap!
* * *
Update (1027ET): Following President Trump's return to the White House this afternoon, a meeting about options for 'economic stimulus' - which the administration has said could include more tax cuts - will be held with some of the administration's top economic advisors.
Economic stimulus meeting to held here at the @WhiteHouse after @POTUS returns this afternoon, according to officials.

— Steve Herman (@W7VOA) March 9, 2020
That headline couldn't have come at a better time, having just followed this remark from Moody's economist Mark Zandi, one of the loudest voices in the market place.
Moody's economist Mark Zandi: US economy now likely to lapse into recession in 2020

— John Harwood (@JohnJHarwood) March 9, 2020
If Trump is lacking for ideas, he could give the US economy research desk at 200 West a ring. They've already committed a few ideas to paper.
In the US, equity markets have bounced off their lows.
So much FAKE NEWS!

— Donald J. Trump (@realDonaldTrump) March 9, 2020
Ahead of the meeting between Trump and his economic team, where Trump will be presented with a "full menu of economic options", one source told CNBC's Eamon Javers that oil-market intervention wouldn't be a part of the plan.
1. With markets in turmoil this morning, where are we on virus stimulus? I've spoken to two senior admin officials today who say the WH is working on various ideas. But it doesn't seem to have gone much further than the brainstorming stage.

— Eamon Javers (@EamonJavers) March 9, 2020
2. A senior administration official tells me this morning virus ideas were kicked around at the WH over the weekend. But he cautions that there's nothing on paper and it is still a long way off. "Under pressure, will they want to say they have a plan? Yes. Do they? Not really."

— Eamon Javers (@EamonJavers) March 9, 2020
3. How about global oil markets in distress? I asked a senior administration official if US government will intervene in any way in oil markets. He said "I hope not" and that he has not heard of any such idea. He said WH believes global markets will straighten themselves out.

— Eamon Javers (@EamonJavers) March 9, 2020
4. The president has spent the morning tweeting insults and complaints at Obama/Biden, Elizabeth Warren, Bernie Sanders, Chuck Schumer and the media. He believes his political enemies are trying to inflame the coronavirus story to make it look worse than it is.

— Eamon Javers (@EamonJavers) March 9, 2020
5. I'm told President Trump will be meeting with his economic team at the WH when he returns from his trip to Florida this afternoon. The team will present him with a "full menu" of economic options to respond to the virus.

— Eamon Javers (@EamonJavers) March 9, 2020
6. A senior administration official tells me the president is aware of the stock market sell off this morning. "All of this is discouraging," the official says of the market today. "It's a tough one and we're going to work our way through it."

— Eamon Javers (@EamonJavers) March 9, 2020
7. I asked a senior administration official if WH is contemplating any action on oil markets today: "I don't know what to do," the official said. "This is the Saudis vs the Russians. Obviously it's a negative for our frackers. But consumers will like lower prices at the pump."

— Eamon Javers (@EamonJavers) March 9, 2020
While it's definitely a short-term negative for US shale, we're sure President Trump won't mind the de facto 'tax cut' for consumers.
* * *
Update (1015ET): Across the US, 77 public health labs have finished setting up their Covid-19 testing as of Monday morning. Seven more labs are in the middle of the 'process of verification', which involves the CDC.
NEW: 77 public health labs have #COVID19 testing up as of this morning, according to @APHL.

That includes 49 states and DC. 7 more are in the process of verification.

— David Lim (@davidalim) March 9, 2020
* * *
Update (0950ET): While the world has been transfixed by the chaos in American equity markets as the first major circuit breaker is triggered, the coronavirus news just keeps coming:
Five new cases have been confirmed in Scotland, bringing the Scottish total to 23, and the UK-wide total to 281. Spain has closed schools in the Basque town of Labastida for 14 days. Italy's market watchdog Consob said in a statement on Monday that halting stock-market trading would generate long-term problems. However, a ban on short selling could be considered when shares' movement exceed 10% and if other conditions are in place, as per European rules.
CNN reported that the Trump Administration is considering 'discouraging' Americans from taking air travel.
Three additional coronavirus cases were confirmed in New York City bringing the total to 16 confirmed cases, according to Mayor Bill de Blasio's spokesperson Freddi Goldstein.
NEW today from @NYCMayor and @DOEChancellor on @NYCSchools: all school trips abroad will be canceled, and this week, 85 nurses will be added to school buildings to ensure full coverage. https://t.co/gMF2cVHEr5

— Miranda Barbot (@MirandaBarbot) March 8, 2020
The three new cases raise the NYS total to 108. Above, Mayor de Blasio says 85 additional school nurses will be dispatched to help deal with the coronavirus-related demand.
There's not a single confirmed case of an Asian infected in NYC. Stop discriminating cause the virus definitely doesn't. #racist #coronavirus pic.twitter.com/Wt1NPOuQdy

— Celia Au (@ItsCeliaAu) March 4, 2020
Finally, national UK health officials have confirmed another batch of cases, bringing the total to 319 from 273.
Meanwhile, the WHO is holding its daily press conference:
* * *
Update (0915ET): As critics slam President Trump for not focusing on the virus, the commander-in-chief of the American armed forces tweeted another congratulatory message to VP Mike Pence.
Great job being done by the @VP and the CoronaVirus Task Force. Thank you!

— Donald J. Trump (@realDonaldTrump) March 9, 2020
Trump also insisted that the best decision he made was closing off travel from China early on as epidemiologist slam his administration for not stockpiling enough tests.
The BEST decision made was the toughest of them all - which saved many lives. Our VERY early decision to stop travel to and from certain parts of the world!

— Donald J. Trump (@realDonaldTrump) March 9, 2020
Unfortunately, it would have been better if the CDC had administered more than 2,000 tests as of eod Friday, but those unfortunately aren't the circumstances on the ground. We look forward to hearing more from the administration tonight - perhaps some encouraging information about when the market can expect test kits to be made available to everyone who needs one - when VP Pence leads a press conference beginning at 5:30 pm ET.
Over in China, officials in Wuhan announced Monday that they would be closing 11 of the 18 makeshift hospitals built during the outbreak.
* * *
Update (0845ET): Following UK PM Boris Johnson's emergency meeting Monday morning with fellow government officials, the UK leadership has reportedly decided against closing Parliament over the outbreak, though access to visitors will be strictly limited.
NEW: House of Commons Commission met this morning and has decided against closing Parliament over coronavirus fears.

But there's an expectation that access to Parliament will be restricted to visitors "within the next week." Sources say they'll be guided by Cobra meetings.

— Sebastian Payne (@SebastianEPayne) March 9, 2020
Overnight, the number of confirmed cases in Spain nearly doubled, going from 589 on March 8 to 999 on March 9. In response, the government has ordered all schools and universities in the country to close. With acute concentrations of cases in the capital, Madrid, as well as the country's industrial hub in the Basque country, deaths have climbed to 26 across the country. In Madrid alone, confirmed cases increased by about 200 between Sunday and Monday, BBG reports.
After the number of cases in the Philippines doubled to 20 on Monday, from now on well-wishers will not be allowed to touch Philippines President Rodrigo Duterte to protect him from the coronavirus, his security detail said. Duterte is 74, and thus technically a high-risk patient.
In Iran officials have temporarily released 70,000 prisoners in a bid to contain coronavirus in the country.
Iran's Mizan news agency quoted judiciary chief Ebrahim Raisi as saying "it is necessary for the temporary release of prisoners to continue... so long as it does not create insecurity in society."
In the Netherlands, cases have climbed to 321, according to local media reports.
* * *
Update (0830ET):  As Boris Johnson holds an emergency meeting with senior government leaders in London, across the Channel, European Council President Charles Michel said Monday that Brussels would be hosting a conference call with all EU leaders.
PRES. OF EUCO MICHEL: FOLLOWING CONSULTATIONS, I WILL HOLD A EUCO MEMBERS CONFERENCE CALL SHORTLY ON COVID-19 TO COORDINATE EU EFFORTS. WE NEED TO COOPERATE IN ORDER TO PROTECT THE HEALTH OF OUR CITIZENS.
Meanwhile, over in India, four new cases of the virus have been confirmed, including a 3-year-old child.
In Spain, which is finally confronting the severity of its outbreak as the number of confirmed cases teeters right at the 1,000-case mark, and the president of neighboring Portugal has gone into quarantine, is preparing to unfurl an "emergency plan" of its own, according to socialist PM Pedro Sanchez.
SPAIN'S PM SÁNCHEZ: THE GOVT. PREPARES TO LAUNCH AN EMERGENCY PLAN TO DEAL WITH CORONAVIRUS AS SOON AS POSSIBLE.
* * *
Update (0650ET): As case counts explode across Europe, it looks like Spain - conveniently, Europe's fourth-largest economy - will be next to cross the 1,000-confirmed-case threshold.
SPANISH CORONAVIRUS CASES JUMP TO 999: HEALTH MINISTRY
The health ministry has also just reported another 8 deaths, raising the total to 25.
* * *
Update (0620ET): As case totals climb above 1,000 in Europe's two largest economies - France and Germany - while one-fifth to one-quarter of the Italian economy (Europe's third-largest) goes offline, the finance ministers of France and Germany have reportedly been commiserating about their shared predicament this morning.
FRENCH FINANCE MINISTER LE MAIRE SAYS SPOKE WITH GERMAN COUNTERPART AT LENGTH ON MONDAY TO COORDINATE RESPONSE TO CORONAVIRUS OUTBREAK

"We're fucked"

"Yep, we're fucked"

— Hawky (@TheRealHawky) March 9, 2020
And that's pretty much all that needs to be said about that.
In other news, VP Pence will hold a briefing in the situation room at noon, followed by several other briefings throughout the day, culminating with a public press briefing at 5:30.
* * *
Since we checked in last on Sunday evening, hundreds of new cases have been confirmed in Europe and Asia, but the ambient level of global hysteria has seemingly escalated with the limit-down moves in seemingly every global market that isn't nailed down.
In the US, 537 cases have been identified since the first cases arrived in Washington State and California back in January, including the dozens of travel-related and 'community spread'-related cases, along with the ~50 evacuees, according to the Washington Post.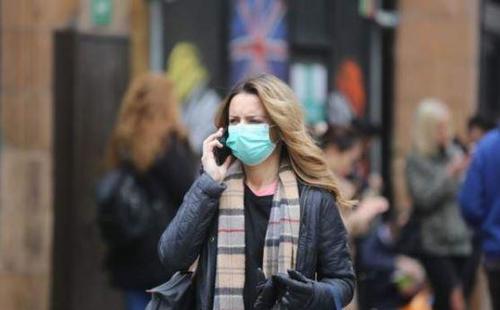 An emblematic sign of the hysteria in the US, Amtrak has suspended its non-stop service between New York and Washington - suspending travel along the so-called "Acela corridor" for power commuters who routinely travel back and forth between NY, Washington, Philly, Boston and all the places in between.
Late last night, the state of Missouri confirmed its first "presumptive positive," a girl who lives at home with her parents, according to a local TV station.
News reports claimed that the father of the student broke quarantine by attending a school dance with his other daughter, Fox News reported.
A school attended by the patient's sister has closed out of an "abundance of caution."
In the US, Dr. Anthony Fauci said yesterday that the US would have 400,000 more test kits available on Monday, and 4 million more by the end of the week. So get ready for an explosion in US cases.
More tech firms and banks are telling all employees who can to work from home until further notice.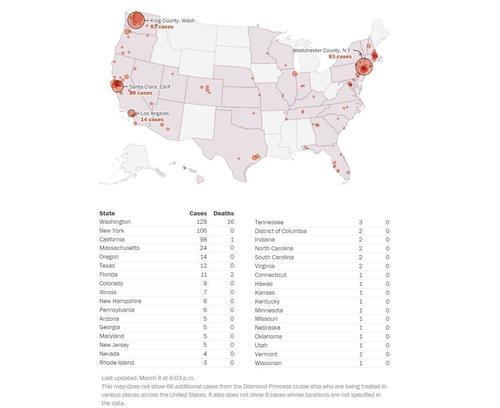 In the UK, British Prime Minister Boris Johnson is planning to lead an emergency meeting of the government on the virus a day after cases doubled in the UK to 273, while deaths have held steady at 3 since Saturday. On Monday, two new cases have been confirmed in Wales (marking 6 all together), while a healthcare professional at University Hospital Southampton has also tested positive, raising the national total to 276, per the BBC.
Over the weekend, we saw the first signs of optimism out of South Korea, as the mayor of Daegu, the epicenter of the South Korean outbreak, reported a sharp drop in newly confirmed cases, evidence that the outbreak is slowing (since the South Koreans have been matched only by the Hong Kongers and Singaporeans in efficiency of testing), he said. The slowdown in new SK cases gave Italy the opportunity to snatch the crown, becoming the undisputed new global epidemic leader outside China (though the outbreak in Iran is certainly much more severe, however, the regime has chosen to hide the extent of deaths and confirmed cases).
CNN adds that a construction worker contracted by the US military in Korea has tested positive for the coronavirus, making this the eighth USFK-related patient. An hour ago, South Korea confirmed 96 more cases, bringing national total to 7,478, marking a sharp slowdown in new cases.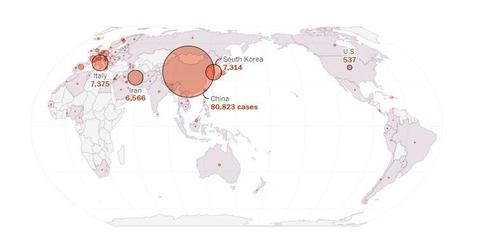 As the quarantine across the Italian north enters its first business week, the total number of cases in Italy has hit 7,375, with 366 deaths. The situation is getting so bad, that riots are breaking out in Italian prisons, with one leaving 6 dead.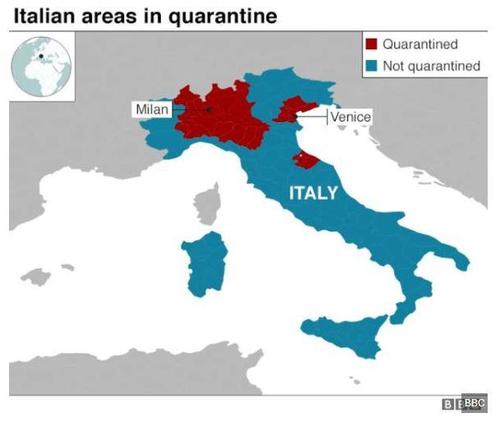 Courtesy of the BBC
As an editorial writer for the Washington Post explains, current estimates suggest that it takes about a week for the number of cases to double, though there's considerable uncertainty around the exact number. According to this principle, for each death, there are 49 other infections in the community when the patient who died became infected.
That means, one week later, as that patient is seeing symptoms first emerge, that number has doubled to 98. After two weeks, when the patient is seeing his symptoms intensify, the number of community cases is 196. During week three, as the patient is lying on his or her deathbed, the number of community infections will have climbed to 396.
In Iran, the head of the country's Crisis Management Agency, Esmaeel Najjar, has been confirmed infected with the virus. Najjar was discharged from the hospital and has been self-quarantining at home, according to Iran's ISNA state-controlled news agency.
Offering a stark contrast to the panic that is engulfing Europe, Iran and the US, in China, Shanghai Disney has started "phased reopening" of some shopping and dining destinations have reopened, though the main park - Shanghai Disneyland - remains closed. Meanwhile, the first case of coronavirus has been confirmed among staff at Disneyland Paris, according to Le Parisien. The patient, who had been off sick since symptoms emerged days ago, is quarantining at home.
Germany and France are each seeing the number of confirmed cases break above 1,000. Germany confirmed another 256 cases on Monday, bringing its national total to 1,112, according to the Robert Kock Institute, Germany disease-control agency. After banning gatherings with more than 1,000 people in attendance as we noted last night, French officials confirmed that the national total had climbed to 1,126, with more than 200 new cases. The death toll in France stands at 19, while the German outbreak, which is still mostly confined to Bavaria, specifically the state of North Rhine-Westphalia, hasn't recorded any deaths.
Cruise ships attempting to enter Puerto Rico must first certify that there are not coronavirus cases on board, Gov. Wanda Vazquez Garced claimed in a tweet on Sunday. This followed a local controversy that erupted after the Costa Luminosa, a cruise ship with a rumored sick passenger aboard, allowed its passengers to disembark in San Juan.
Hemos ordenado que todo crucero que pretenda entrar a Puerto Rico tiene que confirmar que no tiene pasajeros abordo con casos sospechosos y cumple con los criterios de sintomatología e historial de viaje del gobierno federal referentes al COVID-19. @DeptSaludPR pic.twitter.com/vXgoAEqTTY

— Wanda Vázquez Garced (@wandavazquezg) March 9, 2020
The State Department has published a warning on Monday telling Americans not to travel on cruises, saying the US government can't continue to intervene with passenger ships quarantined at sea.
Finally, officials in China, who confirmed just 30 cases in Hubei late last night, have also confirmed that at least 11 have died following the collapse of a hotel being used as a quarantine that we reported on over the weekend. 80 were inside the building when it came down, while nine escaped, 71 were trapped. Of those, 50 have been pulled from the rubble, and 21 remained unaccounted for on Monday afternoon.
In other new overnight developments, an American in Saudi Arabia has tested positive for the virus, according to the Saudi health ministry. The man had been travelling from the Philippines and Italy before arriving in the kingdom. Three others in al Qateef Province, including two Bahraini citizens, have also been infected. This comes after Saudi Arabia presided over the dissolution of OPEC and a ramped-up rivalry with Russia that has prompted the largest drop in oil prices since the early 90s Gulf War.
Over in Oakland, the 'Grand Princess' cruise ship is preparing to dock at the Port of Oakland later in the day on Monday. The ship's captain and Carnival-owned Princess cruises have said the disembarkation process will be "a multiple day process."
"Disembarkation will commence in order of priority, as defined and directed by both state and local authorities. It is expected to be a multiple day process," said the release.
"Once disembarkation of the guests is completed, the crew will remain onboard and Grand Princess will depart from San Francisco bay. Plans for a crew quarantine are still being determined."
We'll be keeping a close eye on the situation in California and New York State, which is also seeing a surge in cases following an outbreak in a Westchester Jewish Community based in New Rochelle.