---
2 MLB Games Cancelled As Marlins Players Test Positive, Threatening Rest Of MLB Season
Update (1430ET): In addition to the Marlins vs Orioles game set for Monday night, the MLB has also cancelled a match between the New York Yankees and Philadelphia, amid fears about the Yankees players using the locker room that the Marlins players had only just been occupying days prior.
Here's the problem: The Marlins played exhibition games at Atlanta on Tuesday and Wednesday against the Braves, who have since been without their top two catchers, Tyler Flowers and Travis d'Arnaud. Since then,  several Braves players have come down with symptoms, leading some to wonder whether the outbreak may have started in Atlanta.
The Marlins and some other MLB teams have been using regular planes instead of custom sports charters in order to be more socially distant.

So, yes. Players and staff are flying on an aircraft that has the public hopping on and off every day.

— Andy Slater (@AndySlater) July 27, 2020
At any rate, these two games are only the beginning, and this outbreak is making it look like the league might need to cancel games involving more than 12% of its member teams before the first week of the season has even ended, as CNBC's Eric Chemi explained on "The Exchange" this afternoon.
The speculation on Twitter is that players are not pleased about this hiccup, and are pressuring management to pressure the league to reconsider even having a 2020 season - which almost didn't happen after a disagreement on compensation between the league and the players union.
Some players are liking "they should cancel the season" tweets. Managers are not-subtly hinting that they want games canceled. MLB can't just set some random rules about how to pivot from today. They're losing the confidence of the people in harm's way. https://t.co/nhEsvKeVSy

— Craig Calcaterra (@craigcalcaterra) July 27, 2020
* * *
Just three days into the MLB's shortened 2020 season, the Miami Marlins confirmed on Monday that 14 players and staff have tested positive for the coronavirus, forcing the cancellation of the team's first home game.
The team had been scheduled to face off against the Baltimore Orioles on Monday, but that game has now been cancelled as the Marlins remain in Philadelphia following their successful weekend series against the Phillies.
The Marlins and Orioles are scheduled to play a four-game series this week. It's unclear right now whether the remaining games will also be scrapped.

ESPN reported that a total of at least 14 players and staff had tested positive, with eight more positives Monday after three players reportedly received word of positive tests Sunday morning and a fourth had tested positive Friday.
Pitcher Jose Urena was scratched from his scheduled start Sunday and placed on the injured list for undisclosed reasons. Per MLB guidelines, the Marlins have not revealed the names of players who had tested positive, but, according to reports, first baseman Garrett Cooper and outfielder Harold Ramirez were the other three.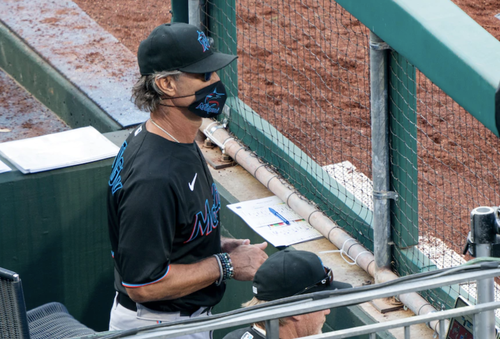 Catcher Jorge Alfaro had previously tested positive and was placed on the injured list on Friday.
Earlier this month, MLB Commissioner Rob Manfred was asked on "The Dan Patrick Show" what it might take to cancel the already shortened 60-game season. Manfred said an inability to stem infections could force the league to rethink the season from a safety standpoint, as WaPo reminds us.
"I think the way that I think about it, Dan, is in the vein of competitive integrity, in a 60-game season," Manfred said. "If we have a team or two that's really decimated with a number of people who had the virus and can't play for any significant period of time, it could have a real impact on the competition and we'd have to think think very, very hard about what we're doing."
Fans are now worried that Florida's widely criticized virus response might now cost fans the 2020 season.
It would be the Marlins fault if the MLB season is cancelled due to COVID. Thanks Florida 😒

— EJ Spark (@EJSpark1) July 27, 2020
Florida: Covid hotspot

Philly: Covid hotspot

MLB teams from both places playing each other: Covid outbreak

People: pic.twitter.com/sfHcia9XRv

— Corinne M (@cmcsed9) July 27, 2020
Rather than fly home Sunday following their win over the Phillies, the Marlins originally planned to stay overnight in Philadelphia and fly home Monday morning. However, the players who have tested positive will remain under quarantine in Philly.