---
Two Dead In Downtown Madrid Explosion Caused By "Gas Leak"
Watch Live: Madrid Explosion 
* * * 
Update (1020 ET): Madrid Mayor José Luis Martínez-Almeida says at least two people have died in the explosion that collapsed a building in downtown Madrid due to a "gas leak." 
* * * 
Update (1007 ET): Madrid Mayor José Luis Martínez-Almeida suspects the blast was caused by a gas leak. 
MADRID MAYOR SAYS INITIAL INFORMATION SHOWS MADRID BLAST LIKELY CAUSED BY GAS LEAK

— *Walter Bloomberg (@DeItaone) January 20, 2021
BBC's Ali Kheradpir also reports, "the cause of a massive explosion in Madrid, Spain was due to gas leaking. At least six people injured."
* * * 
Update (1000 ET): AFP reports nine fire crews and 11 ambulances were dispatched to the scene.  
AFP tweeted a couple of pictures of the building that sustained heavy damage after an explosion.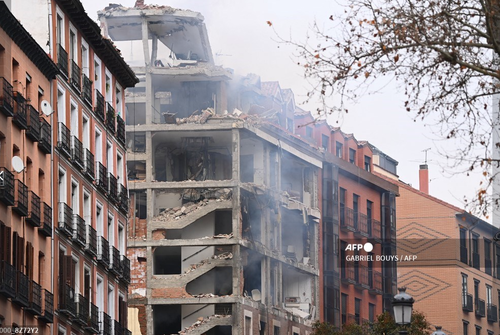 Close up view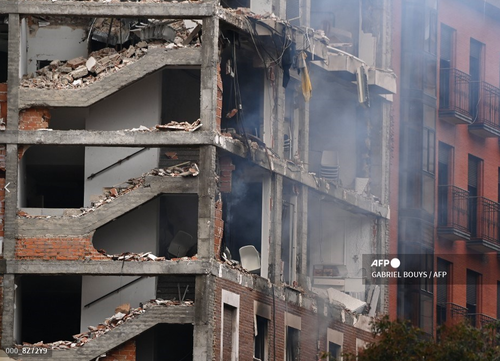 * * * 
Update (0945 ET): Law enforcement in Spain confirm "a big explosion in a building on Toledo street in Madrid."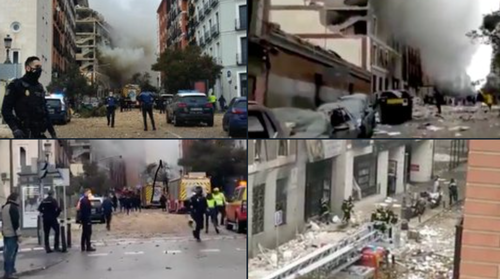 Police said, "There are already agents working in the area. Please don't come to browse Groups of people or private vehicles can hinder the arrival and work of the emergency services."
* * * 
A massive explosion rocked downtown Madrid on Wednesday, according to local newspaper El País.
"A strong explosion, the causes of which are unknown, has shaken a property in the center of Madrid around three in the afternoon. The powerful deflagration has blown up the three upper floors of the block, located on Toledo Street," El País said. 
Two witnesses told Reuters they heard a loud explosion. A plume of smoke can be seen in the neighborhood after the blast. 
Video from the explosion has transformed the entire street into what appears to be a warzone. Police are saying the surrounding area around the collapsed building is being evacuated.
más imágenes desde el edificio de al lado de la explosión en puerta de toledo, madrid pic.twitter.com/D1bJvI0iHx

— césarr,,❃ (@valleejooo_) January 20, 2021
One image from the scene appears to show a building structure blown apart. 
First responders have arrived. 
♦️ #Madrid ♦️
📹| Explosion massive à Madrid

▪️ Des personnes auraient été déplacées autour du bâtiment où la violente explosion s'est produite.
▪️ La cause de l'explosion n'a pas encore été signalée.

pic.twitter.com/NoowDHYejz

— Maurice Martin ♦️ (@MauriceMartin01) January 20, 2021
 The plume of smoke can be seen across town. 
Acaba de sonar tremenda explosión cerca de puerta de Toledo, San Francisco en Madrid pic.twitter.com/l827Fan60N

— Cristian Larrosa (@cristianlarrosa) January 20, 2021
A video from the ground of the scene shows the devastation. 
Fuerte explosión en Puerta de Toledo (Madrid). Entran los bomberos al edificio derrumbado. pic.twitter.com/LeJLV2DVC8

— El Persuasor (@Persuasor) January 20, 2021
Someone on Twitter posted a stunning before and after picture of the blown-up building, suggesting the explosion was powerful.