---
Another Massive Explosion Rocks St. Vincent As Hot Ash Rains Down 
La Soufriere volcano "continues to erupt explosively and has now begun to generate pyroclastic density currents. Explosions and accompanying ashfall, of similar or larger magnitude, are likely to continue to occur over the next few days," warned St. Vincent's emergency management organization (NEMO). 
Another eruption seen by @NOAASatellites' GOES-16 at #LaSoufriere today. Happened around 8am UTC, 4am local time.
Per @uwiseismic this is associated with a large explosion and Pyroclastic flows. The ash cloud appears to reach approx. 17km (55,000ft) altitude. pic.twitter.com/AWkqxnYBEl

— Simon Proud (@simon_sat) April 12, 2021
The ash plume is headed for Barbados. 
Volcanic lightning generated by La Soufriere earlier this morning. Instead of the separation of charge that you would normally get in a thunderstorm between ice crystals and graupel, you get a separation in charges between colliding ash particles inside the plume. pic.twitter.com/pekTYe8flC

— Chris Turnbull (@ChrisTurnbullWx) April 12, 2021
 Here are the ashfall forecasts and islands to avoid traveling to.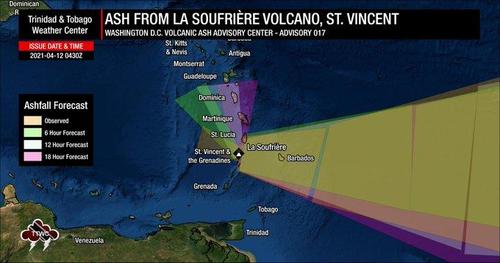 NEMO continued, "the dome has already been destroyed and ejected. The eruption cloud went into the atmosphere and then collapsed, causing pyroclastic density currents." 
According to the Scientists at SRC: "the domes have already been destroyed and ejected. The eruption cloud went into the atmosphere and then collapsed causing PDCs." So what we had is an eruption column collapse.#lasoufriereeruption2021 #eruptioncolumncollapse

— NEMO SVG (@NEMOSVG) April 12, 2021
The large explosion at La Soufriere Volcano occurred early Monday morning and could be the biggest one yet. Thousands of people have been evacuated from their homes and placed in shelters. The volcano first erupted on Friday. Cruise ships arrived at the eastern Caribbean island this past weekend, only allowing vaccinated people to leave the island. 
"It's destroying everything in its path," Erouscilla Joseph, director of the University of the West Indies Seismic Research Center, told The Associated Press. "Anybody who would have not heeded the evacuation, they need to get out immediately."
Joseph compares the latest explosion to the one in 1902 when 1,600 people died. In total, the volcano has had six eruptions -- in 1718, 1812, 1814, 1902/03, 1979, and 2021.
NEMO said explosions and accompanying ashfall of similar or larger magnitude are likely to continue over the next few days.
Everything is covered in ash.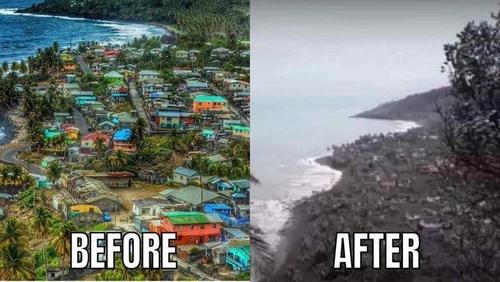 Ash raining down on a local community. 
📹@luv2run25: About this morning. Aftermath from #LaSoufrierevolcano in #StVincent
The entire driveway is coated with ash that now has turned into a thick like "clay" form. Prayers the volcanic eruptions subside soon. #Barbados #volcano #LaSoufriere https://t.co/9i9oYxb1AB pic.twitter.com/p21U2LV0IK

— 🌎 Sarwar 🌐 (@ferozwala) April 12, 2021
One Twitter user calls it "volcano rains." 
Ash from La Soufriere Volcano rains on the houses in St Vincemt and the Grenadines. Nature o nature! pic.twitter.com/UzZoKXkjdA

— Earl H Bailey (@BaldEagleJa) April 12, 2021
More pictures of the ash.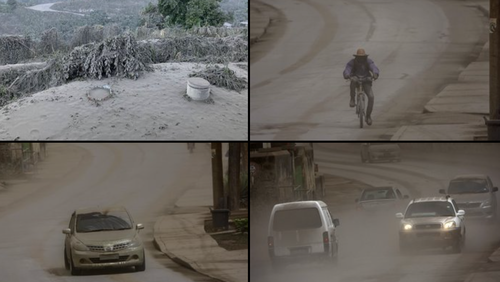 Richard Robertson, a geology professor at the seismic research center, told NBC on Monday that pyroclastic flows are some of the most dangerous things that could happen at volcanoes like La Soufriere.
He said: "I shudder to think of if any living creatures were on that mountain..." as very few buildings could withstand the force of pyroclastic flows.
Other explosions this weekend led to power cuts and affected water supplies on the islands. 
Experts still believe larger volcanic explosions are ahead.