---
Seoul Mayor Found Dead After Massive Police Search
Hours after being reported missing, driving international headlines throughout Thursday morning, the mayor of the South Korean capital Seoul, Park Won-soon, has been found dead.
South Korea's Yonhap news agency reports the breaking news:
Seoul Mayor Park Won-soon was found dead in northern Seoul, police said Friday, after he was reported missing by his family.

Park's daughter had told police that her father's phone was turned off after he left their home after leaving a message that sounded like a will.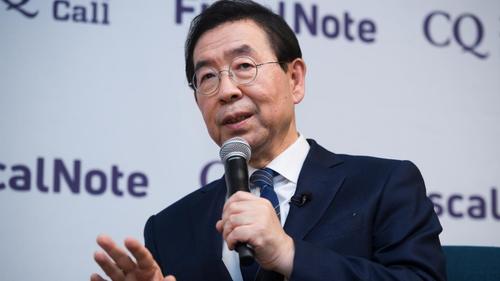 Police had been reportedly combing a hilly wooded area in the north of Seoul in the vicinity of where 64-year old Park's cell phone signal was last detected.  
His daughter reportedly told police that Park had left a strange message before leaving the house, raising alarms and leading to her calling police. His phone had also been turned off and he was unreachable.
Reuters earlier had further details of the police search as follows:
Hundreds of South Korean police using drones and dogs were searching for the longtime mayor of Seoul, Park Won-soon, on Thursday after his daughter reported him missing, officials said.

The Seoul Metropolitan Police Agency said officers were searching for Park around Sungbuk-dong, a district in northern Seoul where his phone signal was last detected.

His daughter reported him missing at 5:17 p.m. (0817 GMT) and said his phone was off and that he had left a message "like a will", according to Yonhap news agency.

Park left the official residence at around 10:40 a.m., wearing a black hat and a backpack, having cancelled a policy meeting that was scheduled for Thursday morning, according to multiple local reports.
Police have now reportedly found a body.
Police have found the body of the Seoul City Mayor of Park Won-soon. He appears to have taken his own life.

— Laura Bicker (@BBCLBicker) July 9, 2020
He had served as mayor of Seoul since 2011 after being voted into a third term last year.
Crucially, a major scandal broke hours prior when South Korean media headlined allegations from one of Park's secretaries who alleged a pattern of sexual harassment she described as beginning in 2017. She made a formal police complaint Wednesday.
BBC: Media and spectators gathered outside the Seoul National University hospital.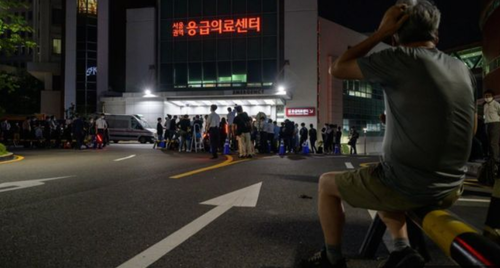 Local media described the allegations from the female employee as breaking just hours before the mayor's disappearance, as the AP describes:
The Seoul-based SBS television network reported that one of Park's secretaries had lodged a complaint with police on Wednesday night over alleged sexual harassment such as unwanted physical contact that began in 2017.

The SBS report, which didn't cite any source, said the secretary told police investigators that an unspecified number of other female employees at Seoul City Hall had suffered similar sexual harassment by Park.
Park Won-soon was widely considered to be a top 2022 presidential contender for current President Moon Jae-in's liberal Democratic Party.