---
43 Florida ICUs Hit Capacity As Texas Reports Record Jump In Deaths: Live Updates
Summary:
Texas reports its latest case numbers; record jump in deaths
43 Florida ICUs at capacity
San Fran won't reopen indoor dining
US COVID-19 deaths top 130,000
Dr. Fauci: local governments should mandate mask-wearing
Arizona releases latest cases
Bolsonaro tests positive
UK reports 40 new COVID-19 deaths
Florida reports 7,347 new cases, highest positivity rate yet
NY releases latest numbers, adds 3 more states to quarantine list
Trump touts COVID-19 mortality rate improvement
GOP moves to test all convention attendees
Worker 'revolt' at University of Georgia
Beijing reports 8 foreign cases
South Korea reports 40+ new cases
Melbourne enters 6-week lockdown
India passes 700k cases
Iran sees record jump in deaths
South Africa tops 200k
* * *
Update (1740ET): Texas just reported another near-record jump in cases and hospitalizations. The state also saw 60 new deaths, its highest so far. Deaths have been rising sharply in recent weeks, though not as quickly as hospitalizations or cases.
🔥TEXAS

*10,028 (!) new cases

*Record 9,286 confirmed COVID patients in hospital beds (+588 from yesterday). This number was 1,511 on Memorial Day. https://t.co/errGPGQ9tK https://t.co/Q3VqlQh3SQ pic.twitter.com/Q0sTsZGcNV

— Steven Dennis (@StevenTDennis) July 7, 2020
* * *
Update (1600ET): Following another distressing spike in new hospitalizations reported earlier on Tuesday, at least 43 Florida hospitals are reporting that their ICUs are at max capacity, per new data from Florida's Agency for Health Care Administration, which also showed that the hospitals are spread across 21 counties.
That means these ICUs have zero beds, and the only time beds become available is when patients die, or recover. Fortunately, more have been recovering, at least.
Miami-Dade, Broward, Hillsborough and Orange counties are among those with affected hospitals, according to the AHCA data. Another 32 hospitals have fewer than 10% of their total beds available.
In Florida, 43 hospital ICU's in 21 counties have hit capacity and show zero ICU beds available, including:
Miami-Dade (which includes the city of Miami)
Broward (which includes Fort Lauderdale)
Hillsborough (which includes Tampa)
Orange (which includes Orlando)

— WayneEdH (@WayneEdH) July 7, 2020

For cases, Fla. reported a single-day record of 11,458 new cases on Saturday, which broke the previous record of the Thursday before. Doctors in Texas have also warned that several hospitals across the state have no capacity.
* * *
Update (1500ET): San Francisco Mayor London Breed announced on Tuesday that the city has once again postponed the reopening of indoor dining and outdoor bars. Originally, those sectors were expected to reopen on July 13, but city leaders have decided to put those plans on hold as San Francisco is experiencing a spike in COVID-19 cases.
"We have no choice. We are living in COVID," Breed said during a press conference.
COVID-19 hospitalizations in California are reaching new levels, with nearly 6,000 virus-linked patients across the state. That's a 3.4% one-day increase
This is a 3.4% one-day increase as almost 200 more patients were admitted. There are also a record number of Covid-19 patients in intensive care units, according to data from California Department of Public Health.
California also reported 111 new deaths on Tuesday, bringing the statewide total to 6,448 deaths.
The positivity rate in California over the past two weeks stands at 6.8% , with roughly 5 million tests conducted to date.
Meanwhile, in NJ, the transmission rate ticked higher again to 1.05, meaning the virus is still technically expanding.
☑️903 patients in our hospitals
☑️169 patients in either critical or intensive care
☑️142 ventilators in use

For more data, please visit https://t.co/JW1q8awGh7. pic.twitter.com/SZVao7dqKA

— Governor Phil Murphy (@GovMurphy) July 7, 2020
* * *
Update (1350ET): After talking around the issue for months, Dr. Fauci came out Tuesday and declared that most municipalities in the US - presumably including those where COVID-19 is a virtual non-issue (yes, they're still out there) - should adopt mandatory mask-wearing policies.
FAUCI: LOCAL GOVERNMENTS SHOULD ISSUE MASK MANDATES
But Fauci clarified that localities should be able to make their own decisions on the issue because he "doesn't want to be authoritarian".
"I don't like to be authoritarian, from the federal government, but at the local level, if governors and others essentially mandate the use of masks when you have an outbreak, I think that would be very important," Fauci told Alabama Sen. Doug Jones during a Facebook live on his page on Tuesday.
Meanwhile, according to JHU data, the US has surpassed 130,000 COVID-19 fatalities, with 130,751 as of 1400ET.
With BofA analysts warning in a recent note that improvements in testing capacity and accuracy might be playing a larger role in the surge in new COVID-19 cases than many have feared, the team projected that hospitalizations in the four states with the most serious ongoing outbreaks - Texas, Florida, Arizona and California - should see hospitalizations peak on July 18, 17 days after what the analysts determined to be the beginning of this second wave.
For reference, while the US might have the second-most deaths per capita after Britain...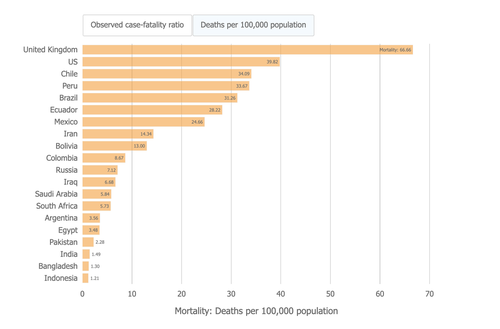 ...as a percentage of its total case number, which is rapidly approaching 3 million, the US is further down the ranking.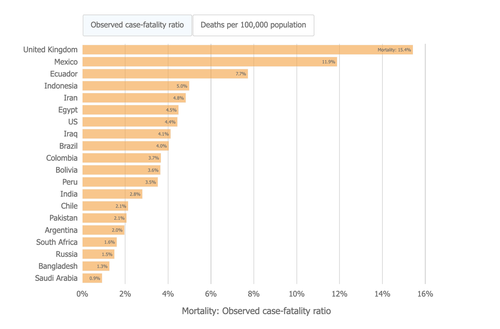 * * *
Update (1120ET): Arizona just reported  3,653 new cases Tuesday vs 3,352 yesterday, while the state's ICU occupancy rate ticked higher to 90%, up from 89% the day before.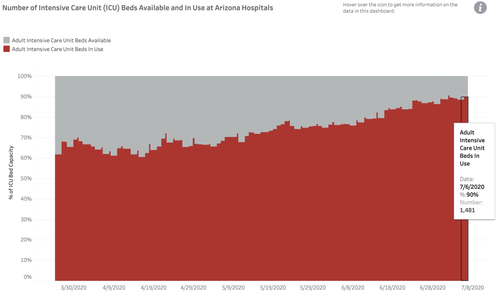 The state also reported 117 new deaths, a new single-day record, while the positivity rate is nearing 30%.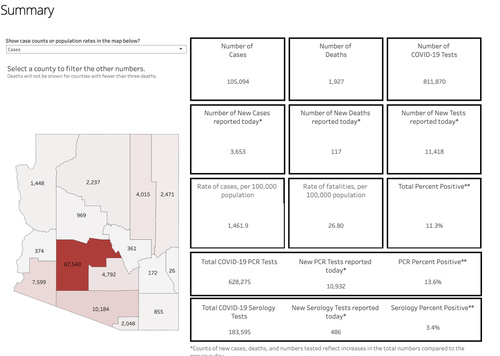 Across the state, 3,356 patients are hospitalized with the virus. There are 105,094 confirmed Coronavirus cases and 1,927 known deaths. Ages 20 to 44 have been most infected, with more than 52,000 reported cases.
* * *
Update (1050ET): The UK just reported its latest COVID-19 death numbers, showing just 40 new deaths in the country's hospitals on Tuesday, the lowest such number on a Tuesday since the outbreak began.
England reported 36 fatalities, with Wales and Scotland having three each, and Northern Ireland had no new deaths.
There have also been reports that Brazilian President Jair Bolsonaro has tested positive for COVID-19.
The president has said he's taking hydroxychloroquine and feels "perfectly well."
* * *
Update (1030ET): Florida just reported 7,347 new cases (+3.6%) of the novel coronavirus, bringing the statewide total to 213,794. That's lower than the 7-day average of 5% daily increases. State health officials also reported 63 new deaths, bringing the death toll to 3,841 deaths as the state moves closer to 4,000. 16.27% of tests run came back positive, Florida's largest share of positive tests yet, with 48,538 tests performed. For the past week, the state's daily positivity level was at 14% or lower. 16,045 Floridians are currently hospitalized with the virus.
* * *
Update (1020ET): We're almost surprised that NBC News actually let this doctor on, but if you have a minute, Prof. Adam Tooze explains why the policy-making process utilized by western democracies isn't well-suited to confronting issues like the coronavirus outbreak.
Prof. Adam Tooze on worldwide coronavirus lockdowns: "You could take the view it was one of humanity's greatest moments, that we were able to do this collectively."

Watch more Global Hangout: https://t.co/Mh6OOKcicV pic.twitter.com/UOHIoGI7CW

— NBC News (@NBCNews) July 7, 2020
* * *
Update (1000ET): New York Gov Andrew Cuomo's latest numbers out of NY show mostly more of the same: the number of cases climbed just 0.1%, less than the 7-day average of 0.2%, at a time when the number of new cases have mostly stalled out.
Today's update on the numbers:

56,736 tests were performed yesterday. 588 tests came back positive (1.04% of total).

Total hospitalizations are at 836.

Sadly, there were 10 COVID fatalities yesterday. pic.twitter.com/jIrhsg3Txc

— Andrew Cuomo (@NYGovCuomo) July 7, 2020
New York also added Delaware, Oklahoma and Kansas to its quarantine list, bringing the total number to 19 states in total. Connecticut and New Jersey have also added the states to their mandatory quarantine lists.
* * *
Update (0935ET): The US may not actually have the "lowest Mortality Rate in the World", as President Trump contended in a tweet this morning, but as deaths have failed to pick up even as more experts insist that it's only a matter of time thanks to the inevitable "lag" (nevermind the data showing most of those being sickened are younger and much more likely to survive).
"COVID-19 (China Virus) Death Rate PLUNGES From Peak In U.S." A Tenfold Decrease In Mortality. The Washington Times @WashTimes Valerie Richardson. We have the lowest Mortality Rate in the World. The Fake News should be reporting these most important of facts, but they don't!

— Donald J. Trump (@realDonaldTrump) July 7, 2020
* * *
Update (0900ET): As the GOP tries to prove to the public that they're taking the coronavirus threat seriously, the party has just announced that it will provide mandatory coronavirus testing at its national convention in Jacksonville next month, Reuters reports.
The plan will require thousands of attendees to get tested for the coronavirus before entering the convention site in Jacksonville. In addition to trying to signal that they're taking COVID-19 safety more seriously, the party also wants to ensure that Trump speaks to a packed house when he accepts the nomination.
"Everyone attending the convention within the perimeter will be tested and temperature checked each day," said Erin Isaac, communications director for the host committee, in a memo to reporters.
The convention was originally supposed to take place in North Carolina but was moved to Florida after NC balked. Unfortunately, Florida is now the state that's reporting the most new cases per day, as local officials take measures into their own hands. The state is reporting roughly 10k new cases per day, which recently pushed Fla's total above the 200k mark.
Sen. Charles E. Grassley has already said he plans to skip the Republican National Convention in Jacksonville next month "because of the virus situation." He's 86 years old.
Meanwhile, ABC News reports that Australia is having issues with its system allowing certain people to cross the closed border between NSW and Victoria. The border is expected to close tomorrow.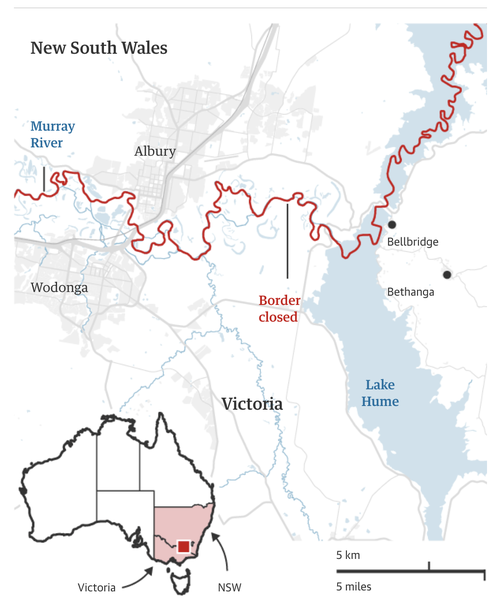 45 minutes after launching on Tuesday, the website allowing Aussies to apply for a permit to cross the border apparently stopped working. Although functional when it launched shortly before 7:30pm on Tuesday night local time, by 8:15pm local time, visitors were unable to apply for permission to enter NSW. Melbourne has reported thousands of new cases, accounting for 95% of the country's new cases over the last few weeks.
Victoria has also been sealed off from the rest of the country, in addition to closing its border with NSW.
In the US, hospitals across the Sun Belt continue to be inundated with coronavirus patients.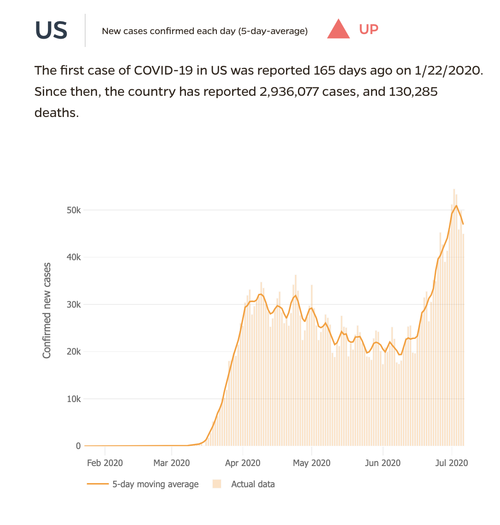 As we noted yesterday, Arizona has reached 89% capacity for its ICU beds as of Monday, while Alabama, California, Georgia, North Carolina, South Carolina and Texas also reported unprecedented numbers of hospitalizations. For the 28th day in a row, the country's rolling seven-day average of daily new cases busted the previous record, although the number of deaths has remained relatively stable, according to the Washington Post.
As more local officials push to make mask-wearing mandatory, a faculty revolt at Georgia Tech and a petition from the campus workers union have pushed the state to allow the university to make mask wearing mandatory in public places on campus.
* * *
As health officials in Beijing reported 8 new foreign cases of the virus and 15 asymptomatic cases on Tuesday afternoon, Australian health officials and officials in the country's second-most-populous state of Victoria announced that it would re-enter 'Phase 3' lockdown, joining a growing list of major cities - Lisbon, Madrid, Beijing - that have reimposed lockdown measures amid a resurgence in COVID-19 cases.
Just yesterday, Victoria (the home of Melbourne and the surrounding suburbs) and neighboring New South Wales (home to Sydney and the country's most populous state) announced plans to close borders to hard-hit Victoria, the first time in a century that these borders have been closed.
The Aussie sold off when Victoria Premier Daniel Andrews announced the lockdown, likely because the 6 weeks embraced by Andrews  was longer than the market expectations of 4.
Cases have been climbing in Australia amid a new outbreak centered in Victoria that officials fear might spread across the country, now that social distancing measures have been largely unwound. Australia reported about 200 new cases on Tuesday, the highest daily total since late March.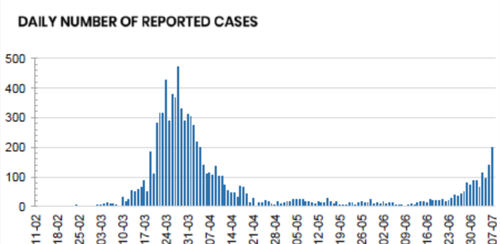 As part of the new lockdown measures, more than five million residents of Melbourne will be locked down for six weeks beginning Tuesday. The usual exceptions will apply, and the level of enforcement isn't yet clear.
Though New South Wales has reported more cases overall, Victoria has been the biggest contributor to the country's tally of new cases since the resurgence began weeks ago.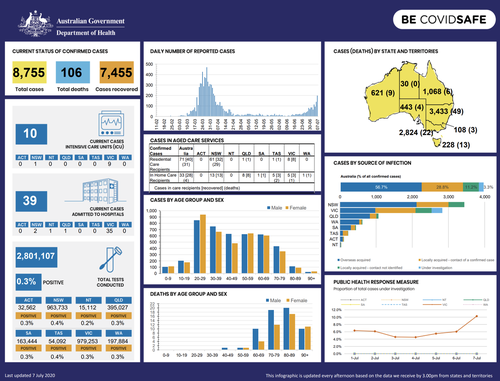 As we await the latest round of US data, India has confirmed that its outbreak has topped 700,000 with 22,252 new infections, becoming just the 4th country to surpass that level. That daily number is down from 24,248 the previous day. The country's COVID-19 tally now stands at 719,665, while its death toll surpassed the 20,000 mark with 467 new deaths; it now stands at exactly 20,160
In Japan, Tokyo once again confirmed 106 new infections, extending a streak of 100+-case days to six. The capital has urged residents of the capital city to be cautious, and avoid nightlife spots.
The big vaccine news on Tuesday was China's Sinovac Biotech, which will begin Phase III trials of its coronavirus vaccine candidate in Brazil this month. 9,000 health-care professionals will be involved in the study, which will be conducted in partnership with Brazilian vaccine producer Instituto Butantan. Only two other candidates, including AstraZeneca's experimental vaccine (developed by researchers at the University of Oxford) along and another one developed by China National Pharmaceutical Group - aka Sinopharm - have made it to these late-stage trials already.
8 of the 19 vaccines that have made it to human trials around the world are based in China.
South Korea confirmed 44 new cases on Tuesady, down from 48 a day ago. Total infections reached 13,181 with deaths still at just 285.
In the Middle East, Iran recorded its highest daily number of new COVID-19 deaths with 200 fatalities reported in the past 24 hours. Iran reported 200 new deaths from the coronavirus, the most in a single day since the Middle East's deadliest outbreak began in February. The previous record was Sunday's 163 deaths.
"Unfortunately in the past 24 hours we have lost 200 of our compatriots, bringing the total number of victims to 11,931," health ministry spokeswoman Sima Sadat Lari said on state television.
Another 2,637 people have tested positive for the virus, taking the total official number of cases in Iran to 245,688.
In Africa, South Africa's confirmed total has surpassed 200,000 as the country continues to post some of the highest daily numbers in the world, as Al Jazeera pointed out.
The health ministry reported 8,971 new cases, bringing the total to 205,721, with nearly 1/3rd in the new hot spot of Gauteng province, which includes Johannesburg and Pretoria.
There are more than 477,000 confirmed cases on the African continent.