---
'Merchant Of Death' Visits Occupied Ukraine; WNBA Reveals Griner Was Paid Full Salary While Locked Up
In what appears a further attempt to embarrass the United States, capitalizing on the fact that a notorious arms dealer and convicted terrorist nicknamed the 'Merchant of Death' was traded from US custody for a WNBA player caught in a Moscow airport merely with cannabis cartridges, Viktor Bout has made a highly publicized visit to occupied Ukraine. 
Russian state media confirmed that Bout visited the Russian-controlled city of Luhansk in the Donbas over the weekend, delivering a message that the area "would soon be peaceful, and people would live without fear for their future," as cited in RIA Novosti.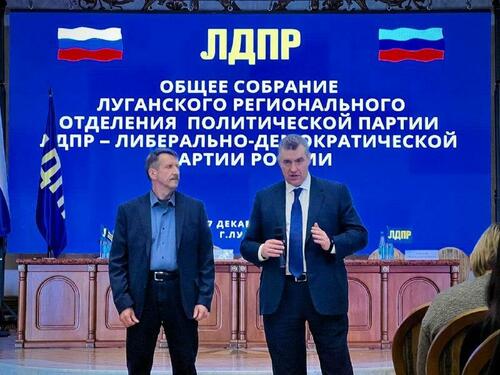 Bout, who was exchanged earlier this month for Brittney Griner in a hugely controversial one-for-one prisoner swap between the US and Moscow on Dec.8, has wasted no time getting into Russian politics and going on publicity tours and media interviews.
Among his first post-release statements included "thanking" and praising President Vladimir Putin, while also saying he'd be willing to volunteer to fight in Ukraine if given the opportunity. He said he "wholeheartedly supports" the Putin-ordered "special military operation" which has resulted in tens of thousands of deaths.
Bout showed up in Luhansk over the weekend ostensibly for the local launch of the pro-Kremlin Liberal Democratic Party of Russia (LDPR). Speculation has grown that Bout could eventually run for a seat in Russian parliament representing the far-right LDPR. But clearly his brief foray into the war zone is meant to send a message of humiliation for US foreign policy, given also deeply divided American domestic opinion over setting free the international arms trafficker that the US spent years and millions of dollars trying to track down and extradite over a decade ago.
LDPR leader Leonid Slutsky, who accompanied Bout on the trip, said their entourage had to alter their planned route to avoid artillery fire.
The Biden administration has continued defending the obviously very asymmetrical prisoner swap...
REPORTER: "There's a very clear mismatch between what Brittney Griner was alleged to have done and what Viktor Bout did do..."

SULLIVAN: "We take a back seat to no one when it comes to standing up against and pushing back against Russian aggression." pic.twitter.com/Z2IeZEDH3j

— Townhall.com (@townhallcom) December 12, 2022
Fighting has still raged in the region despite the Kremlin deeming the controversial referendums for Russia to absorb the four eastern and southern territories a 'success', which came earlier in the fall.
Slutsky said of the danger of fighting and shelling as the pair entered Luhansk: "But this could not cancel our visit to Luhansk, because this is a point of no return. Donbas and Russia are together forever. We will come here under any conditions," according to CNN.
Brittney Griner was credited with a year of service for 2022, per league source; the WNBA already announced she'd be paid her full salary this past summer without it counting against the Mercury's cap. (1/2)

— Alexa Philippou (@alexaphilippou) December 16, 2022
Meanwhile, on the US side, Griner affirmed that she plans to return to playing for the Phoenix Mercury in the upcoming WNBA season. What's more is that the team has revealed it has paid Griner's full salary while she was behind bars in a Russian jail over the summer. 
"The WNBA paying Griner's salary while incarcerated adds roughly $227,000 to her $5 million fortune," sports media source The Comeback documents.
In addition to receiving her full salary for the past 2022 year of being on trial and locked up in Russia, which included an initial couple weeks spent at a labor camp where she was to serve out a 9-year term before the Bout swap was made, it's expected she could rake in millions as she goes on a post-detention interview tour...
Major Brittney Griner financial windfall revealed https://t.co/1FvYfFY7dh pic.twitter.com/wGU7mlj7M4

— The Comeback (@thecomeback) December 18, 2022
The Kremlin will at the same time continue to spike the proverbial football as no doubt from their point of view it was almost too easy to gain the release of a Russian national who was serving a 25-year sentence at a federal penitentiary, in return for a celebrity basketball player.
Loading...