---
Merkel Accused Of Rushing EU-China Investment Deal As Part Of German Telecoms Quid Pro Quo
German Chancellor Merkel's consistent unequivocal support for the EU-China Comprehensive Agreement on Investment (CAI), which despite taking over seven years of negotiations appears to have been rushed through intentionally just before Biden takes office, has earned her intense criticism over much of the past year due to the deal's playing softball on China's horrible human rights record as well as essentially handing the communist country a vital diplomatic and economic "win" at a moment it's come under increased isolation led by Washington.
As we featured in prior analysis upon the landmark EU-China deal's being concluded on December 30, it was negotiated in great haste by Merkel, as well as French President Emmanuel Macron, the President of the European Commission, Ursula von der Leyen and European Council President Charles Michel. Other EU countries were excluded from the negotiations. Merkel, under pressure from China, reportedly sought an agreement at any cost before Germany's six-month EU presidency ended on December 31. A bombshell report featured in the German language online magazine Wirtschafts Woche this week purports to have revealed what that "cost" was, however:
"China is willing to provide Deutsche Telekom a mobile phone license, which would be a first for a foreign company."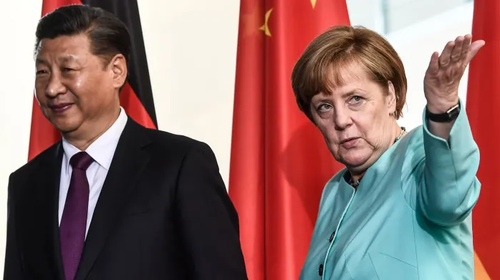 Bonn-based Deutsche Telekom is the largest telecommunications provider in Europe. Such a possible "side deal" might also explain why Germany has long maintained the most open stance on China's network vendors providing 5G equipment at a moment companies like Huawei have been mired in controversy and repeat warnings coming out of Washington and London that Beijing will inevitably utilize its networks for backdoor spying on host countries and their governments. 
The German publication also strongly suggested a further quid pro quo centered on Merkel's openness to in return open up the German mobile phone market for China Mobile. 
Exploring the implications, assuming the report is accurate, Rabobank had this to say on Wednesday:
A hop, skip, and a jump away in Europe, the German press (@wiwo) also have an exclusive on the EU-China CAI investment deal (which we will be publishing a more detailed report on soon). For those who cynically thought the rush to seal the deal was about the looming end of the German EU presidency or the Merkel chancellorship, think again: the claim is Germany has been offered a side-deal and "China is willing to provide Deutsche Telekom a mobile phone license, which would a first for a foreign company," and that in five years DT might even be able to own such infrastructure – with the quid pro quo being that Germany opens its national network to China Mobile. Once this story sinks in across the EU, will there be a parting of the ways between Germany and everyone else? And once it sinks in across the Atlantic, will there be a parting of the ways between the EU and the US? This does not look as much like "strategic autonomy" as it does old fashioned Merkel-cantilism. Many US (and EU) voices say these are generational national security issues that go far beyond any one firm, and are instead about epoch- and paradigm- shifting geostrategy. But rather they aren't – und das ist das problem.
Let me say it again and again: Germany is not an ally https://t.co/FhuBDljb6L

— European Negotiator Balding 大老板 (@BaldingsWorld) January 12, 2021
Significantly, rumors and accusations have been circulating since last September, when the EU was entering the final leg of the deal, while perhaps hoping to preempt any input from the future Biden administration by rushing to conclude it before January, as was reported at the time:
German authorities were rumoured to be hatching a plan to help Deutsche Telekom enter China's mobile market, WirtschaftsWoche reported, with speculation the move could be part of a deal related to Germany's 5G policies.

The publication did not divulge what shape Deutsche Telekom's involvement in China's mobile market could take, with the operator already offering enterprise services in the country through affiliate T-Systems P R China.

Its current offering in the country is focused on provision of data centre and cloud services. The business has offices in Beijing, Shanghai, Wuhan and Hong Kong.

...The rumors come as Germany is preparing new cybersecurity rules, which could provide restrictions on vendors for 5G networks.
The full Wirtschafts Woche report on the latest can be read here (paywalled).