---
Michel Barnier Calls For 3-5 Year Suspension Of Immigration Into EU
Authored by Paul Joseph Watson via Summit News,
Michel Barnier has called for a 3-5 year suspension of immigration into EU countries, warning that the bloc's external borders have become a "sieve" for criminals and terrorists.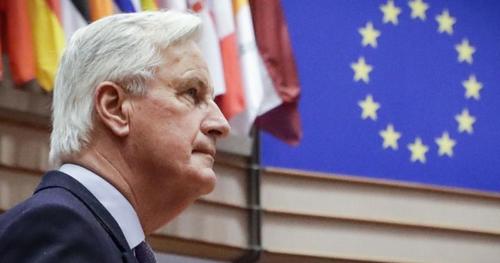 "I think we have to take the time for three or five years to suspend immigration," Barnier told French media.
The EU's former Brexit negotiator cited links between between immigration and "terrorist networks that infiltrate migrational flows" as part of his reasoning for calling for the shutdown, while also highlighting the issue of human trafficking networks.
The comments are particularly noteworthy because Barnier is known as a centrist – even a globalist in some ways – yet he is spouting rhetoric normally espoused by right-wing politicians.
When asked whether the comments contradicted his "moderate" reputation, Barnier responded, "The problems of immigration are not moderate. I know, as the politician that I am, to see the problems how they are and how French people experience them and to find solutions."
However, Barnier made a point of asserting that the controls wouldn't apply to "refugees," despite the fact that there have been numerous terror attacks carried out in France and other European countries by refugees.
Barnier's warning arrives while France is simultaneously gripped by the controversy of a letter penned by active duty military personnel warning President Macron that the country is heading towards civil war, partly as a result of mass uncontrolled immigration.
"A civil war is brewing in France and you know it perfectly well," the military members warn, adding that the French government must take swift action to ensure "the survival of our country."
France is home to millions of immigrants, many of them illegal aliens, who have refused to integrate into society and live in decrepit unruly ghettos on the edge of major cities where law and order is virtually non-existent and into which authorities fear to venture.
Such no go zones have also served to protect violent criminals and terrorists because police are often violently attacked by Islamist mobs when they try to make arrests.
Barnier is expected to challenge President Macron in next year's elections, where he will also face stiff competition from populist Marine Le Pen.
*  *  *
Brand new merch now available! Get it at https://www.pjwshop.com/
*  *  *
In the age of mass Silicon Valley censorship It is crucial that we stay in touch. I need you to sign up for my free newsletter here. Support my sponsor – Turbo Force – a supercharged boost of clean energy without the comedown. Also, I urgently need your financial support here.