---
Uber, Lyft Ponder "Plan B" Should They Lose This Week's California Court Showdown
The battle for the future of ride-sharing businesses in the US will hinge this week on a critical decision from a California Judge regarding whether Uber and Lyft will be forced to comply with a restrictive new law in the state of California called AB5, a bill that is disrupting the livelihoods of some of America's most vulnerable workers in the middle of a once-in-a-century pandemic.
AB 5, better known as California's anti-freelancer law, as it's written to establish numerous requirements that restrict companies' ability to hire and compensate independent contractors. Uber and Lyft's entire business model is built on the principle that its drivers are merely "freelancers", who have no accountability to the company (other than complying with the ToS), and vice-versa: They can choose to work whenever they want.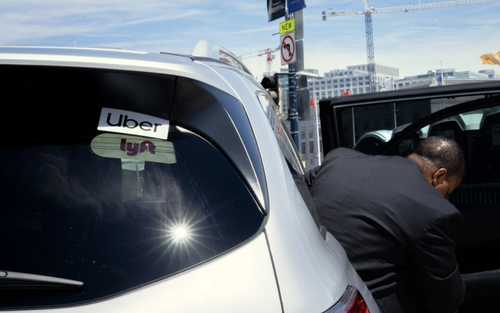 However, critics on the left led by AOC and her fellow "Squad"-mates have singled out Uber and Lyft for depriving their workers of adequate and livable wages, and for demolishing industries like NYC's yellow cabs, driving many drivers to suicide as the value of NYC's taxi cab medallions plummeted.
With Uber & Lyft having appealed a California judge's ruling that the two companies must comply with the new law, which would mean switching all of their drivers in California into full-time employees, a difficult process in the best of times, but an improbable ask during the middle of a recession. The economics, Lyft & Uber have argued, just wouldn't make sense, and Uber CEO Dara Khosrowshahi has told the press that should the appeal be denied, Uber will likely need to shut down its service in the state, at least for a short time.
As the countdown to the decision continues, reporters and analysts are trying to game out what Uber and Lyft might do if the decision goes against them, as well as how the two companies might react other scenarios, since AB 5 likely isn't going away any time soon.
The NYT reported Tuesday morning that one plan under discussion at Uber and Lyft would be to shift their operations to a franchise model, where they provide the software, and independent entrepreneurs provide the cars and the dispatch. It would effectively mark a return to black-cab fleets of old, as the NYT pointed out.
We could call it 'the McRideshare'.
One option that both companies are seriously discussing is licensing their brands to operators of vehicle fleets in California, according to three people with knowledge of the plans. The change would resemble an independently operated franchise, allowing Uber and Lyft to keep an arms-length association with drivers so that the companies would not need to employ them and pay their benefits.

The idea would effectively be a return to the days of how groups of black cars were run. Lyft has presented the plan to its board of directors, one person said. Uber, which already works with fleet operators in Germany and Spain, is also familiar with the business model.
The paper added that some of the scenarios planned out during Uber's corporate strategy sessions were given code-names from the "Super Mario Bros" video game franchise.
At Uber, many of the proposed ideas were code-named with the names of characters from the Mario Bros. video game, like Luigi, the people said. The Washington Post reported earlier on Project Luigi, which included the changes to Uber's app that give drivers more control over fares.

Another option that policy teams at both of the companies floated was the franchise-like model, the people with knowledge of the plans said.

Under the proposal, Uber and Lyft would invite other businesses to establish ride-hailing fleets using their platforms. That could bolster the companies' claims that they were simply tech companies that built sophisticated dispatch services and that providing transportation was outside their core business, protecting them from A.B. 5's requirements.

At Uber, the effort drew inspiration from the company's operations in Germany and Spain, where transportation rules have already forced it to work with fleets, Mr. Kallman said.
Lyft reportedly hashed out a different franchising plan that was based on the "FedEx" model.
Lyft based its plan on FedEx, which franchises some of its delivery routes to local operators, current and former employees said.

Uber and Lyft employees said the companies did not collaborate or share information about their plans with each other.

A franchise-like business can be challenging. Working with a fleet operator could increase costs because it introduces a third party who needs to be paid, potentially forcing Uber and Lyft to raise fares or reduce their service fees, current and former employees said. The companies would also likely have to surrender some control over driver behavior, leaving them more vulnerable to reputational damage if a driver harassed a passenger or a car was dirty.
But whatever model they choose, there will be obstacles. For instance, since Uber and Lyft have already decimated the black car industry, there aren't really any dispatchers left to absorb all this new business.
Another hurdle is that few fleet operators in California are large enough to absorb Uber's and Lyft's business, partly because Uber and Lyft previously disrupted taxis, black cars and similar operations.
If it goes through, we might see another California gold rush - except for taxi cab drivers and dispatchers (because somebody needs to sit in the office and drink coffee all day).
Of course, even if Uber and Lyft do lose on Friday, they will get another shot in November when California voters will be asked to classify ride-share drivers as independent contractors permanently. The measure, called Prop 22, was also helped by DoorDash and is of major consequence to the growing "sharing economy".