---
Migrants 3 Times More Likely To Be Accepted By UK Than France, Says Report
Authored by Chris Summers via The Epoch Times,
Asylum-seekers are almost three times more likely to have their applications granted in the UK than in France, according to a report by Migration Watch UK.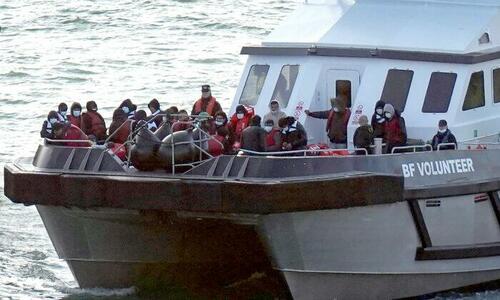 Data from the Home Office showed the granting of permission in the first instance rose to 77 percent in 2021 from 34 percent in 2016. The grant rate in France over the same period fell to 25 percent from 32 percent.
France is among the least likely countries in Europe to grant asylum, while Britain is at the other end of the spectrum.
"The UK's overly permissive asylum rules are an outlier compared with most of Europe and are adding to the powerful magnet that is drawing thousands of asylum rejects from all over Europe across the Channel in dangerous boat trips," Migration Watch said.
However, Jonathan Portes, a professor of economics at King's College London and senior fellow with UK in a Changing Europe, wrote on Twitter that France had granted refugee status to 50,000 people in 2021, compared with 11,000 in the UK.
As of Dec. 20, more than 45,000 illegal immigrants have crossed the English Channel in small boats, including about 15,000 who are believed to have come from Albania. That compares with 28,501 in 2021 and is 151 times more than the number that tried the crossing in 2018.
Four people died on Dec. 14 when a boat carrying illegal immigrants capsized in the Channel.
From 2017 and 2020, France was the most popular destination for Albanians, with about 11,000 a year trying to gain entry, the report says. Migration Watch said that suggests Albanians are now choosing to head for Britain after being rejected in France.
Migration Watch's report revealed 55 percent of immigrants from Eritrea, 44 percent of Afghans, 38 percent of those from Sudan, and 27 percent of Iraqis who were applying for asylum in the UK, had already claimed before in an EU country.
An internal Home Office report found the decision of some to head for the UK "may reflect an unsuccessful asylum application in France" and said another important factor was secondary movement from Greece and Germany.
The UK is considering using underutilized cruise ships to house illegal immigrants, Home Secretary Suella Braverman said this week.
'Everything Is Still on the Table'
She told a House of Lords committee the bill for accommodating illegal immigrants in hotels would be £2.3 billion this year and was expected to rise to £2.7 billion next year.
"We will bring forward a range of alternative sites, they will include disused holiday parks, former student halls. I should say we are looking at those sites, I wouldn't say anything is confirmed yet," she told the committee.

"But we need to bring forward thousands of places, and when you talk about vessels, all I can say is, because we are in discussion with a wide variety of providers, that everything is still on the table and nothing is excluded."
Some immigrants have already been moved out of hotels and into the Napier barracks in Folkestone, a former British Army base.
Braverman told the peers: 
"We are returning people almost every week to various countries around the world. We do that through scheduled flights, we charter flights … so we're in a variety of discussions with several airlines for lots of different destinations."
Earlier this week the High Court in London ruled the government's plan to send illegal immigrants who crossed the Channel to Rwanda while their applications were processed was "lawful."
But Braverman told the Lords committee that delivery of the Rwanda plan had been paused while there was ongoing litigation.
The Rwanda agreement, which was signed by Braverman's predecessor as home secretary, Priti Patel, was designed as a deterrent to those seeking to cross the Channel illegally.
"On top of the clear unsuitability, Suella Braverman's talk of housing people seeking asylum in old cruise ships, disused holiday camps, and student halls is just more distraction from the urgent task of reforming an asylum system that she and her predecessor have effectively broken," said Steve Valdez-Symonds, Amnesty International UK's refugee and migrant rights director.
Loading...