---
Moldovan Airspace Closed On Reports Of Drone Breach As Russia Rejects Coup Accusations
Air Moldova announced through its social media accounts Tuesday the country's airspace has been temporarily closed, with some flights being canceled.
"We are waiting for the resumption of flights. Today's schedule will undergo changes," the company wrote without giving details. Moldovan media outlets have meanwhile said the country's airspace had been breached by one or more drones earlier in the day, which would make the second significant airspace breach in under a week, after a Russian cruise missile fired from the Black Sea briefly briefly entered Moldovan air space days ago.
Some reports have indicated "a large number of drones" were observed near Chisinau airport in what could possibly be spillover from the neighboring war in Ukraine.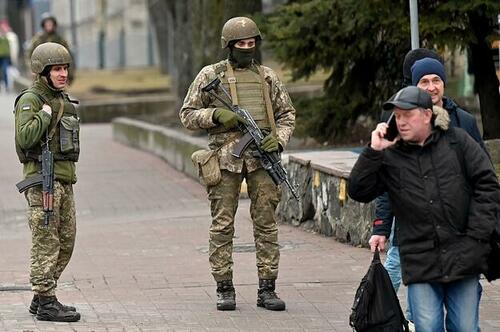 Just as these reports emerged of an unknown UAV breach, the Kremlin issued a statement angrily rejecting the Moldovan president's Monday allegations that Russia is plotting to overthrow the pro-EU government and replace it with a Russia-friendly one.
President Maia Sandu had described an elaborate plan by Russian intelligence to destabilize and collapse the government using color revolution-style tactics. She claimed that Kremlin agents are preparing to flood the country with Russian, Belarusian and Serbian agents provocateurs to steer protests and unrest in order to "change the legitimate government to an illegal government controlled by the Russian Federation."
On Tuesday Russia's Foreign Ministry spokeswoman Maria Zakharova called Sandu's claims "absolutely unfounded and unsubstantiated."
"They are built in the spirit of classical techniques that are often used by the United States, other Western countries and Ukraine," Zakharova said, pointing the finger back at the West for itself utilizing color revolution strategies in Eastern Europe.
"First, accusations are made with reference to purportedly classified intelligence information that cannot be verified, and then they are used to justify their own illegal actions."
⚡️Airspace over Moldova appears to have closed.

Local media reporting "drones" in the air. All unconfirmed as of now pic.twitter.com/O3Rf6vhxhB

— War Monitor (@WarMonitors) February 14, 2023
All of this has put intense pressure on the Chișinău government. Moldova was granted EU candidate status in June 2022, but the deeply impoverished nation is believed to have a long way to go, and its struggling energy sector was recently bailed out by Western donors.
Not only does Moldova border Ukraine, but its breakaway Transnistria region has long had a Russian troop presence. Last week Ukrainian President Volodymyr Zelensky was the first to issue a specific claim that there's an active Russian intelligence plot "for the destruction of Moldova". 
While not a NATO country, and unlikely to ever be one, NATO has of late pledged a deepened 'partnership' with it's pro-EU leadership. 
Loading...