---
Morbidly Obese "Jabba The Jihadi" ISIS Leader Caught In Iraq
A long 'most wanted' ISIS mufti responsible for ordering gruesome killings, kidnappings, rapes, as well as the destruction of the northern Iraqi city of Mosul's ancient heritage has been captured by an elite Iraqi SWAT team raid.
The massively obese terror leader named Shifa al-Nima, known within the Islamic State as Abu Abdul Bari, has been dubbed "Jabba the Jihadi" and photos posted online showed that after his capture police had to load him onto the back of a flatbed truck to accommodate his some 560-pounds.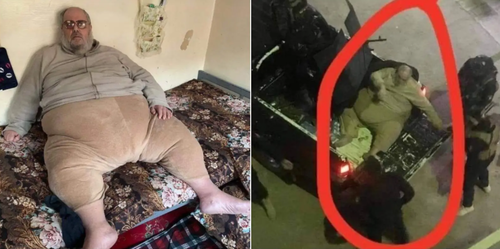 Considered one of the biggest captures in recent months due to his heading up still active but underground "ISIS gangs" in the region, he was nabbed at his hideout in Mosul earlier this week. Lately he was known to issue sermons and messages to his followers to target Iraqi police. 
And according to an Iraqi police statement, "He is considered one of the foremost leaders of ISIS and was responsible for issuing fatwas that led to the murder of scholars and clerics."
The fat mufti was also well-known for issuing a fatwa in 2014 to bomb one of Mosul's most revered pilgrimage sites — a mosque believed to be site of the tomb of the Prophet Jonah — which attracted Muslims and Christians alike.
I'm delighted to say that the Islamic States very own Jabba the Hut has been captured in Mosul.
Responsible for the execution of men, women and children.
This animal raped and murdered.

Good luck hanging him Iraq 😬 pic.twitter.com/r1naWIXYMA

— Macer Gifford (@macergifford) January 16, 2020
The Islamic State's strict Wahhabi interpretation of Islam forbids such veneration of tombs or religious places, and therefore sought to demolish any historical site it considered 'unIslamic'.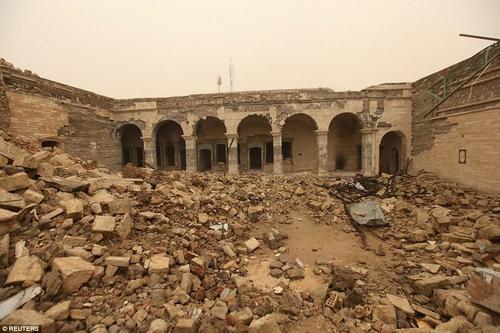 The military news outlet Stars & Stripes detailed some among the more popular memes which spread online in the wake of the ISIS cleric's capture: 
Memes including "He puts the fat in fatwa" spread on social media after photos were posted of Bari seated on cushions inside his apparent hideout in one image and loaded into the back of a pickup truck in another.

The images of his arrest would strike a psychological blow against ISIS, Maajid Nawaz, founder of the London-based counter-extremist organization Quilliam, wrote on Facebook.

"Gluttony is frowned upon by jihadists. But also, ISIS branded themselves as fighters possessing rare courage & discipline... meanwhile this walrus was their top religious cleric," he said.
Iraqi police suggest he was still making appearances in local mosques long after ISIS reign of terror, inciting hatred and violence against police and Iraqi leaders. 
Nima was captured in Mansour neighborhood of Mosul by the Nineveh police command and is now in prison, awaiting trial, after which he could face execution.