---
More Than 7,000 Dead As Turkey Declares State Of Emergency In Quake Zone
Update (1425ET): 
The death toll continues to climb. 
NBC News reported at least 7,266 people were killed in Turkey and Syria. 
President Recep Tayyip Erdogan said Tuesday evening that 5,434 people were killed and 22,168 injured. He said at least 8,000 people had been pulled from collapsed buildings. 
🚨 WATCH || Overwhelmed rescuers struggled to save people trapped under the rubble as the death toll from a devastating earthquake in Turkey and Syria approached 7,200 on Tuesday

- https://t.co/Jf9fs8w3s0 pic.twitter.com/fq8e2rpfll

— PiQ (@PriapusIQ) February 7, 2023
The Syrian Health Ministry said 812 people were killed, with another 1,832 injured. In Syrian rebel-held areas, about 1,020 died, and 2,400 were injured. 
Turkish Vice President Fuat Oktay said 338,000 people were in government shelters or hotels. Tens of thousands of others were taking refuge in community centers, stadiums, shopping malls, and other buildings that were still structurally sound. 
Erdogan also declared a state of emergency in the quake-affected areas:
"We are declaring ten cities impacted by the earthquake zone," he said, adding the emergency order will last for three months. 
Here's more shocking footage:
Kahraman Maraş southern Turkey, before and after the #Earthquake pic.twitter.com/XvdQBcXO46

— Asaad Sam Hanna (@AsaadHannaa) February 7, 2023
Drone footage from Malatya, #Turkey shows massive devastation after Earthquake. Entire buildings, neighborhoods wiped: pic.twitter.com/XI6QWLPHSK

— Joyce Karam (@Joyce_Karam) February 7, 2023
❗️Devastating visual from the earthquake affected region 👀

Turkey earthquake death toll rises to 5,434 with 31,777 injured

Video credit on the visual pic.twitter.com/hAgRx4f0JH

— OsintTV📺 (@OsintTV) February 7, 2023
WATCH - Turkey's Iskenderun port on fire after earthquake https://t.co/bhAZaY1HO5 pic.twitter.com/slvoQbz8vn

— Insider Paper (@TheInsiderPaper) February 7, 2023
*   *   * 
The death toll from the powerful 7.8-magnitude earthquake that struck Turkey and Syria early Monday surged to more than 5,000 on Tuesday, according to WaPo. Thousands of buildings collapsed in southern Turkey and Northern Syria. Rescue teams from around the world are pouring into the region to comb through the rubble and search for survivors. 
Turkey's Vice President Fuat Oktay said deaths had increased to 3,419. He said another 20,534 people were injured. Another 1,602 people were dead on the Syrian side of the border, bringing the total between the countries to 5,000. 
Two alarming estimates, one from the US Geological Survey and the other from the World Health Organization's senior emergency officer for Europe, indicated that the death toll in both countries could surpass 10,000 and reach as high as 20,000. The high estimates are due to the powerful quake and aftershocks that toppled large multi-family residential structures. 
No words.. I can't … this is hell #Turkey #earthquake pic.twitter.com/B6xn1g6r5y

— Abier (@abierkhatib) February 6, 2023
We never know when the ground we stood on gonna shatter and our lives crumble.
Prayers to all the souls and people in Turkey and Syria.

Everyday we are alive, is a day worth living for. #TurkeyEarthquake #syriaearthquake #bbrightvc pic.twitter.com/PmPirXroV1

— BrightVC UK Fanclub (@bbrightvc_ukfc) February 7, 2023
Since the quake struck early Monday, southern Turkey has recorded a staggering 285 aftershocks. A few of those quakes were enough to cause new buildings to collapse, said Orhan Tatar, an official from the Disaster and Emergency Management Presidency, who WSJ quoted. Tatar warned: 
"Every minute, new tremors are happening." 
Here's a map of where the first quake struck.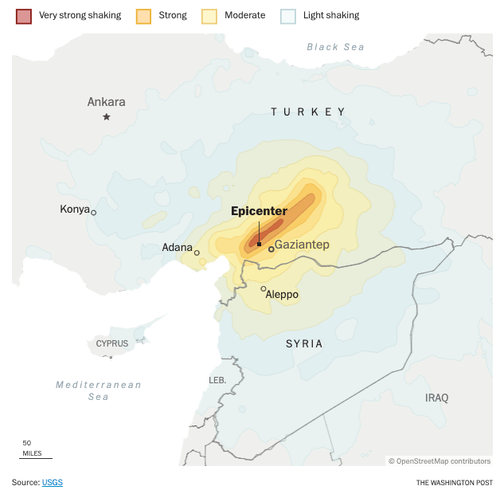 President Recep Erdogan said the quake is the country's largest disaster since the 1939 Erzincan earthquake that killed upwards of 30,00 people. South-central Turkey sits on major fault lines, with three tectonic plates sliding past each other. 
Loading...