---
Moscow Boots 20 German Diplomats In Tit-for-Tat Mass Expulsion
At a moment G7 countries are mulling whether or not to ratchet the sanctions regimen on Moscow further, relations between Russia and leading EU countries continue sliding with little hope of repair. 
The Russian Foreign Ministry announced that Germany is initiating a new massive expulsion of Russian diplomats in the country, and that Moscow will respond in kind. Russia has blamed Germany for destroying "the foundations of the Russian-German relations."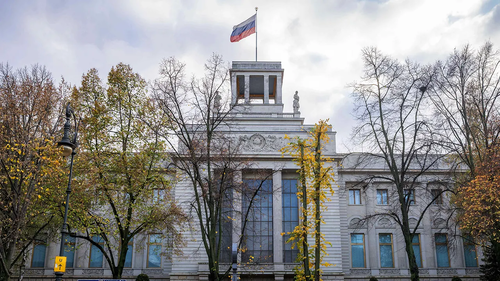 "The German government has made a decision on a new massive expulsion of employees of Russian diplomatic missions in Germany ... We strongly condemn this actions of Berlin that continues to defiantly destroy the foundations of the Russian-German relations, including their diplomatic dimension," the ministry stated.
"As a response to Berlin's hostile actions, the Russian side has taken a decision on a 'mirror' expulsion of German diplomats from Russia as well as on a substantial reduction of a maximum number of employees of German diplomatic missions in our country. German Ambassador to Russia Geza Andreas von Geyr was informed about it during the discussion in the Russian Foreign Ministry on April 5, 2023," the statement added.
The tit-for-tat move will involve Russia booting over 20 German diplomats from its soil, Russian Foreign Ministry spokeswoman Maria Zakharova confirmed to RIA Novosti on Saturday.
Interestingly this comes at a moment the Kremlin is being widely accused of trying to influence German politicians to form an influential anti-war coalition, in order to return Germany to a more neutral approach regarding the Ukraine conflict: 
The Kremlin attempted to sway German politicians to form an anti-war coalition as part of a broader strategy to weaken European backing for Ukraine, The Washington Post reported Friday.

Citing documents dated between July and November last year that were obtained by an unidentified European intelligence service, the publication said Kremlin deputy chief of staff Sergei Kiriyenko had ordered Russian political strategists at a July 13 meeting to "focus" on Germany. 

A Sept. 9 document spelled out plans for uniting Germany's leading far-left lawmaker Sahra Wagenknecht and the far-right Alternative für Deutschland (AfD) party under a common anti-war banner, WP reported.  
But the reality remains that these groups are already highly skeptical of Germany abandoning its historic neutrality last year, and joining what's now in effect a proxy war against Russia in Ukraine. The German Left party MP in question has called the allegations fake news.
Information warfare: WashPost (owned by oligarch Jeff Bezos, who has big CIA contracts) is smearing the anti-war movement with ridiculous propaganda

It cites a "European intelligence service" to absurdly link Germany's anti-war left to Russia and the far-right with ZERO EVIDENCE https://t.co/YhimATNYid

— Ben Norton (@BenjaminNorton) April 21, 2023
Germany's Ukraine policy now involves Berlin sending its Leopard II main battle tanks, a highly controversial move. Countries like Germany, France, and Hungary have come under criticism by European hawks for either not acting fast enough to support Ukraine, or blocking muscular initiatives.
Loading...