---
National Embarrassment: Saudi TV Mocks Biden In Skit
Authored by Steve Watson via Summit News,
If there was ever any doubt that Joe Biden has made the U.S. an international laughing stock, then look no further than this clip from Saudi TV.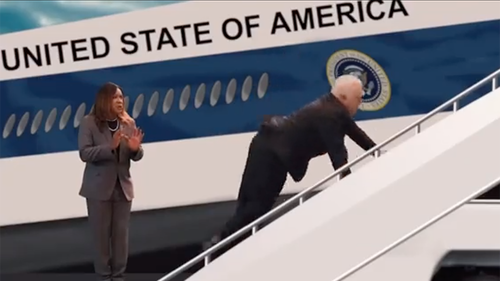 The MBC channel In Saudi depicted Biden as extending his hand to shake a non-existent person's, getting lost on stage, and falling up the steps of Air Force One, while an equally useless Kamala Harris looks on.
Saudi MBC TV comedy program made a skit on Joe Biden.

🔊 pic.twitter.com/POjuGFV42a

— Wall Street Silver (@WallStreetSilv) March 23, 2023
It's funny because it's true:
Videos: Biden Falls Up Steps AGAIN, Gets Lost On Stage AGAIN, Jokes About Not Having A Brain
Biden falls three times up steps to Air Force One pic.twitter.com/rwmWLknwj2

— The Independent (@Independent) March 19, 2021
IT HAPPENED AGAIN: Joe Biden trips as he boards Air Force One in Poland.

The symbolic final image of a trip marked by posturing, brinksmanship, more $$ for Ukraine, and the further escalation of a proxy war with Russia. pic.twitter.com/Jkir2o29mF

— Charlie Kirk (@charliekirk11) February 22, 2023
Watch out for the stairs! pic.twitter.com/Qo7faNqRfS

— RNC Research (@RNCResearch) March 6, 2023
First incidenthttps://t.co/Gg0ZnvNyEx

— Koustuv 🇮🇳 🧭 (@srdmk01) April 23, 2022
The Saudi channel is continually using Biden for laughs:
For the first time i see the Saudi TV mocking the US administration. pic.twitter.com/8vPtU0txJ8

— Asaad Sam Hanna (@AsaadHannaa) April 12, 2022
It is not surprising given that, as reported by The Wall St Journal, sources inside the Saudi government have claimed that the country's leader Crown Prince Mohammed bin Salman privately mocks gaffes made by Joe Biden, and has questioned his mental fitness to be President.
WSJ Report: Saudi Crown Prince Privately Mocks Biden's Mental Decline
*  *  *
Brand new merch now available! Get it at https://www.pjwshop.com/
In the age of mass Silicon Valley censorship It is crucial that we stay in touch. We need you to sign up for our free newsletter here. Support our sponsor – Turbo Force – a supercharged boost of clean energy without the comedown. Also, we urgently need your financial support here.
Loading...