---
"War Effort In Shambles As Hawks Turn On Each Other" At NATO Summit
Bloomberg is just out with a devastating behind-the-scenes account of a hot-headed Zelensky at the NATO summit in Vilnius, and the growing Western backlash in the face of his obvious frustration and what's being seen as ingratitude for the steady flow of billions of dollars in arms to Kiev.
Apparently even the mainstream media agrees with our own assessment of the Ukrainian leader having thrown a "tantrum" as he complained about the "weak" and "absurd" NATO stance on Ukraine's membership. The blistering tweet he issued in English while en route to Lithuania exposed cracks in the alliance, as Bloomberg highlights in the opening of its very revealing Wednesday piece: 
Volodymyr Zelenskiy was running hot ahead of his sit-down with NATO leaders on Tuesday evening. The Ukrainian president had been angered earlier in the day by what he said was an "absurd" reluctance to give his country a clear timeline on membership.

That outburst in turn riled the partners who have funneled billions of dollars of weaponry and aid into Ukraine's defense against the Russian invasion — the US had been given no warning before Zelenskiy unleashed his attack on social media.
Embarrassed Man Could've Sworn Invitation Said 'Costume Party' https://t.co/VMLPFQdalc pic.twitter.com/4LGqXGty4y

— The Babylon Bee (@TheBabylonBee) July 12, 2023
All day Wednesday, the above (very real) photo of an isolated and defeated-looking Zelensky standing amid NATO heads of state (with backs turned) circulated widely on social media.
And things were even more tense behind the scenes, as Bloomberg writes: "Over dinner in Vilnius, with US President Joe Biden back at his hotel, the other leaders delivered a clear message to Zelenskiy, according to one person who was present. You have to cool down and look at the full package, Zelenskiy was told."
While it's not quite yet a full on 'hero to zero' story... things are certainly sliding in that direction, given it's unprecedented that the Ukrainian president who previously enjoyed rockstar status in Western capitals since the start of the invasion could be told to basically 'cool it'!. 
Bloomberg continues in reference to Zelensky: "He had, after all, been given a renewed commitment to eventual membership and new security guarantees from the Group of Seven nations. By the next day, the message appeared to be sinking in." The publication was privy to some key Western leaders' exact words, presenting the rare dressing down as follows [emphasis ZH]: 
"Whether we like it or not, people want to see gratitude," UK Defense Secretary Ben Wallace told reporters the following morning. "You're persuading countries to give up their stock" of weapons and ammunition, he added.

This account of the behind-the-scenes wrangling is based on interviews with more than a dozen diplomats and officials involved in the summit who asked not to be named discussing private conversations. NATO leaders were trying to thread a needle on Ukraine's membership bid when they arrived in Vilnius: They were seeking language that looked like progress and that Ukraine could sell as progress but fundamentally didn't leave them any closer to getting dragged into a war with nuclear-armed Russia.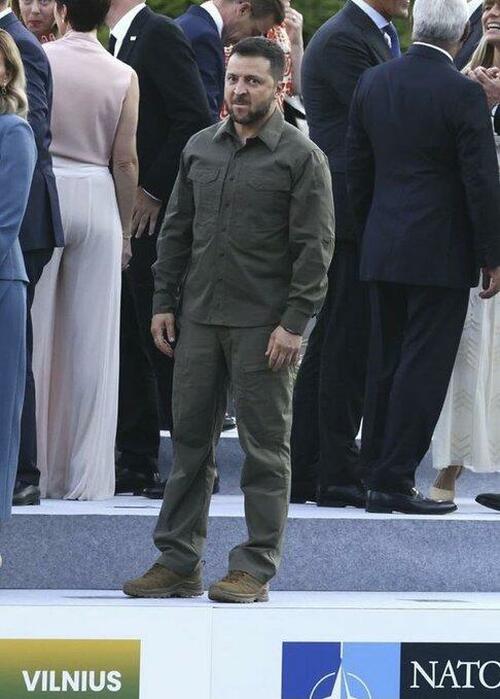 Ultimately the hawks (mainly among the Baltic and Eastern Europe states) have lost at Vilnius. Ukrainian Foreign Minister Dmytro Kuleba has admitted "There was a lack of political will." Thus it appears that Zelensky's angry, desperate tweet lashing out at Western partners was a last ditch effort at shaming NATO into conceding to its demands of being immediately fast-tracked to membership.
Bloomberg reveals further, that "Crucially, it was the US and Germany that insisted on dialing back the commitment to Ukraine joining the alliance. Earlier drafts of the communique offered a clearer pathway to Ukraine eventually joining, but Biden and Chancellor Olaf Scholz were wary of going too far."
"Their teams demanded changes in the final days before the summit, upsetting lots of the other European nations, as well as the Ukrainians." Indeed Biden in a CNN interview at the start of the week confessed the obvious: that Ukraine's admission into NATO with the war still going would automatically unleash war between nuclear-armed powers - a WW3 doomsday scenario. Hence the West is now telling Kiev: just stop.
In Zelensky's next big NATO summit appearance Wednesday following a no doubt awkward evening, things were different as he belatedly "got the message"...
Ukrainian President Volodymyr Zelensky on Wednesday struck a more conciliatory tone on the subject of Ukraine joining NATO after he raised criticism this week over his country not being formally invited to join the alliance. 

Zelensky said at a joint press conference with NATO Secretary-General Jens Stoltenberg on Wednesday that Ukraine has already come a "long way in interoperability" with the organization and praised NATO's decision to remove the need for procedural step — for Ukraine to have a Membership Action Plan — to join the alliance. 
More rare, awkward moments of Zelensky being on the receiving end of chastisement and humiliating sarcasm:
REPORTER to ZELENSKY: "How soon after the war would you like to be in NATO?"

BIDEN INTERJECTS SARCASTICALLY: "An hour and 20 minutes! You guys ask really insightful questions!" pic.twitter.com/U2wwwR4HfK

— Townhall.com (@townhallcom) July 12, 2023
Just the day prior: Below is the much more confident Zelensky brimming with self-righteous rage, attempting to convince NATO leaders to change course on stating firm "conditions" for future possible membership. 
He demanded... Ukraine "deserves respect". 
We value our allies. We value our shared security. And we always appreciate an open conversation.
Ukraine will be represented at the NATO summit in Vilnius. Because it is about respect.

But Ukraine also deserves respect. Now, on the way to Vilnius, we received signals that…

— Володимир Зеленський (@ZelenskyyUa) July 11, 2023
The New York Times' summation of precisely what fell short in the NATO communique explains: "NATO declared on Tuesday that Ukraine would be invited to join the alliance, but did not say how or when, disappointing its president but reflecting the resolve by President Biden and other leaders not to be drawn directly into Ukraine's war with Russia."
Indeed it's being widely  called more vague--and with greater possible restrictions, or "conditions"--than even what came out of the 2008 Bucharest summit.
Below is the offending part of the official Vilnius Summit Communiqué:
Issued by NATO Heads of State and Government participating in the meeting of the North Atlantic Council in Vilnius 11 July 2023:
11. We fully support Ukraine's right to choose its own security arrangements. Ukraine's future is in NATO. We reaffirm the commitment we made at the 2008 Summit in Bucharest that Ukraine will become a member of NATO, and today we recognise that Ukraine's path to full Euro-Atlantic integration has moved beyond the need for the Membership Action Plan. Ukraine has become increasingly interoperable and politically integrated with the Alliance, and has made substantial progress on its reform path. In line with the 1997 Charter on a Distinctive Partnership between NATO and Ukraine and the 2009 Complement, Allies will continue to support and review Ukraine's progress on interoperability as well as additional democratic and security sector reforms that are required. NATO Foreign Ministers will regularly assess progress through the adapted Annual National Programme. The Alliance will support Ukraine in making these reforms on its path towards future membership. We will be in a position to extend an invitation to Ukraine to join the Alliance when Allies agree and conditions are met.
But Zelensky is still holding out hope that one day...
Zelensky:

"After the war, Ukraine will be in NATO." pic.twitter.com/IOEGEHTwaL

— Citizen Free Press (@CitizenFreePres) July 12, 2023
However, President Biden has remained unmoved, and responded by explaining before reporters that Ukraine "will not be in NATO for a while".
* * *
The geopolitical analysis news site Moon of Alabama observes correctly...
"Well. The little comedian seems disappointed. As if the whole play had not been obvious from the very beginning. Since 2008 the Ukraine was to be used as a tool to nag Russia. It is otherwise of little value. It will end up as a discarded rag while NATO will, in the end, again recognize the Russian Federation as the super power that that it is. NATO will have to relearn to listen to and negotiate with it."
MofA then highlights the inevitable negative impact (to say the least) on Ukrainian morale: "Now lets wait and see what NATO's climb down will do to the morale and motivations of the Ukrainian army and people."
Update(1740): David Sacks agrees that for the hawks of NATO-land, the way things are going for the Ukrainian war effort and the West's prior optimism and muscular support in general have reached a low-point.
Sacks writes below [emphasis ZH's]...
Despite Biden's best efforts to put a happy face on it, Vilnius will be remembered as the NATO Summit where tensions boiled over. Zelensky denounced the Alliance's admission policy as "absurd" and disrespectful.

UK Secretary of Defense Ben Wallace chastised Zelensky for ingratitude. Lindsey Graham attacked the Biden administration for weakness. Ben Hodges criticized Jake Sullivan for lack of "strategic bravery." Even NAFO mascot Adam Kinzinger no longer appears to be a "fella."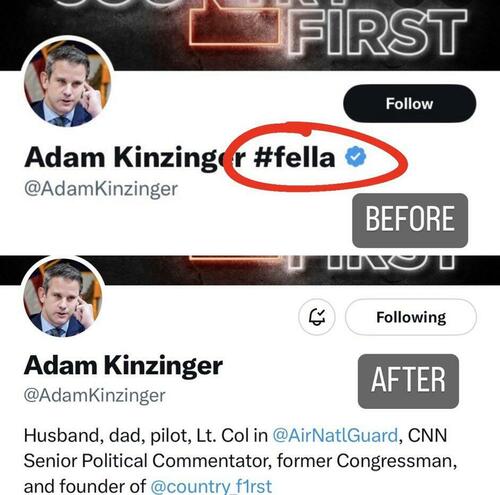 The optics were even harsher than the words, with the NATO elites turning their backs on a frustrated Zelensky. Biden's assurance that Zelensky is "stuck" with the U.S. may come as cold comfort to both nations now that the Ukrainian counteroffensive has failed to meet expectations, huge amounts of expensive Western armor lay in ruins smoldering on the battlefield, Ukrainian casualties are horrific, and the U.S. has run out of 155mm artillery shells to give, forcing America to debase itself by sending cluster bombs.

The war effort is increasingly a shambles and the War Party is starting to turn on each other.
The Western establishment narrative of the Ukraine war is based on blatant lying about the historical record. Empirically incontrovertible corrections to the lies are dismissed as Putin talking points. The gaslighting and dishonesty have been unbelievable. https://t.co/i10aXBR5s2

— Max Abrahms (@MaxAbrahms) July 12, 2023
Loading...