---
NATO Row Erupts As Latvia Blasts Germany's "Immoral & Hypocritical" Russia, China Ties
In yet further signs that Russia's troop build-up near Ukraine has resulted in significant cracks in the NATO alliance, as days ago leading European countries very visibly broke with the more hawkish agenda of the US, UK, and some Baltic allies (opting instead for diplomacy as opposed to constantly escalating confrontational rhetoric) - Latvia is going on the attack, lashing out at Germany for its seemingly 'compromised' relations with Russia and China.
Latvian Defense Minister Artis Pabriks slammed Germany's "immoral and hypocritical" relationship with Russia and China, accusing Berlin of driving a wedge between eastern and western Europe, at a time that unity is paramount. "It's immoral and hypocritical. It's driving a division line between west and east in Europe," Pabriks said in the Financial Times interview published Friday.
"How are you acting yourself when it comes to Lithuania, Russia, China?" Pabriks asked hypothetically of Germany. He answered his own question: "It's immoral and hypocritical. It's driving a division line between west and east in Europe."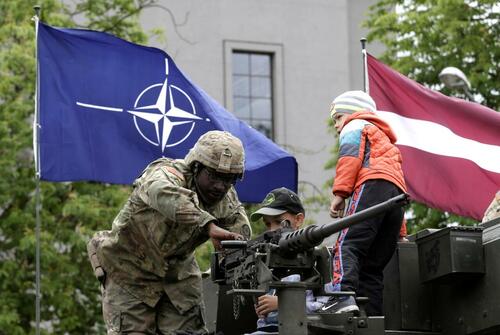 "Germans forgot already that Americans were granting their security in the Cold War," the defense minister added. "But they should [remember]. It's their moral duty." The suggestion was that Germany should stay lockstep with Washington on the issue of Russia's 'threat' to NATO's "eastern flank". 
"European security cannot be done without a German leading role. At this moment, when we're looking at how they're acting on European defense and NATO, the readiness of the Bundeswehr, the hesitance to use military force, it's absurd for the current times," Pabriks described.
Berlin starting last week made it clear that German weapons would never be transferred to Ukraine, and even forbade eastern European allies from making the transfers, instead merely sending a few thousand helmets. Some European officials voiced that the non-lethal shipment was almost an insult, at a moment the UK and US are ramping up anti-tank missile deliveries to Ukraine's army.
So far, the worst warning issued to Moscow came from German Chancellor Olaf Scholz, who while under pressure said that in the event Russia invades Ukraine, halting the Nord Stream 2 pipeline would be up for discussion.
That's the way to go, Latvia! Let's turn NATO and the EU into a circular firing squad. That will teach Putin and Xi a lesson. Right? "Latvia slams Germany's 'immoral' relationship with Russia and China" https://t.co/r6JPa6zujk via @FT (sarcasm tweet) By the way: What was 16+1?

— Reinhard Bütikofer (@bueti) January 28, 2022
And yet it now appears that the NS2 Russia-to-Germany pipeline which bypasses Ukraine and eastern Europe altogether is poised to receive full certification and begin supplying natural gas. Germany has also been seen as 'soft' on China...
As Politico reported, "Officials said Scholz's office feared the EU was becoming too aggressive in its defense of Lithuania against Beijing's economic coercion. The chancellery has been 'calling everyone who speaks German in the [European] Commission' to tone down the pressure on China, after France last week said Beijing had gone too far with its attacks on the single market, one of the officials said."