The Pentagon is seeking to assure the US public and the world that "extraordinary measures" are being taken to ensure all sailors currently deployed on two aircraft carriers in the South China Sea remain COVID-19 free. 
The Navy is enacting strict health measures, including mandatory face masks among sailors, in order to avoid the USS Theodore Roosevelt disaster of months ago, which saw over 1,000 of its nearly 5,000 member crew infected, including the ship's commander.
"We've taken extraordinary measures to protect our sailors from COVID, but that said it remains a real threat and requires constant vigilance," Rear Adm. George Wikoff, the commander of Carrier Strike Group 5, led by the USS Ronald Reagan, said in a statement Wednesday. "The entire team underway, everyone on board, is required to wear a mask," he added.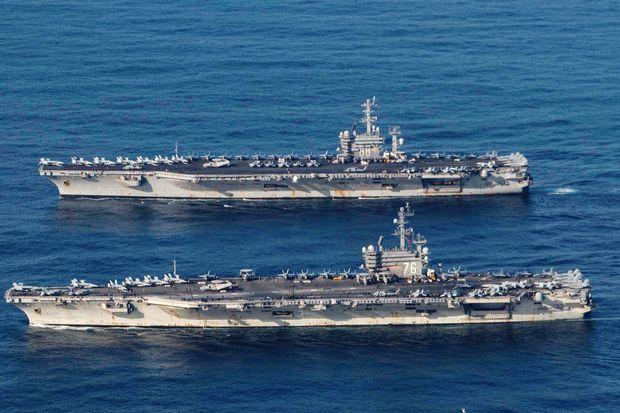 The Pentagon has described the South China Sea maneuvers by two supercarriers sent to the region days ago, namely the USS Ronald Reagan and USS Nimitz, as necessary to stand up "for the right of all nations to fly, sail and operate wherever international law allows" and further as a "symbol of resolve".
Each carrier has 90 or more aircraft and about 6,000 personnel, making it a significant display of force off China's coast. But any potential outbreak among the combined 12,000 navy personnel could be disastrous, and send quite the opposite message of lack of preparedness. 
Additional measures ensuring the two carriers will avoid the fate of the Roosevelt include spaced out mealtimes, general social distancing measures, and having specialists aboard such as trained microbiologists who can help detect any early cases. Extra medical personnel have also been assigned to the carriers. 
Beijing officials earlier dismissed the provocative carrier presence in the region as as "nothing more than paper tigers on China's doorsteps." 
Quite the pic of our Navy exercises in the South China Sea that began on the 4th of July for the first time in 6 years pic.twitter.com/RLlGeshr1a

— Not Jim Cramer (@Not_Jim_Cramer) July 8, 2020
To some degree that does indeed describe the prior USS Roosevelt saga, given COVID-19 did take it out of commission as it was forced to cut short its mission and dock at Guam to deal with the outbreak.