---
Nearly 20 Arrested In Coup Attempt Against Jordan's King Abdullah
A spate of high level Jordanian officials were arrested Saturday after what's being widely reported as a significant failed coup attempt - though government signals out of Amman are somewhat contradictory as of Sunday. The Washington Post is reporting that nearly 20 Jordanian officials have been detained.
A powerful royal family member, the popular half-brother of ruling King Abdulla II, former Crown Prince Hamzah bin Al Hussein, is reportedly under house arrest (something authorities are denying), and several former top officials have also been arrested, including at least two senior officials working in the palace.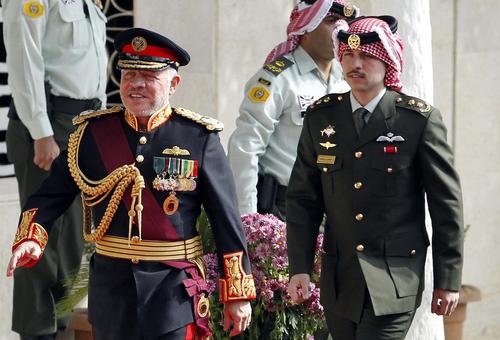 The military described of the rare series of events within the close US allied country that's typically prided itself on its "stability" - which also hosts American and Western intelligence and army bases - that authorities had to make "moves against a threat to national security," as The Hill described. 
The events were apparently a severe enough threat to King Abdulla's rule that an urgent message was sent to Israel later in the day saying "the situation is under control"...
BREAKING: Jordan sent a message to Israel today that "the situation is under control" after the wave of arrests & there is no threat for the stability of the kingdom. Israeli officials told me the message was passed by Jordanian military officials to their Israeli counterparts

— Barak Ravid (@BarakRavid) April 3, 2021
Details remain murky, but here's what's known according to The Associated Press:
The half-brother of Jordan's King Abdullah II said Saturday he has been placed under house arrest and accused the country's "ruling system" of incompetence and corruption, exposing a rare rift within the ruling monarchy of a close Western ally.

Prince Hamzah's videotaped statement came after the country's official news agency reported that two former senior officials and other suspects had been arrested for "security reasons," even as authorities denied that Hamzah had been detained or placed under house arrest.

In a video leaked to the British Broadcasting Corp., Hamzah — a former crown prince stripped of his title in 2004 — said he was visited early Saturday by the country's military chief and told he was not allowed to go out, communicate with people or meet with them.
Jordan's top general, Yousef Huneiti, told Petra news agency than an investigation is ongoing, saying "No one is above the law and Jordan's security and stability are above all," and vowed to soon make the findings public.
#Jordan's former crown prince says his internet and phone lines have been cut pic.twitter.com/ExLXi5JbNi

— Ali Özkök (@Ozkok_A) April 4, 2021
Interestingly Hamzah's leaked video statement had indeed pointed to broader stirrings of rebellion against the monarchy: "I'm not part of any conspiracy or nefarious organization or foreign-backed group, as is always the claim here for anyone who speaks out," he said before adding:  
"There are members of this family who still love this country, who care for (its people) and will put them above all else."

"Apparently, that is a crime worthy of isolation, threats and now being cut off."
As of Sunday there's been accusations out of Amman that foreign powers may have been in league with the crown prince...
Name them @aymanhsafadi, if you dare:

"Jordan's Deputy Prime Minister Safadi said that King Abdullah's half-brother & fmr crown prince, Prince Hamza, had been liaising w foreign parties over a plot to destabilize the country & monitored for some time."https://t.co/6u14NIEE6Z

— Sarah Leah Whitson (@sarahleah1) April 4, 2021
King Abdulla's rule goes all the way back to 1999, with essentially no internal challenges of note in over two decades, following the rule of his father King Hussein over the prior half-century. Israel sees the stability of its eastern neighbor as paramount to its own security, also given the massive Palestinian refugee population there.
Meanwhile the US has said it's "closely following" the situation. "We are closely following the reports and in touch with Jordanian officials," State Department spokesman Ned Price announced in a statement. "King Abdullah is a key partner of the United States, and he has our full support."