---
Netanyahu: "Despicable" UN Vote Has No Bearing On Israel
The United Nations General Assembly on Friday passed a resolution asking the International Court of Justice (ICJ) to evaluate the legality of Israel's "prolonged occupation, settlement and annexation of Palestinian territory."
In a video message, Prime Minister Benjamin Netayahu was quick to condemn the UN vote as a "despicable decision" that has no bearing on Israel -- a government that sprang into existence in 1948 in the wake of a UN General Assembly recommendation to partition Palestine. 
"The Jewish people are not occupiers in their own land nor occupiers in our eternal capital Jerusalem and no UN resolution can distort that historical truth," said Netanyahu. 
Friday's UN resolution also asks the ICJ to give an advisory opinion on Israeli "measures aimed at altering the demographic composition, character and status of the Holy City of Jerusalem, and from its adoption of related discriminatory legislation and measures." 
Jewish settlers and Israeli authorities have been intensifying their efforts to push Palestinians out of occupied East Jerusalem, with the neighborhood of Sheikh Jarrah emerging as a particular flash point.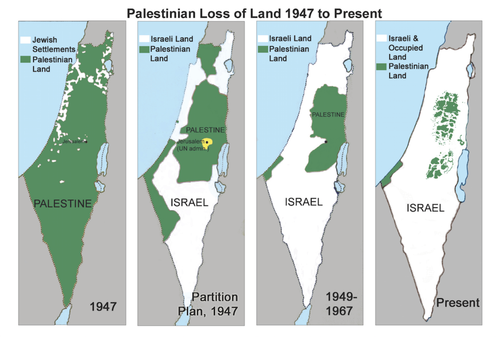 The UN vote comes after Netanyahu's formation of the most ultra-nationalist and religious government in in the country's history. Last week, Netanyahu's government declared that "the Jewish people have an exclusive and inalienable right to all parts of the Land of Israel," including the West Bank and Golan Heights. 
With the new leadership bent on the even more expansion of West Bank settlements-- and thus threatening to obliterate the long-running fictional pursuit of a "two-state solution" -- a leery Biden White House is dispatching national security advisor Jake Sullivan to the Israel for a mid-January visit.
Friday's General Assembly's ICJ resolution passed by an 87-26 vote, with 53 members abstaining. In voting against the measure, Israel and the United States were joined by countries that included Australia, Austria, Canada, Germany, Italy and the United Kingdom. France abstained, while Russia, China, Ireland, Portugal and Saudi Arabia were among the yes votes.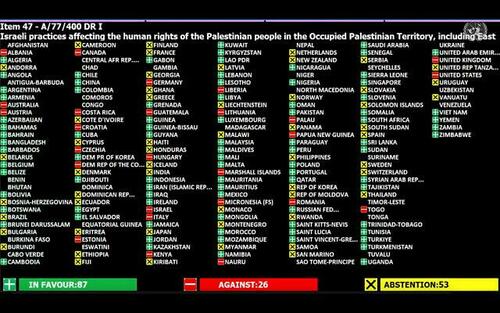 The 15-member ICJ, which is in The Hague, Netherlands, is the UN's senior court for managing international disputes. Though not obliged to take act on the General Assembly resolution, the court is widely expected to. 
In September, Italian human rights attorney Francesca Albanese, acting as a UN Special Rapporteur, characterized Israel as an "intentionally acquisitive, segregationist and repressive regime designed to prevent the realization of the Palestinian people's right to self-determination." She officially urged that Israel dismantle its "settler-colonial occupation and its apartheid practices."
This month, Israel accused Albanese of antisemitism, citing 2014 social media comments in which she used the term "Jewish lobby" in explaining why the United States "remain[ed] on the sidelines" as Israel brutally attacked Gaza, exacting a high proportion of civilian casualties.
Israel is a self-declared "Jewish state," but, according to the Israeli government, "the term 'Jewish Lobby' is a well-known and millennia-old antisemitic trope. It has been used to direct hatred toward the Jewish people for hundreds of years with horrific consequences." 
Chanting at the "flag march", celebrating the "unification" of Jerusalem which marching in Pal neighborhoods:
"Shuafat is on fire" (referencing the burning of Muhammad Abu Khdeir)
"A Jew is a soul, an Arab is a son of a whore"
"Muhammad is dead"
"May your village burn down" https://t.co/4me5U9dbwU

— Haggai Matar (@Ha_Matar) May 29, 2022
For Jewish supremacists too lazy to travel to Jerusalem, there are satellite "Death-to-the-Arabs!" marches in other Israeli cities, like this one in Lydda. Under police protection, aspiring pogromists stop at a school to sing about wiping out Palestinians https://t.co/lqUH3yIFz1

— David Sheen (@davidsheen) May 29, 2022
Loading...