---
New Chinese Foreign Minister Seen As Xi's Attempt To Soften US-China Relations
Among the bigger developments out of Beijing this week impacting the future of US-China relations is the appointment of a new Chinese foreign minister.
Last Friday the appointment was unveiled to be China's ambassador to the United States Qin Gang, who will take over the top diplomatic post from former FM Wang Yi, recently removed by a decision of the National People's Congress Sanding Committee.
Bloomberg and others noted he represents a "softer" side of Beijing's stance toward America, already said to have been on display during his relatively short tenure in Washington for the past seventeen months.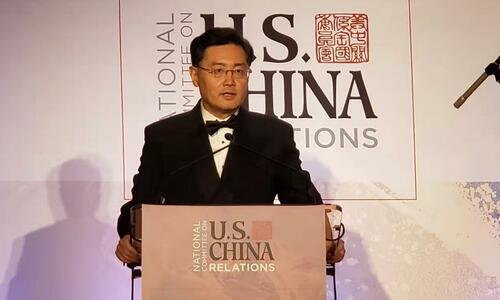 In the past two days the new Chinese FM has even grabbed the attention of Western press by tweeting out that he's "deeply impressed" by the American people, while vowing to push forward US-China relations in a positive way. 
"I want to pay sincere thanks to the people of the United States for the strong support and assistance given to me and the Chinese Embassy during this period," Qin tweeted Monday evening (US time).
"I have been deeply impressed by so many hard-working, friendly and talented American people that I met," Qin added, saying he had "made many friends across the US." He pledged to "support the growth of China-US relations" in his capacity as China's top diplomat. 
The replacement of former FM Wang, who had served as foreign minister for almost a decade, is being widely seen as a sign that President Xi Jinping wants to urgently repair fraying relations with the US and the West more broadly.
Interestingly, prior words of Qin are now being widely reported related to the Ukraine war. He was recently on record as expressing that China would have attempted to dissuade Russia from invading Ukraine if it had known about it. This is in contrast to some US officials and media reports which claim Beijing knew about the invasions plans and turned a blind eye.
Tried my first throw at an NBA game @WashWizards. Also renewed our special relationship as Washington Wizards was the first NBA team to visit China in 1979 when our two countries established diplomatic relationship. pic.twitter.com/VCX7JncN7i

— Qin Gang 秦刚 (@AmbQinGang) December 28, 2022
Qin has also in the past downplayed the idea that China wants reunification of Taiwan by force, in line with Beijing's official position. 
Loading...