---
Moldova's Govt Collapses After Russian Missile Salvo From Black Sea Breaches Its Airspace
Ukrenergo, Ukraine's energy operator, confirmed Friday that several high-voltage sites across the country had been hit in what Kiev authorities called the latest "massive" missile attack by Russia. Already tens of millions across the war-ravaged country are without power, and elsewhere emergency cuts persist.
Ukrainian forces claimed to have shot down the majority of inbound missiles, however. "The enemy launched a massive missile attack on the critical infrastructure of Ukraine," Ukraine's air force said. "Sixty-one out of 71 enemy missiles (have been) destroyed."
The attack was focused on Kharkiv and Zaporizhzhia regions. In describing the fresh assault, Valery Zaluzhny, the commander-in-chief of Ukraine's armed forces, said that Russia fired two Kalibr missiles from the Black Sea and which had allegedly crossed over the airspace of Romania and Moldova. The allegation is significant especially given Romania is a NATO member.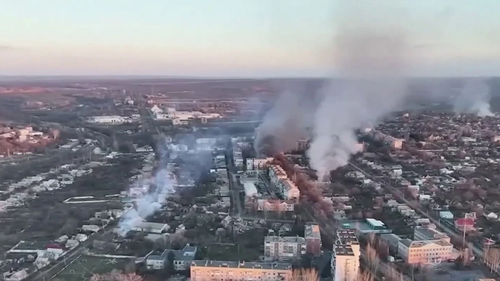 Romania has formally denied the claim, but Moldova acknowledged it without initially condemning Russia directly, likely in fear it will inflame tensions with Moscow further, as the AP reports:
Romania's defense ministry said it detected an "aerial target launched from the Black Sea from a ship of the Russian Federation" but "at no point did it intersect with Romania's airspace".

The Moldovan defense ministry said it detected a missile, confirming it "crossed the airspace of Moldova." Moldova, which has already seen debris of Russian missiles during the war, said it would summon Russia's ambassador over the incident.
But one of the missiles is still believed to have narrowly missed crossing into NATO-member Romania's airspace. Ukraine's President Zelensky seized on this to argue it constitutes a fresh "challenge" to NATO and its collective security.
"The enemy launched at least 70 rockets in another massive attack [on Ukraine] this morning," Zelenskyy said in a video statement on Telegram.
"Several Russian missiles passed through the airspace of Moldova and Romania. These missiles are a challenge to NATO and collective security. This is terror that can and must be stopped," he added. Zelensky has long tried to push NATO more directly into the conflict to drive the Russians out of Ukraine.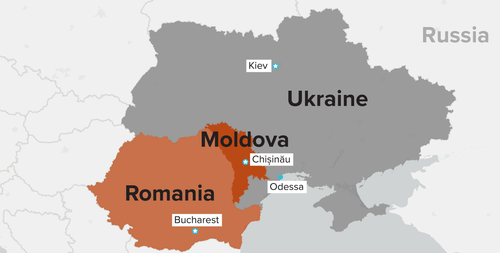 News of the missile flyover was accompanied by further instability in Moldova, as CNBC reports, the Moldovan government has effectively collapsed amid the ongoing pressure due to the war just across the border. "Moldova's Prime Minister Natalia Gavrilita said Friday that her government was resigning following a volatile 18 months in power and an ongoing war at its border."
"Gavrilita did not say whether the decision was in direct response to the war between neighboring Ukraine and Russia," CNBC continues. Western allies have long charged Russia with seeking to destabilize Moldova, and there have long been fears that Russian forces could cross into the country.
The follows on the heels of in the past months Western countries donating hundreds of millions of dollars to shore up tiny Moldova's resources amid renewed fears of future Russian aggression and energy supply cuts against it. 
Moldova's pro-Western government resigned as fallout from the war in neighboring Ukraine worsened. Ukrainian President Volodymyr Zelensky said Russia was trying to destabilize the country. https://t.co/rmomLx5EVl

— The Wall Street Journal (@WSJ) February 10, 2023
A new prime minister has been named, the pro-EU Dorin Recean, described as someone who will keep Moldova on a pro-European Union trajectory. Recean is currently the national security adviser, and will replace Natalia Gavrilița as the new head of government," Politico reports.
"The Moldovan parliament, where Sandu's party holds a comfortable majority with 63 out of 101 seats, will vote to confirm the nomination next week," details Politico.
Video from Ukraine's 72nd Mechanized Brigade reportedly showing Javelin ATGM strikes on three Russian BMP-3 (only 1 is in the video) and two T-80 tanks (they look like T-80BVM) from the Pacific Fleet's 155th Naval Infantry Brigade in Vuhledar. https://t.co/vynMHox7K0 pic.twitter.com/HkO53vlJNS

— Rob Lee (@RALee85) January 26, 2023
On the ground, fighting in Bakhmut continues, with Western media reports increasingly acknowledging that time is running out for Ukrainian troops defending the city.
Russia already has it surrounded by three sides, but the Ukrainians have vowed to fight till the end, akin to what happened in Mariupol. Control of Bakhmut will strategically link large swathes of eastern and southern Ukraine currently in control of Russian forces. 
Loading...