---
New Memos Reveal Aggressive US Lobbying Campaign By Hunter Biden's Corrupt Ukrainian 'Friends'
New memos obtained by Just the News and the Southern Foundation reveal that Ukrainian natural gas firm Burisma conducted an aggressive lobbying campaign directed at the US State Department throughout the 2016 US election, with the goal of pressuring the Obama administration to lean on Kiev to drop corruption allegations.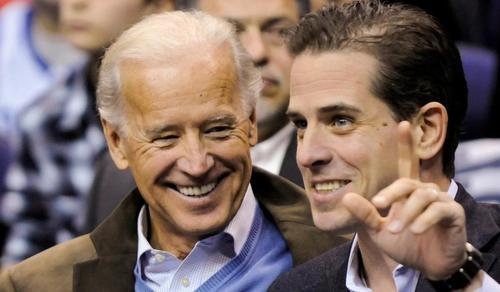 "They keep trying through every channel they can," said one State Department official in the summer of 2016, referring to Burisma's relentless lobbying - efforts which appear to include over $3 million collected by Hunter Biden's firm from Burisma while his father supervised Obama's Ukraine policy.
The new memos, released under the Freedom of Information Act (FOIA) reveal "far more contact between Burisma and the U.S. embassy in Kiev than was acknowledged by witnesses during President Trump's impeachment proceedings," according to the report.
"We have been so frustrated in our attempt to get the documentation that we need before we can sit down and interview people, and as I understand it, the documents you just obtained in your FOIA request we haven't received unbelievably," Senate Homeland Security and Governmental Affairs Committee Chairman Ron Johnson (R-WI) said on the John Solomon Reports podcast.
"I cannot tell you how frustrated and ticked off, I'll use that word, ticked off about where we are here. So yeah, I subpoenaed the FBI. And, you know, expect additional subpoenas to be forthcoming," he added.
The memos show Burisma's lobbying efforts were led by a Democratic firm called Blue Star Strategies and aided by the nonprofit Atlantic Council foreign policy think tank, stretching from the State Department's executive suite in Washington at the start of the election to the U.S. embassy in Kiev in the waning days of the Obama administration.

Burisma representatives repeatedly pressed for meetings, at times invoking Hunter Biden's name, starting with a Blue Star conversation with then-Undersecretary of State Catherine Novelli in January 2016 before turning their attention to U.S. diplomats on the ground in Kiev, the memos show.

By summer 2016 — their mission to clear Burisma's name still incomplete — Blue Star officials pigeonholed the new U.S. ambassador to Ukraine, Marie Yovanovitch, during her Senate confirmation hearing and then attended a private reception where she was honored, according to the memos. -Just the News
"We had already offered our regrets to Blue Star. But they keep trying through every channel they can," State Department official Catherine Croft wrote July 29, 2016 to official George Kent, a key player at the US embassy in Kiev.
Blue Star, meanwhile, attended a private reception honoring former Kiev ambassador and Trump impeachment witness Marie Yovanovitch in August 2016 before she departed for Ukraine.
When their efforts to approach the State Department directly failed, Burisma tried a different approach - former US diplomat John Herbst who was then working at the Atlantic Council, had dinner with Kent to discuss Burisma and other matters.
Kent would brief Yovanovich on Herbst's attempts.
Meanwhile, during the same month, American attorney John Buretta wrote Yovanovitch a lengthy letter suggesting that accusations against Burisma were unwarranted, and requesting that the Untied States reconsider their views on the company.
Then, on January 13, 2017 - days before Trump took office, Kent was notified by Herbst that the Atlantic Council had accepted a large donation from Burisma, which was celebrating their successful pressure campaign to shut down the corruption probes.
"George, I wanted you to know before it becomes public that the Atlantic Council decided to accept support for its program from Burisma," wrote Herbst. "We looked at the matter closely and waited for over a month. Information provided to us by the Cravath lawyer for Burisma in the London case was an important factor, although some uneasiness remains."
Johnson said even before the release of the new memos this week, his committee already had plenty of evidence to show that Joe Biden engaged in a prohibited conflict of interest as vice president by continuing to oversee U.S.-Ukraine policy while his son worked for and was enriched by Burisma.

That appearance issue, Johnson said, was made worse when Joe Biden pressured Ukraine in March 2016 to fire the prosecutor overseeing the Burisma probe. Biden has said he sought the firing because he thought the prosecutor was ineffective and not because of the Burisma probe.

Johnson said media reports suggesting there was no wrongdoing by the Bidens in Ukraine are simply wrong. -Just the News
"The public has to be aware of this what I call glaring conflict of interest. The media is covering for Joe Biden. They're part and parcel of the Democratic Party," said Johnson.