---
Shocking Expose Proves Thousands Of COVID-19 Deaths Have Gone Uncounted In The US: Live Updates
Summary:
NY reports first drop in daily deaths since outbreak began
FT shows how US has become COVID-19s "epicenter"
NY hospitalizations drop
Italy follows New York with another promising drop in deaths
France also reports a drop in deaths
UK reports biggest jump in new cases as Queen speech about to air
2 Walmart workers die in store near Chicago
Louisiana warns it will run out of ventilators in five days
India bans export of Trump's 'miracle' coronavirus drug
NYT exposes massive undercounting of COVID-19 deaths in the US
Tokyo reports yet another jump in new COVID-19 cases
Queen Elizabeth plans special televised address to Britain, only the 4th during her reign
Australia launches criminal probe into Carnival Cruises
COVID-19 deaths in Japan pass 100
*    *    *
Update (1445ET): Two reporters from the New York Times purport to have found evidence that health officials, often at the local or county level, are dramatically undercounting coronavirus deaths in the US. Citing information and documents provided by "doctors, hospital officials, public health experts and medical examiners," among others, the reporters claim that potentially thousands of deaths have gone uncounted, meaning the total is probably closer to 20k - or beyond - than the roughly 10k (9,180, per JHU) reported so far.
Unfortunately, since the patients have died, there will be few - if any - opportunities for these discrepancies to be rectified, if coronavirus isn't listed as a cause of death, something that requires a positive test.
Given the shortage of tests around the US, living patients have typically been prioritized over the deceased, even as counting posthumous deaths is important in helping officials get the accurate data they need to fight the virus.
A lot of the most compelling anecdotes in the report came from coroners, and from families like this one, per the NYT:
As the coronavirus outbreak began sweeping across the country last month, Julio Ramirez, a 43-year-old salesman in San Gabriel, Calif., came home from a business trip and began feeling unwell, suffering from a fever, cough and body aches. By the next day, he had lost his sense of taste and smell.

His wife, Julie Murillo, took him to an urgent care clinic several days later, where he was so weak he had to be pushed in a wheelchair. Doctors prescribed antibiotics, a cough syrup and gave him a chest X-ray, but they did not test for the coronavirus, she said. Just over a week after he returned from his trip and not long after President Trump declared a national emergency over the outbreak, Ms. Murillo found him dead in his bed.

"I kept trying to get him tested from the beginning," Ms. Murillo said in an interview. "They told me no."
Frustrated, Ms. Murillo enlisted friends to call the C.D.C. on her behalf, asking for her husband to be tested for the coronavirus post-mortem. Then she hired a private company to conduct an autopsy; the owner pleaded for a coronavirus test from local and federal authorities.

On Saturday afternoon, Ms. Murillo received a call from the Los Angeles County Department of Public Health, she said. The health department had gone to the funeral home where her husband's body was resting and taken a sample for a coronavirus test. He tested positive.

A spokesman for the health department did not respond to questions about Mr. Ramirez, and it was not clear whether any systematic post-mortem testing was being conducted beyond his case.
Even Johns Hopkins University agreed that deaths are almost certainly being undercounted: "We definitely think there are deaths that we have not accounted for," said Jennifer Nuzzo, a senior scholar at the Johns Hopkins University Center for Health Security. JHU has been tracking the virus from the beginning, maintaining an online database that has become one of the most trusted and widely-cited sources of data on deaths and cases by the press around the world.
*    *    *
Update (1400ET): Some more encouraging news out of Europe: Like Italy before it, France reported an encouraging drop in deaths, with 357, lower than the count from the last two days. It raised the death toll to 8,078, but still qualified as a "significant" drop, according to the French Ministry of Health. France also reported 1,873 new cases of COVID-19, raising its total to 68,605 cases.
As the Queen prepared to deliver a historic speech, the UK reported a 5,903 new cases of the virus, a record increase for one day, bringing its total to 47,806, while another 621 deaths brought its death toll to 4,934. Daily testing rose to record 12,334.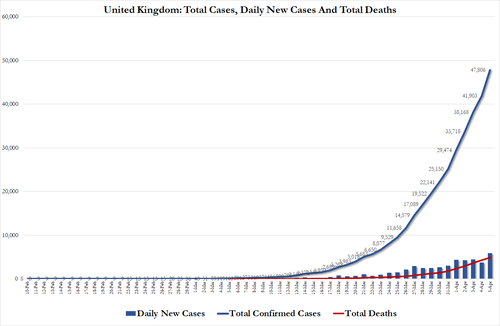 In Ireland, 21 more people infected with the coronavirus have died, bringing the total number of deaths in Ireland to 158 . There have been 390 new cases reported Sunday, bringing its total to 4,994.
In a story that once again exposes the dangerous risks being taken by "essential" workers, many of whom are low-paid hourly employees who work retail, CNN reported Sunday that two workers at a Chicago-area Walmart store have died from the novel coronavirus, the company confirmed Sunday, the first deaths among Wal-Mart workers since the pandemic began. It once again highlights these risks, which have been exacerbated by the shortages in PPE that have made these products virtually inaccessible for store workers.
"We are heartbroken to learn of the passing of two associates at our Evergreen Park store, and we are mourning along with their families," an emailed statement from the company reads. Walmart in its statement did not provide the workers' names, ages or how long they had been with the company. It is also unclear exactly when the two workers passed away.
The two associates had not been in the Evergreen Park store "for more than a week," the company said, but of course, there's no way to guarantee that others weren't exposed.
Finally, in Louisiana, Gov. John Bel Edwards Louisiana's governor says state will probably run out of ventilators in 5 days.
*    *    *
Update (1245ET): Another promising headline has just hit the tape: Italy just reported the lowest number of daily deaths in more than 2 weeks: 525 new deaths were reported over the past 24 hours, along with 4,316 new cases. That bring's Italy's death toll to 15,887, still the largest in Europe.
Italy remains on a strict lockdown, with the hard-hit Lombardy region over the weekend requiring citizens leaving their homes to shield their mouths and noses with masks or other coverings and insisting residents remain inside for all but essential activities, after seeing an increase in people venturing outside in defiance of the quarantine. Tuscany soon followed suit with similar rules.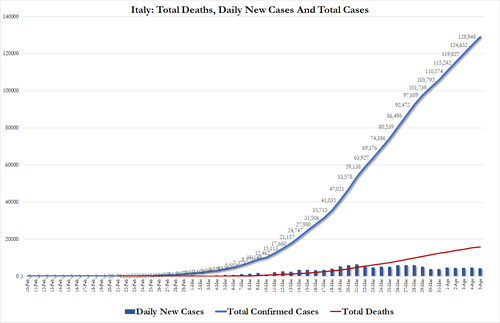 Police have fined over 175,000 people since March 11 for violations of the lockdown, according to the Interior Ministry. As the country prepares for a fifth week of lockdown measures, opposition leader Matteo Salvini of the right-wing League called on the government of Prime Minister Giuseppe Conte to open churches for the coming Easter holiday. Measures to keep the country shut down have been extended through at least April 13, and Conte is expected to announce revised rules and time lines by the end of next week, according to reports in the Italian press.
Most importantly, this news will likely be met with cries of relief from struggling Italians, weary of their more than month long struggle with the virus, who are hoping this is evidence that they're finally riding down the 'back side' of the curve.
Italy has hopefully reached the top of the mountain and now on the way back down. 🇮🇹🇪🇺👏 https://t.co/CO3XyMexJC

— Owen Callan (@OwenCallan) April 5, 2020
*     *     *
Before we delve into our daily breakdown of some of the biggest coronavirus-related news from around the world, we'd like to highlight yet another grim milestone in COVID-19's "conquest" (are we still allowed to use war metaphors or has that been declared un-PC?) of the US. While the outbreaks in Mexico and Canada have only produced about 16k cases between them, the total number of cases confirmed in the US has ballooned past 300k in the US (to 312,249 as of 11amET Sunday morning).
Now, here's the FT, which detailed the shift in momentum from Asia, to Europe, to the US. It's a little more complicated than look at only the overall totals and the current daily figures.
In a little over one month the daily number of Covid-19 cases globally has grown exponentially from 2,359 on March 1 to 101,503 on Saturday. At the beginning of March, Asia accounted for more than half of the total cases reported each day. This quickly shifted as outbreaks began in continental Europe, with Italy, Spain, Germany and France all reporting cases in the thousands. By mid-March, Europe was responsible for four in every five new confirmed cases each day. While Europe is still responsible for nearly 40 per cent of daily cases, the US has become the new centre of the Covid-19 pandemic. The country accounts for nearly one-third of all daily cases, with New York state particularly affected.
Here's most of that, broken down into a chart: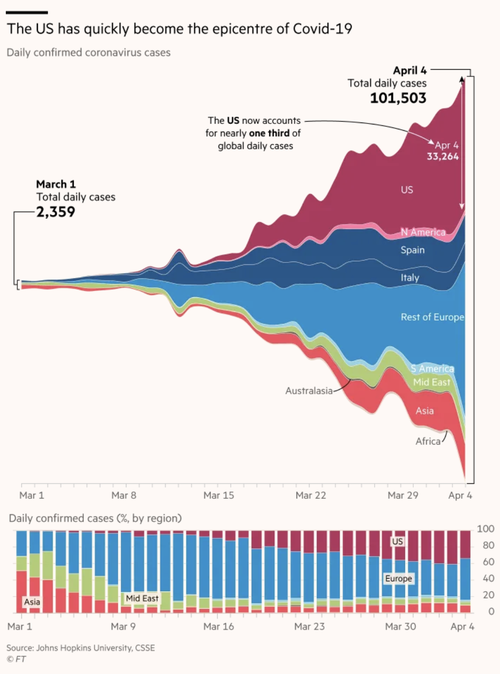 All that said, with the US gearing up for what President Trump and NY Gov. Andrew Cuomo expect to be the week where the outbreak peaks (in New York, at least), the Empire State has at least started off on the right foot.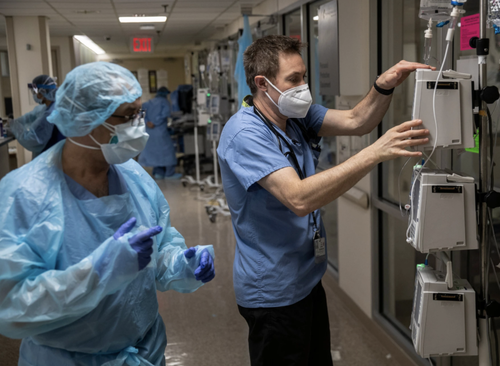 New York reported 8,327 new cases of coronavirus and 594 new deaths on Sunday (compared with 630 a day ago), marking the state's first drop in daily deaths since the outbreak began. In total, 122,031 cases have been confirmed in the state (roughly equivalent to the national totals of both Italy and Spain )and 4,159 deaths. While we're certainly no epidemiologists, we suspect others might point to this as a small, but hopefully promising, hint that the 'peak' is near, or here.
And as we noted last night, hospitalizations in the state have shown another encouraging decline, even as many ICUs in NYC remain very close to, or at, capacity.
Cuomo is beginning his daily press briefing below:
Holding a briefing with updates on #Coronavirus. WATCH LIVE: https://t.co/gLjk74Ghtt

— Andrew Cuomo (@NYGovCuomo) April 5, 2020
The governor kicked off Sunday's presser by thanking New York's health-care workers, before adding that recent trends suggest that the state might have already arrived at its hoped-for plateau.
"You could argue that you are seeing a plateauing," he told reporters in Albany. "Next week they will tell you whether we are on a plateau or is it just a blip," he said, referring to statisticians. He noted that deaths had leveled off for three days following the dramatic increases seen for most of last week, which saw the state reporting close to 1k deaths a day for a few days there.
New hospitalizations dropped to 574 on Sunday from 1,095, Cuomo said, adding that 74% of those hospitalized have been discharged.
Being a pandemic with almost no precedent in modern times (other than the Spanish Flu pandemic of 1918), traditions of culture and governance are being disrupted left and right (hell, we just cancelled the Olympics). In keeping with that trend, Queen Elizabeth will deliver a special televised address to Britain; it will be only the fourth time she has done so during her nearly 70-year reign. Excerpts from the address have already been released, and in them, the Queen acknowledges the suffering of hundreds of thousands of families around the country, while seeking to "lift their spirits" and "offer hope," according to ABC News.
The 93-year-old monarch is expected to acknowledge the suffering that many families have experienced because of the COVID-19 crisis, which has infected more than 42,000 people in the U.K. and killed at least 4,313 of them. She will seek to lift spirits and offer hope to the country in its hour of need.

"I am speaking to you at what I know is an increasingly challenging time,'' she said, according to excerpts released ahead of remarks that were being broadcast Sunday night. "A time of disruption in the life of our country; a disruption that has brought grief to some, financial difficulties to many and enormous changes to the daily lives of us all."
Elsewhere, Tokyo reported yet another record jump in daily cases, with 143 new coronavirus infections announced on Sunday, metropolitan government officials said. Meanwhile, the number of COVID-19-related deaths finally surpassed 100 in Japan, Nikkei reports. In India, the government of Narendra Modi has banned the export of hydroxychloroquine, a drug widely touted by Trump for treating COVID-19. In Australia, prosecutors have launched a criminal investigation into Carnival Cruises as hundreds were sickened, dozens died on their ships.