---
Texas Becomes Third State To Pass Half A Million Confirmed COVID-19 Cases: Live Updates
Summary:
Texas becomes third state to pass 500,000 cases
Dutch impose mandatory quarantines on those 'exposed' to COVID
Arizona reports latest cases
Hawaii, South Dakota and Virgin Islands added to tri-state qurantine list
Nursing home cases on the rise in the US
Florida reports record COVID deaths
Cases in children have increased 137%, CNN says
Goldman weighs in on US outbreak
Auckland back on lockdown as first cluster of covid cases discovered in 102 days
Russia approves world's first COVID vaccine
Global COVID total tops 20 million
* * *
Update (1640ET): After seeing its positivity rate surpass 20% to hit new records amid a dropoff in testing (suggesting either the outbreak is spiraling out of control, or more of the people being tested are likely already exhibiting symptoms) Texas has just become the third state after California and Florida to pass half a million confirmed cases, public health authorities just confirmed in a report.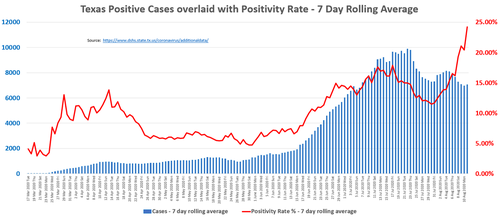 The state reported 220 more COVID-19 deaths, and 8,913 new cases. The exact number is 500,620, since the pandemic began. Meanwhile, there are 7,216 confirmed COVID-19 patients in Texas hospitals.
* * *
Update (1345ET): The Netherlands, after a startling rebound in new cases, has ordered that all people exposed to COVID be ordered to quarantine for 2 weeks, or face legal repercussions.
DUTCH GOVERNMENT TO ORDER FORCED QUARANTINE FOR PEOPLE EXPOSED TO CORONAVIRUS -NOS
The decision comes amid a record-setting heat wave hammering the country, and just hours after one of the biggest cocaine busts in the country's history.
* * *
Update (1215ET): Arizona reported 1,213 new cases of the virus on Tuesday, while deaths bounced back to 45. The state's total case count climbed to 188,737 and 4,199 deaths.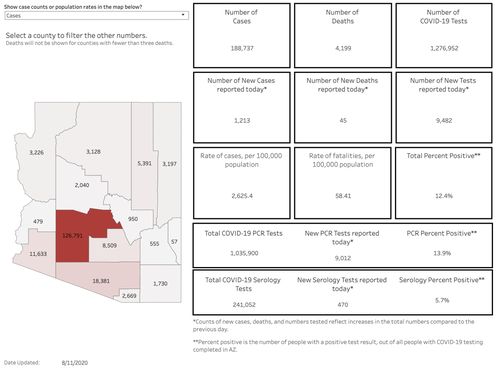 ICU capacity declined again to 79%.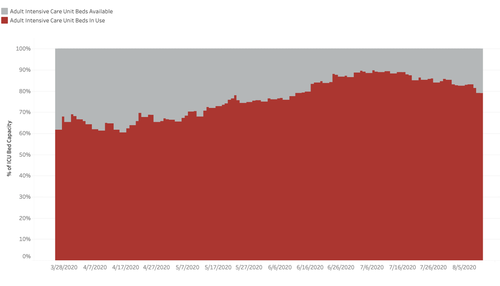 * * *
Update (1110ET): The tri-state area has reportedly added two more states and a territory to its COVID quarantine list, bringing the total number to roughly 34 (32 states and 2 territories), as four states were also removed.
N.Y. ADDS HAWAII, S. DAKOTA, V. ISLANDS TO QUARANTINE LIST
Here's the complete updated list:
Alabama
Arkansas
Arizona
California
Florida
Georgia
Hawaii
Idaho
Illinois
Indiana
Iowa
Kansas
Kentucky
Louisiana
Maryland
Minnesota
Mississippi
Missouri
Montana
Nebraska
Nevada
North Carolina
North Dakota
Oklahoma
Puerto Rico
South Carolina
South Dakota
Tennessee
Texas
Utah
Virginia
Virgin Islands
Washington
Wisconsin
The mandatory quarantine order applies to any person that arrives from a state with a positive test rate higher than 10 per 100,000 residents over a seven-day rolling average, or a state with a 10% or higher positivity rate over a seven-day rolling average.
* * *
Update (1100ET): Just minutes after we warned about a rise in cases at nursing homes, which are populated with the most vulnerable COVID patients, Florida's case count bounced back on Tuesday (yesterday's was the lowest since June) with the state reporting more than 5,000 new cases and a record 276 deaths.
* * *
Update (1055ET): In a horrifying report from the American Health Care Association and National Center for Assisted Living, the number of confirmed COVID-19 cases in US nursing homes is rising again after a steady drop in June.
"As we feared and have been warning government leaders over the past couple months, the spike in COVID cases in the general population across the U.S. has led to increased cases in nursing homes," Mark Parkinson, president and CEO of the AHCA/NCAL, said.
According to a summary of the report from CNN, it relied on data from the Centers for Medicare & Medicaid Services, which in conjunction with the US Centers for Disease Control and Prevention compiles weekly statistics from nursing homes, to try and gauge infection trends nationwide.
These numbers show COVID-19 cases in nursing homes, and they rose to 8,628 for the week of July 19, from a low of 5,468 for the week of June 21, just a month earlier.
* * *
Update (1030ET): In Florida, the total number of cases in children 17 and under rose from 16,797 on July 9 to 39,735 on Aug. 9, an increase of 137%, as mainstream media outlets tout a surge in COVID cases among children as part of their agenda to try and keep schools shut.
However, across the country, the total number of COVID-19 cases among children rose from 179,990 on July 9 to more than 380,000 on Aug. 6, an increase of about 90%, according to a report published Monday by the American Academy of Pediatrics and the Children's Hospital Association.
Of course, testing of children between March and June was virtually non-existent beyond those showing symptoms since schools were shuttered.
While testing rates in Florida and Texas have fallen since the peak in Sun Belt cases, New York's rate of testing has increased, and cases have still declined, Gov Cuomo bragged.
More testing only uncovers more positives when there are positives to be found.

In New York, daily new cases have gone down as testing has gone up. pic.twitter.com/OXNlGe9B38

— Andrew Cuomo (@NYGovCuomo) August 11, 2020
Just wait until school starts.
* * *
Update (0920ET): Here's an excerpt from Goldman's latest daily COVID research, which again affirmed that case numbers in the US continue to decline: "The number of new confirmed coronavirus cases has been declining nationally over the past few weeks, but case levels remain elevated in much of the country. The positive test rate has ticked down from its peak in July."
"But looking at additional testing data clouds the picture somewhat. The US is now performing fewer coronavirus tests nationwide compared to a couple weeks ago, with Florida and Texas contributing much of this decline. In these states and a few others, cases rose to very high levels in the summer virus resurgence and have now fallen sharply. But over the past few weeks as cases declined so did the number of tests conducted, leaving the positive test rate very elevated."
* * *
They really thought they had it licked.
After surmounting what was at worst an extremely mild outbreak, New Zealand declared "victory" over the coronavirus two months ago, only to see a mild spike two weeks later.
Since the very beginning, New Zealand's COVID-19 response effort, led by progressive prime minister Jacinda Ardern, was infused with the pinch of "compassionate" social justice, as the island nation focused on using it as an opportunity to look into how to recalibrate society to make more time for leisure by adopting a 4-day work-week.
But in its desperation to establish New Zealand as a liberal (and polar) antithesis to President Trump's America, Ardern made what now looks to be one critical error: She lifted practically all of the country's COVID travel restrictions after her sweeping "victory" declaration.
That, and slowly allowing businesses to reopen, has apparently helped give the virus all it needs for another flareup which, however comparatively minor to what's going on just next door in Victoria, Australia, has forced Ardern to order a new lockdown, just as doubts about the efficacy of such lockdowns are growing.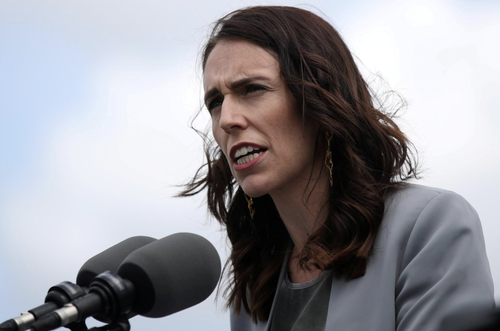 New Zealand announced on Tuesday it would shut down Auckland, its largest city (though not the capital), after four new cases of the virus were confirmed in the city, the first sign of new domestic spread after 102 days without any domestic COVID cases.
NZ's Director General of Health Ashley Bloomfield said the four confirmed cases were all within one family living in South Auckland. One patient is in their 50s. The family had no history of international travel. Family members have been tested and contact tracing - which might actually prove pretty effective with such a small body of the infected - is being carried out.
News of the cases sent panic across the country with media reporting people rushing to supermarkets to stack up, and businesses preparing to shut.
Prime Minister Jacinda Ardern said Auckland would return to a "level 3 restriction" beginning at noon local time on Wednesday as a "precautionary approach," which would mean people should stay away from work and school, and gatherings or more than 10 people would again be restricted. Though, with so few cases, even these economically-constricting decisions might be overkill.
Though fortunately, these restriction would be applied for three days until Friday, which she said would be enough time to assess the situation, gather information and make sure there's enough widespread contact tracing.
Meanwhile, the world finally crossed a major COVID-19 threshold last night: 20 million confirmed cases, according to JHU. As we reported last night.
As expected, Johns Hopkins has just confirmed that the number of confirmed COVID-19 cases worldwide has surpassed 20 million since the start of the pandemic. Of those, more than 700,000 have died.

It comes just days after the US, the world's biggest outbreak, topped 5 million, and Brazil, the No. 2, topped 3 million.
Aside from this, perhaps the biggest COVID-related news of the day is coming out of Russia, where Vladimir Putin just hailed the approval of the country's - and the world's - first COVID-19 vaccine to be approved by a regulator.