---
New Zealand's Jacinda Ardern Cancels Wedding After Ordering New Omicron Restrictions
In case you were wondering about the state of things in the antipodes, where even a handful of confirmed omicron cases are enough to inspire lockdowns affecting millions of people, New Zealand's single-mother Prime Minister Jacinda Ardern has just called off her wedding as she plans to introduce new "red light" restrictions after health authorities identified a small outbreak of omicron in a remote town.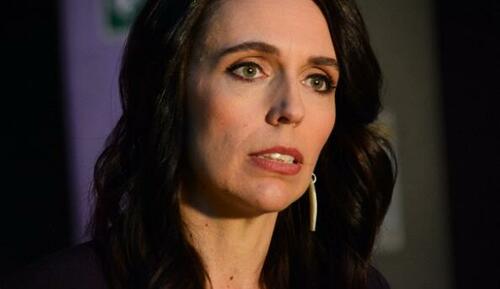 Starting Sunday night at 11:59 local time, New Zealand will officially impose the new restrictions, banning large gatherings and imposing other requirements on masking and distancing, all over 9 reported cases of omicron, mostly int he town of Motueka on the western shore of Tasman Bay.
Apparently, Ardern and her partner Clarke Gayford - who share a daughter - have been planning to officially marry for a while now, but the pandemic keeps getting in the way of their plans. Shame that.
Speaking during her COVID briefing, Ardern said the "red light" status limited weddings, birthdays and other gatherings to 100 people for the vaccinated and to 25 people for the unvaccinated.
As for her own wedding, she said she would cancel it, while offering apologies to Kiwis caught up in similar circumstances. 
"As for mine, my wedding won't be going ahead but I just join many other New Zealanders who have had an experience like that as a result of the pandemic. And to anyone caught up in that scenario, I am so sorry, but we are all so resilient and I know we understand we are doing this for one another and it will help us carry on," Ardern said.
When asked about how she felt about the cancellation, the 41-year-old responded: "Such is life. I am no different to, dare I say, thousands of other New Zealanders."
Meanwhile, in Europe, UK PM Boris Johnson is dismantling the last of England's "Plan B" protections, while the US breaths a tentative sigh of relief over the falling case numbers (even as the NYT reminds us every day of some new localized crisis in the making).
New Zealand famously managed to stamp out COVID for a little while by using the "drawbridge" approach: blocking practically all civilian, non-economic travel between their isolated island and the rest of the world. Unfortunately, even those efforts weren't enough, and the recent delta-omicron wave has managed to send cases in New Zealand to new daily highs late last year, although infections have fallen off substantially since then.
As for Ardern's nuptials, there's no word yet on when they might be rescheduled.
But somehow, we can't shake the feeling that this cancellation was motivated by something more than political necessity.