---
The Newswashing Of ISIS Bride Shamima Begum
Authored by Uzay Bulut via The Gatestone Institute,
While around 3,000 Yazidi children and women are still being held captive at the hands of the Islamic State (ISIS) terrorist organization, many in the Western media are portraying a former "ISIS bride" not only as a victim but as a celebrity.
The ISIS bride in question Shamima Begum, a British citizen who left the UK to join ISIS in Syria in 2015, and was later stripped of her British citizenship. Begum was chosen by The Times Magazine in the UK to lionize on February 4, both on its cover and in an eight-page feature. She is now part of a glamorized "newswashing" campaign to help get her British citizenship back.
The UK's Special Immigration Appeals Tribunal is scheduled to rule this week on Begum's appeal against being stripped of her citizenship.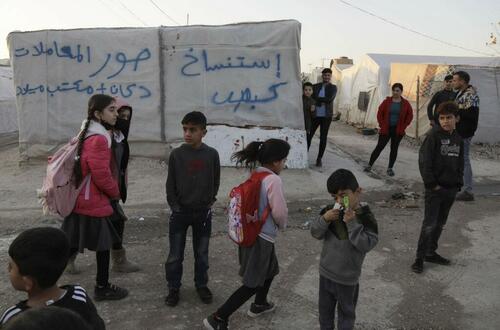 ISIS brides were complicit in ISIS's genocide and crimes against humanity. Never mind that hostages were hung upside down and then burned alive, or locked in cages then lowered into water to drown, or crucified for hours "like Jesus;" or that children were crucified or sold as sex slaves; or that countless others were tortured, raped or lined up to have their throats slit. Never mind the beheadings of journalists such as James Foley or Steven Sotloff, or the Syrian scholar Khaled al-Asaad, 82, who was tortured for a month, then beheaded because he refused to turn over Palmyra's priceless antiquities to ISIS. The list goes on....
The Free Yezidi Foundation recently wrote of ISIS and Begum:
"Not only terror death cult, but mass-rape genocidal organization. The decision to join was hers. Her actions contributed to unspeakable acts of brutality, which she would have continued had ISIS, Daesh not been militarily defeated."
At its height, ISIS held about a third of Syria's territory and 40% of Iraq's. On June 29, 2014, ISIS leader Abu Bakr al Baghdadi announced the formation of a caliphate stretching from Aleppo in Syria to Diyala in Iraq. Wherever ISIS invaded, they brought unspeakable death and destruction, especially to non-Muslim communities, including Yazidis and Christians.
ISIS murdered thousands, and forcibly displaced hundreds of thousands. ISIS also systematically committed crimes such as forced conversions, hostage taking, rapes of children and women, sexual slavery, theft, destruction, smuggling, disappearances and recruitment of boys as child soldiers. Their methods of violence not only included beheadings and crucifixions, but also mutilations, dismemberment, stoning and forcing hostages to kneel on explosives. Countless people became refugees and remain displaced due to the ISIS genocide.
By December 2017, ISIS had lost 95% of its territory, including its two biggest centers: Mosul, Iraq's second-largest city, and the Syrian city of Raqqa, its nominal capital.
Since March 2019, when ISIS was ousted from the last of the territory it had seized and since the fall of their caliphate, many ISIS terrorists (some of whom are citizens of Western nations) have been trying to return to their home countries.
The European Network for Investigation and Prosecution of Genocide, Crimes Against Humanity and War Crimes (the "Genocide Network") noted in a 2020 report:
"ISIS, which has been classified as a terrorist organization, perpetrated horrific acts of violence in armed conflicts in Northern Iraq and Syria. The issue of investigating and prosecuting its members and foreign terrorist fighters returning to their countries of origin led most EU Member States to focus on preventing and punishing terrorism-related offenses. However, ISIS should not only be considered as a terrorist organization. ISIS has fulfilled criteria according to International Humanitarian Law as a party to a non-international armed conflict in Iraq and Syria acting as an organized non-state armed group. Therefore, its members and foreign terrorist fighters could be responsible for committing war crimes and other core international crimes." [Emphasis added.]
The BBC is another media outlet that seems to have an obsessive fascination for Begum, producing both a film and podcast series regarding the former ISIS member's so-called journey to Syria. The broadcaster announced on July 11, 2022:
"The BBC has today announced a landmark documentary for BBC Two and BBC iPlayer and a 10-part audio series for Radio 5 Live and BBC Sounds, on the story of Shamima Begum. The podcast comes from the team behind the multi award-winning I'm Not A Monster, the BBC's most awarded podcast series."
Instead of focusing on the genocidal crimes ISIS committed against its victims and interviewing the victims directly, the BBC's series and documentary largely deal with a glossy portrait of why and how Begum joined ISIS and her subsequent life there.
BBC viewers forthrightly responded, according to The Daily Mail on February 8:
"'Why are the BBC giving Shamima Begum more airtime?': 'Sickened' viewers slam broadcaster for airing 90-minute documentary that 'parades ISIS bride as a celebrity' just weeks after it launched 10-part podcast 'retracing her steps'.

"Viewers have vowed to cancel their television licenses as they slammed last night's 'sickening' 90-minute Shamima Begum documentary on the BBC."
The Free Yezidi Foundation reported in 2019:
"Female members of the Islamic State (IS, ISIS, ISIL, Daesh) have actively engaged in terrorist activity and gross human rights violations, and in many cases seek to manipulate lack of evidence, lack of independent verification, or other means to plead for sympathy in the court of law and the court of public opinion to avoid accountability. Most importantly, individuals who joined the terrorist and genocidal organization must not be allowed to reshape the narrative in an effort to downplay or avoid their own agency and responsibility for the horrors they have inflicted or facilitated.

"Female members of ISIS are often perceived as being passive, naïve, or even as victims. This is a dangerous and wildly inaccurate characterization. The Netherlands Ministry of the Interior publication, 'Jihadist women, a threat not to be underestimated,' states:

"'The role that these jihadist women play within the jihadist movement should not be underestimated. In many cases, jihadist women are at least as dedicated to jihadism as men. They pose a threat to the Netherlands by recruiting others, producing and disseminating propaganda, and raising funds. Moreover, they indoctrinate their children with jihadist ideology. Women form an essential part of the jihadist movement, both in the Netherlands and in the conflict area in Syria and Iraq.'

"The behavior and actions of female ISIS members has been a subject of legitimate legal and policy debate as well as morbid fascination. This has been seen in the cases of the United Kingdom's Shamima Begum, the American Hoda Mothana, and other such cases. When citizens of foreign countries joined ISIS and have either surrendered or fled from ISIS, serious debate over international law has arisen. The fact that the alleged crimes occurred abroad do present genuine challenges for security and justice officials in terms of the collection of evidence and the construction of solid, prosecutable cases. For the Yezidi community, it is important that the crimes committed by ISIS, including those allegedly committed by ISIS women, must not be forgotten...

"Ms. Begum, for example, claimed that she was only a housewife and did not participate in any heinous crimes or violation of human rights as an ISIS member. Some portrayed her as an innocent schoolgirl who was brainwashed, uninformed, and simply wanted to return home to Britain. Some human rights proponents, politicians, and other commentators challenged the comparison of Ms. Begum to ISIS fighters. However, evidence now suggests that she was in fact a member of the ISIS 'morality police, a group of ISIS women which was an integral part of ISIS' terror and atrocity apparatus, and was armed with an automatic weapon on her patrols. The crimes allegedly committed by the morality police include major human rights offenses, including support to ISIS' slave trade of Yezidis.

"Two essential points: first, reports from Yezidi survivors suggest that female members of ISIS were accepting of ISIS enslavement and abuse towards Yezidis; and second, ISIS women were more complicit in the commission of mass rape, human trafficking, crimes against humanity and genocide than they claim, and with greater agency."
On February 5, one day after The Times Magazine released its issue featuring Begum, news came out that two Yazidi children, aged two and four, were reportedly killed after a fire swept through a camp for "internally displaced persons" (IDP) in the Kurdistan Region of Iraq. The reason Yazidis are still living in IDP camps is because Begum's organization, ISIS, largely destroyed the Yazidi homeland of Sinjar in Iraq.
When ISIS invaded Sinjar in 2014, they murdered or kidnapped around 10,000 Yazidis, according to the book The Last Yezidi Genocide by Amy L Beam. More than 83 Yazidi mass graves have since been discovered in Sinjar. Hundreds of thousands of Yazidis had to flee and become IDPs or refugees. Almost nine years later, much of Sinjar remains in rubble, making it difficult for Yazidis to return. As a result, approximately 180,000 Yazidis remain internally displaced, mostly spread across 15 IDP camps in the Kurdistan Region of Iraq.
According to the Free Yezidi Foundation, ISIS abducted, raped and enslaved 6,417 Yazidi women and children. Today, more than 2,693 Yazidis remain missing. In 2021, a UN team investigating ISIS atrocities in Iraq established "clear and convincing evidence" of genocide against the Yazidi people. Germany's lower house of parliament, the Bundestag, on January 19, 2023 recognized the 2014 massacre of Yazidis by ISIS in Iraq as a "genocide," and called for measures to assist the persecuted minority.
An activist for Yazidi rights who lives in Iraq shared his opinions with Gatestone on the condition of anonymity for fear of retaliation. He said he was in Sinjar during the ISIS invasion in 2014:
"What we Yazidis expect from the international community is support and solidarity, not digging into our wounds. ISIS criminals must face justice for what they have done and practiced. We expect the West to hold ISIS accountable in court rather than putting them on the cover of their magazine. Such stories are particularly difficult for us as Yazidis because these ISIS women tortured and abused Yazidi women while they were in ISIS's captivity."
ISIS also devastated Christian communities in Iraq and Syria. At a 2015 hearing before the Committee on Foreign Affairs of the US House of Representatives, Sister Diana Momeka, of the Dominican Sisters of Saint Catherine of Siena, in Mosul, Iraq, described ISIS's war on religious minorities:
"On June 10th, 2014, the so-called Islamic State in Iraq and Syria, or ISIS, invaded the Nineveh Plain which is where Qaraqosh is located. Starting with the city of Mosul, ISIS overran one city and town after another giving the Christians of the region three choices: Convert to Islam; pay a tribute, a jizya, to ISIS; leave their city, cities like Mosul, with nothing more than the clothes on their back. As this horror spread throughout the Nineveh Plain, by August 6, 2014, Nineveh was empty of Christians, and sadly, for the first time since the seventh century A.D., no church bells rang for mass in the Nineveh Plain.

"From June 2014 forward, more than 120,000 people found themselves displaced and homeless in the Kurdistan region of Iraq leaving behind their heritage and all they had worked for over the centuries. This uprooting, this theft of everything that the Christians owned, displaced them body and soul, stripping away their humanity and dignity."
The violence of ISIS was not limited to Iraq and Syria. ISIS expanded into a global network, which has carried out attacks beyond the borders of its now-destroyed caliphate. On November 13, 2015, for instance, 130 people were murdered and more than 300 injured in a series of coordinated attacks in Paris, France. And in June 2016, a terrorist who pledged allegiance to ISIS murdered 49 people at a gay nightclub in Orlando, Florida.
The question is: Why are some big Western media corporations obviously siding with a genocidal terror group and not with its innocent victims?
Other advocates for survivors of Islamist terrorism have also denounced the manner some Western media portray ISIS members. Juliana Taimoorazy, the founding president of the Iraqi Christian Relief Council, has been helping survivors of Islamist terrorism, including ISIS, since 2007. She told Gatestone:
"I think this is a slap in the face of all those who suffered in the hands of terrorism, not just ISIS but other death cults such as Boko Haram. This is a spit in the face of all those whose loved ones were murdered, and I do not mean only Yazidis, Assyrians or Nigerians, but all the innocent Westerners who perished to Islamic terrorism such as in France, the UK, the US and elsewhere. Media has utterly lost its moral values. What is sadder, to me is that we, as a society, have become desensitized to things that were once outrageous. We are beat to accept and not speak up or take serious action against what is unjust."
Loading...