---
"A Final Middle Finger From Trump" - Dems Furious About White House COVID Vaccine Access: Live Updates
Summary:
White House gets priority vaccine access
NY cases top 10K for 5th day
US cases decline slightly from record; 7-day still at record highs
NJ Gov: winter "going to be hell"
Germany enters 3-week hard lockdown
Portugal sees another record
Half of Brazilians wouldn't take vaccine
Malaysia announced 1.3K new case
* * *
Update (0900ET): News broke a few hours ago that White House staff, starting with senior staffers who are the closest to the president, will be included in the first wave of essential workers who receive priority access to vaccines.
Though it's not clear how many doses are being allocated to the White House, the NYT says that given the number of staffers who have already tested positive, it's likely the number could be minimal, and it's likely Trump won't be receiving the vaccine since he's already repeatedly claimed to be "immune" (claims that, we should point out, have been backed up by "the science", but are still treated with skepticism by the NYT).
Senior staffers will in theory have priority, though, as we said, many have already been infected and likely have enough naturally occurring antibodies (for at least a little while longer, from what we know from various studies).
Unsurprisingly, top Dems lept on Trump right away, with Tim Hogan, a Democratic consultant and a former top aide on Senator Amy Klobuchar's presidential bid, said Washington "will not come close to covering every health care worker with its first allotment of the vaccine, but a White House that downplayed the virus and held a half-year nationwide super spreader tour gets to cut the line, " calling the WH vaccinations "a final middle finger to the nurses and doctors on the front lines from the Trump administration."
So, will Joe Biden, who has already committed to taking the vaccine on video in the coming days/weeks, now commit to barring his staff from priority access?
* * *
Following Friday's latest record daily tally in the US, the number of new cases pulled back a bit on Saturday (though the 7-day average remained at a record high), while the number of total hospitalizations continued its ascent to new records. According to the COVID Tracking Project, nationwide hospitalizations climbed to a new record: 108,487, with some projecting that number to more than double before the spring arrives, and with it, more of the temperate weather that can help slow the spread of viruses like SARS-CoV-2 and the flu (readers may remember a few months back, Goldman Sachs analysts ran a detailed analysis of temperatures vs. COVID-19 infection data) .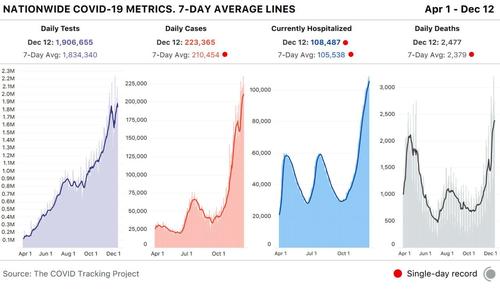 Deaths were just below 2.5K, remaining above the 2K threshold for the 5th straight day (every day since Dec. 8).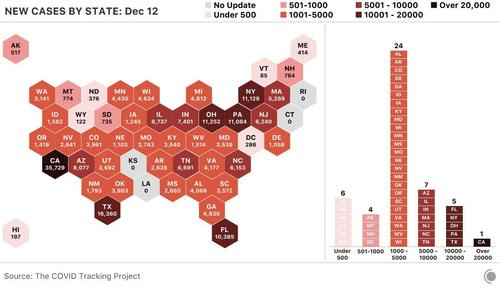 California reported another daily record, as we noted last night. New York has now joined the states with more than 10K new cases for the 4th straight day.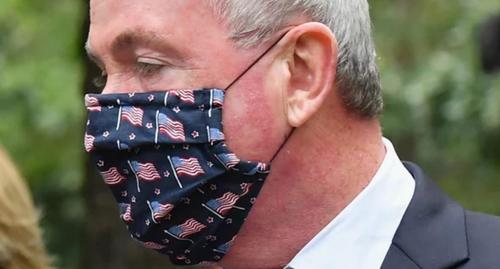 In other news, New Jersey Gov. Phil Murphy offered up his optimistic outlook on the COVID-19 vaccine on Sunday, while still cautioning that the next few weeks are "going to be hell" during an appearance on ABC's "This Week".
New Jersey Gov. Phil Murphy says despite "good news" on a COVID-19 vaccine, "the next number of weeks are going to be hell, I fear, so we're begging with people to please, please, please don't let your guard down even when you're in private settings." https://t.co/8pO0laHwTB pic.twitter.com/mLMnT29Vg0

— This Week (@ThisWeekABC) December 13, 2020
Murphy also noted that Moderna is up for its EUA this week, and that "God willing, they get it," as if the outcome wasn't already virtually preordained. Or that seems to be the perception, anyway.
With the first trucks loaded with vaccines trundling on to their destinations Sunday, Moncef Slaoui (the head of "Operation Warp Speed" is at it again with the increasingly sunny projections, claiming as many as 8 in 10 Americans could be vaccinated by June during an appearance on "Fox News Sunday" (public opinion polls suggest only 50% of the population plans to get a vaccine immediately once they become available). In Europe, the first COVID vaccines will probably be approved in the coming weeks, official said.
Here's some more COVID news from overnight and Sunday morning:
* * *
Finally, the biggest news out of Europe so far on Sunday is Chancellor Angela Merkel's decision to plunge the country back into a full-fledged lockdown, despite growing opposition to another economy wrecking shutdown. Even schools will close, something that European nations have largely tried to avoid.
Germany cancels Christmas: Angela Merkel plunges country into new national lockdown over the festive season in desperate bid to drive down Covid infection rate

— The Gammon Dave to friends (@TheGammon3) December 13, 2020
For now, at least, the lockdown will be short-lived, Under new measures which will last from Dec. 16 until Jan. 10, schools and non-essential shops across the country will be closed, including during the Christmas holiday. Hairdressers, beauty salons and tattoo parlours will also close while drinking alcohol in public will be banned until Jan. 10.