---
N.Korea Showcases New ICBM, Warns Of "Nuke For Nuke, Confrontation For Confrontation"
North Korea held a rare nighttime large parade through the capital Wednesday evening, featuring what many observers believe to be a new solid-fuel intercontinental ballistic missile (ICBM). 
It was also a rarity to see leader Kim Jong Un with wife and young daughter by his side presiding over the parade, which marked the 75th founding anniversary of North Korea's army. State-run Korean Central News Agency (KCNA) touted Pyongyang's ability to stand against enemies "nuke for nuke, confrontation for confrontation!" - according to an official statement.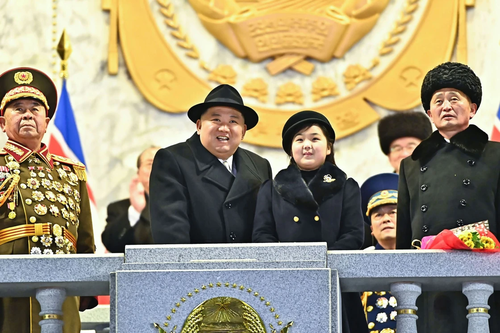 Additionally, KCNA cited that a variety of nuclear-capable weapons were being showcased which will assist the country in bolstering the north's "power-to-power, all-out confrontation" against enemies.
Further international news monitors counted at least 11 Hwasong-17 ICBMs, which is believed to be a record number ever shown at once, given that the prior highest was four Hwasong-17s being paraded at once, in 2020.
Also interesting was the pendant around Ri Sol Ju's neck, the wife of the North Korean leader. The Telegraph describes: 
Kim Jong-un's wife has been spotted wearing a pendant in the shape of North Korea's largest intercontinental ballistic missile ahead of a military parade to flaunt the pariah regime's nuclear firepower. 

The silver pendant was a centerpiece of Ri Sol Ju's accessories on Tuesday night as she smiled serenely at a banquet table while flanked by decorated military chiefs. It appeared to mirror the Hwasong-17 ICBM, which was test-launched last year, and which could be capable of striking the United States.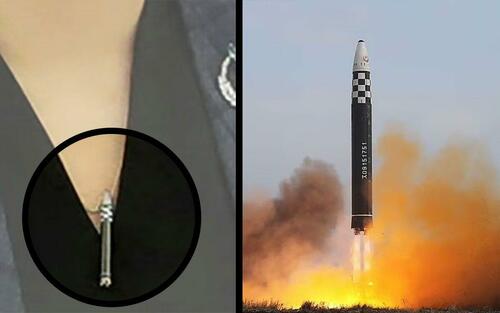 As for the new ICBM, the Associated Press observes that "It was not immediately clear whether the missile was a mockup or an actual rocket."
The report cites Kim Dong-yub, a professor at Seoul's University of North Korean Studies, who said the missile was "likely a version of a solid-fuel ICBM the North has been trying to develop for years."
And professor Dong-yub added that "the unprecedented number of Hwasong-17s paraded in Wednesday's event suggests progress in efforts to mass produce those weapons."
Loading...