---
North American Automakers Shutter Production Amid Canadian Trucker Blockade
We warned days ago that if the Ambassador Bridge that connects Windsor, Ontario, with Detroit, were to remain closed until the end of the week, there would be severe consequences for North America's auto industry. 
As of Thursday morning, automakers including Toyota, Chrysler Pacifica, Ford, and General Motors halted or limited production at their Canada/U.S. manufacturing plants due to Canadian truckers blocking the busiest international land border crossing between the U.S. and Canada over vaccine mandates. 
Ford told AP that it suspended engine production in Windsor while its factory outside Toronto had reduced production.  
"We hope this situation is resolved quickly because it could have a widespread impact on all automakers in the U.S. and Canada," the company said.
Chrysler-maker Stellantis is facing an urgent parts shortage at its assembly plant in Windsor, where it had to cut shifts on Tuesday but resumed some production yesterday, 
Due to part shortages, General Motors reduced output at its Lansing, Michigan, making SUVs for Buick, Chevrolet, and GMC brands. 
Toyota expects to have three manufacturing facilities in Ontario offline for the rest of the week due to part disruptions. The company told Newsweek via email: 
"Due to a number of supply chain, severe weather, and COVID-related challenges, Toyota continues to face shortages affecting production at our North American plants, including Toyota Motor Manufacturing Canada," the company said in its statement. "Our teams are working diligently to minimize the impact on production. While the situation is fluid and changes frequently, we do not anticipate any impact to employment at this time."
Taking a look at Ambassador Bridge's live cam into the U.S. (around 0840 ET) shows no truck and car inbound traffic.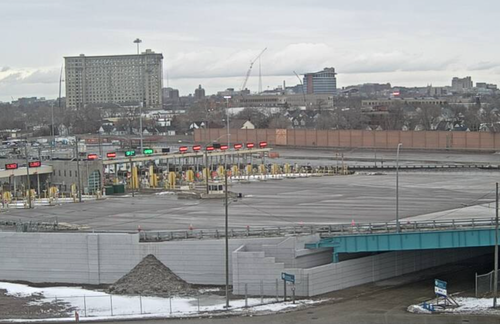 Ambassador Bridge's live cam in Canada is the same.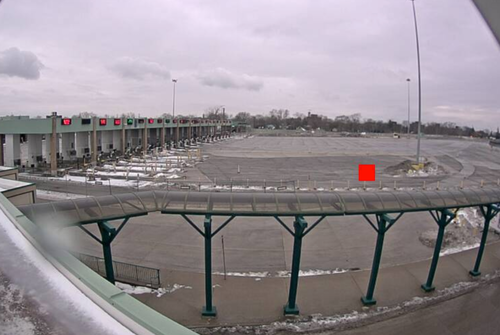 The blockade is so concerning that the Bank of Canada's Governor Tiff Macklem warned Wednesday afternoon that the entire situation is very distressing and could impact the economy.
As Katabella Roberts writes at The Epoch Times, politicians are furious at the growing 'minority' daring to challenge their dominion.
White House spokesperson Jen Psaki also urged protesters to "understand what the impact of this blockage is" and the potential impact it could have on the supply chain.
"We're also looking to track potential disruptions to U.S. agricultural exports from Michigan into Canada," Psaki said in a press briefing.
Meanwhile, Trudeau decried the demonstrations this week, insisting that while "Canadians have the right to protest, to disagree with their government, and to make their voices heard," what they do not have is the right "to blockade our economy, or our democracy, or our fellow citizens' daily lives."
"It has to stop," Trudeau said.
For their part, Organizers of the Freedom Convoy 2022 maintain that Canada's COVID-19 mandates and restrictions, which have been far stricter than those in the United States, are "destroying the foundation of our businesses, industries, and livelihoods."
The vaccine mandate could see 10 to 15 percent, or about 12,000 to 16,000 of truck drivers off the road, estimated the Canadian Trucking Alliance (CTA), which said it does not support and strongly disapproves of the demonstration.
"Small businesses are being destroyed, homes are being destroyed, and people are being mistreated and denied fundamental necessities to survive. It's our duty as Canadians to put an end to this mandate," organizers say.
A recent survey by the Angus Reid Institute found that a majority of Canadians, 54 percent, are in favor of lifting restrictions in the country.