---
North Korea Launches 1st ICBM In Months As Regional Leaders Attend NATO Summit
Just days after threatening to shoot down US spy planes based on allegations over violated airspace, North Korea launched its first intercontinental ballistic missile (ICBM) in months on Wednesday.
Crucially the ICBM had a very long flight, with Japanese Chief Cabinet Secretary Hirokazu Matsuno indicating in a statement it flew for 74 minutes, which is being widely reported as the longest flight time recorded by any weapon launched by Pyongyang. 
Further statements from both Japanese and South Korean officials described a 620 mile flight of the projectile at a maximum altitude of 3,730 miles. It crashed into waters between the Korean peninsula and Japan. The North had tested its last ICBM in April.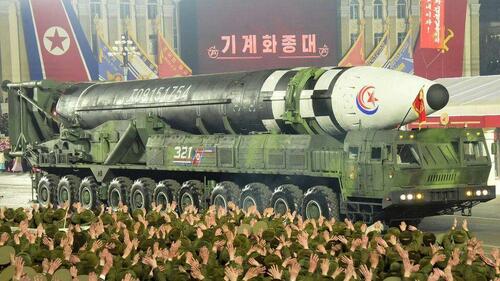 The timing is also notable given that both South Korean President Yoon Suk Yeol and Japanese Prime Minister Fumio Kishida are currently attending the NATO summit in Vilnius, Lithuania. Yoon quickly summoned an emergency meeting of his national security council due to the launch. 
"We strongly condemn North Korea's launch of a long-range ballistic missile as a grave provocative act that harms the peace and stability of the Korean peninsula and the international community and is a clear violation of UN Security Council resolutions," the South Korean Joint Chiefs of Staff said in a follow-up statement. 
This new launch is being widely viewed as a retaliatory response based on the Kim Jong Un government's allegations of the US spy plane incident from the start of the week, as the AP described: 
The powerful sister of North Korean leader Kim Jong Un alleged that the country's warplanes repelled a U.S. spy plane flying over nearby waters Monday and warned of "shocking" consequences if the U.S. continues reconnaissance in the area.

The United States and South Korea dismissed the North's accusations and urged it to refrain from any acts or rhetoric that raises animosities.
"A shocking incident would occur in the long run in the 20-40 kilometer section in which the U.S. spy planes habitually intrude into the sky above the economic water zone" of North Korea, Kim Yo Jong had asserted.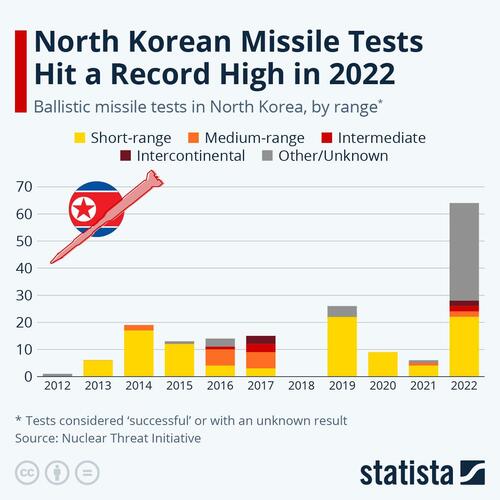 You will find more infographics at Statista
The US acknowledged the reconnaissance flight, but rejected that it violated the north's airspace. The Wall Street Journal cited that "Washington and Seoul didn't specify the exact location of the flight in question. But officials said it had been conducted in accordance with international law, which allows foreign planes to fly into any country's exclusive economic zone, or EEZ. The report noted, "Such areas fall outside a country's territorial boundaries."
Loading...