---
North Korea Is Supplying Russia's Wagner Mercenaries: White House
After months of issuing vague allegations that North Korea is supplying Russian forces with tens of thousands of artillery shells, which both sides have denied, the Biden administration on Thursday is finally out with something specific, saying that Pyongyang has delivered arms to Wagner group.
Wagner is the notorious private military contractor whose founder is said to be close to Vladimir Putin, and dubbed in Western reports as "Putin's chef". Western media has long accused Wagner operatives of committing war crimes in Ukraine, and before that on deployments in Syria.
"Wagner is searching around the world for arms suppliers to support its military operations in Ukraine," White House national security spokesman John Kirby said in a Thursday press briefing. "We can confirm that North Korea has completed an initial arms delivery to Wagner, which paid for that equipment," he added.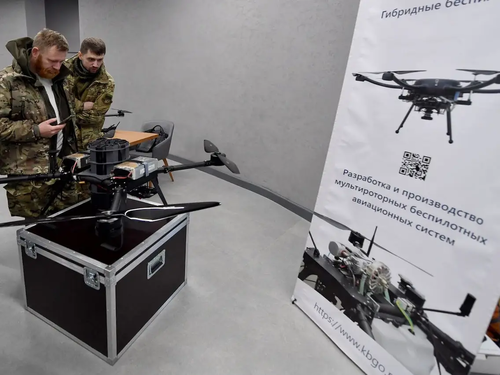 Kirby described the private Russian contractor as competing for power among official Kremlin ministries, acting as a "rival" also to the established defense ministry. A number of reports lately have suggested that Wagner mercenaries have operated with impunity and separate rules of engagement in Ukraine over the last ten months.
"Wagner is emerging as a rival power center to the Russian military and other Russian ministries," Kirby explained, also stating that Wagner is spending over $100 million each month for Ukraine operations.
While European Parliament weeks ago formally slapped a 'terror' label on Wagner, the US is still said to be mulling the action, also vowing to ratchet sanctions on the Putin-connected firm. 
More broadly, the White House has so far resisted calls from more hawkish corners of Congress to label Russia a state sponsor of terror, and is now said to be considering calling Russia an "aggressor state" - however, there's no precedent for this term and it appears entirely made up by the administration in order to appease critics.
As CNN describes, "An aggressor state designation, unlike the label state sponsor of terrorism, is not an official State Department category that would trigger specific US sanctions, and critics say it would be easier for the president to rescind that designation than the state sponsor of terrorism one."
It remains unclear at this point the precise type of weapons alleged to have been supplied to Wagner Group by the North Koreans. The broader Russian military is reportedly running low on artillery, which has been expended in the eastern and southern front lines at a rapid rate. In an official statement Pyongyang later in the evening denied the allegation. 
Loading...