---
North Korea Test Fires New 'Harder-To-Detect' ICBM
After weeks of ratcheted missile tests in response to recent joint US-South Korean military drills, the north has launched another new missile for the first time, being described as a harder-to-detect missile intercontinental ballistic missile (ICBM). 
South Korea's Joint Chiefs of Staff said that it was launched from a high angle (presumably a mountainous region) near the capital and traveled 1,000km before plunging into the water between the Korean peninsula and Japan.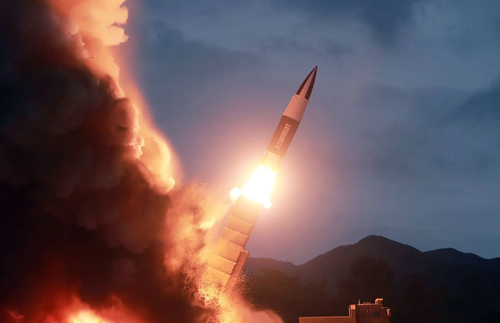 It is believed to be a faster rocket than previous ICBMs tested by the north, given it was "a new type of ballistic missile that might have used solid fuel," according to an official cited in The Hill. 
A Biden administration National Security Council official said the US "strongly condemns" the long-range launch. "This launch is a brazen violation of multiple UN Security Council resolutions and needlessly raises tensions and risks destabilizing the security situation in the region," she the official said. "This action demonstrates that the [Democratic People's Republic of Korea] continues to prioritize its unlawful weapons of mass destruction and ballistic missile programs over the well-being of its people."
But the statement added that "The door has not closed on diplomacy, but Pyongyang must immediately cease its destabilizing actions and instead choose diplomatic engagement."
"The United States will take all necessary measures to ensure the security of the American homeland and Republic of Korea and Japanese allies," the statement added.
Loading...