---
North Korea Touts 'Radioactive Tsunami' Weapon Test At Sea
North Korea claimed Friday to have tested a nuclear-capable underwater drone designed to generate a gigantic "radioactive tsunami" that would destroy naval strike groups and entire ports. Analysts were skeptical that the device presents a major new threat, but the test underlines the North's commitment to raising nuclear threats.
But according to The Associated Press, analysts in the West are deeply skeptical of the claims or that the weapon presents a major new threat, at a moment the Pentagon has expanded its activity on the Korean peninsula.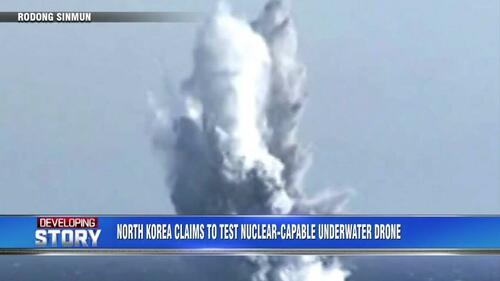 State-run Korean Central News Agency (KCNA) described that the drone is designed to "stealthily infiltrate into operational waters and make a super-scale radioactive tsunami through an underwater explosion" - and that it can either be deployed directly from the coast or towed by ships.
KCNA said that North Korea is responding to this month's joint US-South Korea drills, which it considers a huge provocation. The state media report described an ongoing "nuclear crisis" due to Washington's "intentional, persistent and provocative war drills."
Kim Jong Un has also promised to make his rivals "plunge into despair" if North Korea continues to be threatened. This week the North Korean government launched a major new recruiting drive, hosting events across the country while conducting near daily test launches of projectiles - including a test last Sunday which included a 'mock nuclear warhead' as a warning to Seoul and Washington.
State media described that "youth college students from universities in various places as well as high-end middle school students from all over the country" expressed their determination "to join forces in the fight…"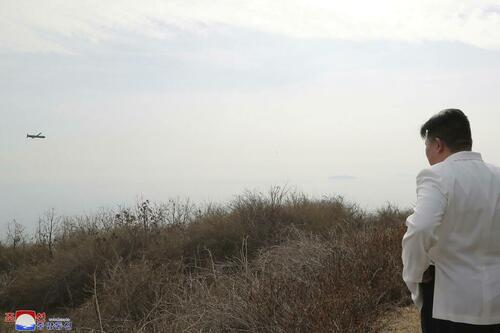 The KCNA report additionally cited citizens' willingness "mercilessly wipe out the war maniacs" - in what's also clearly a propaganda blitz and bit of signaling aimed at the south and at the west. At the same time, Pyongyang is apparently seeking to impress its enemies and the world by rolling out new high-tech weapons.
Loading...