---
North Korea Warns Of Border Intrusions By South's Navy Amid Search For Slain Official
Despite Kim Jong-Un offering a nearly unheard of apology for last week's shooting death of a South Korean fisheries official after he was found to have breached the disputed border in waters of the western coast, tensions are still running high which could set off further conflict. 
North Korea's military says it is searching for the charred remains of the official, after its border patrol soldiers had burned it on coronavirus fears. But now Pyongyang is warning Seoul not to interfere, given the south's increased naval maneuvers in the region off Yeonpyeong Island. It appears both sides are conducting a major search of the area.
"We urge the south side to immediately halt the intrusion across the military demarcation line in the west sea that may lead to escalation of tensions," North Korean state news agency KCNA said on Sunday.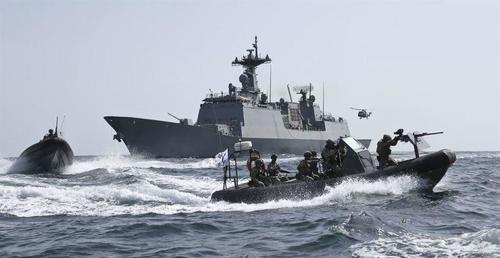 Apparently both sides are searching in order to recover the body on either side of the maritime border, while issuing warnings not to venture across the ambiguously defined demarcation line.
"The South has been searching only in waters south of the Northern Limit Line, a contested sea demarcation between the two Koreas that dates to the end of the 1950-53 Korean War, South Korea's Yonhap news agency said, quoting an unnamed coast guard official," Reuters reports.
And KCNA was cited further:
South Korea has mobilized 39 vessels, including 16 naval ships, and six aircraft for the search, which continued on Sunday despite the North Korean complaints, Yonhap said. North Korea was beginning its own search operation to recover the body, KCNA said.
The whole crisis was sparked when on Thursday the South Korean man had reportedly disappeared from a boat close to the the western border island of Yeonpyeong. He was reportedly set upon by a North Korean patrol vessel while wearing a life jacket. Seoul defense sources told AFP that "circumstances tell us that there was an intent to defect."
That's when the north's border patrol questioned him from the boat, and then shot multiple times, killing the man and afterward burning his body.
Kim Jong-Un later issued an unprecedented message saying that the north was "very sorry" over the "unexpected, unfortunate incident" which was expressed in a letter to South Korean President Moon Jae-in.