---
North Korea's Kim Launches 9th Ballistic Missile This Year While All Eyes On Ukraine
With the entire world's attention focused on Russia and Putin amid the ongoing war in Ukraine, now in the middle of its second week, it seems Kim Jong Un thought it was the perfect time to launch some rockets.
On Saturday North Korea fired a ballistic missile into the sea while expanding weapons testing, according to The Associated Press. "The launch was detected by the South Korean military, and the country's Joint Chiefs of Staff said that the missile flew about 270 kilometers (168 miles) at a maximum altitude of 560 kilometers (348 miles) and landed in the sea between Korea and Japan," the report detailed.
2022 has already been a busy year for Pyongyang, with Saturday's launch marking no less than nine rounds of missile launches, also coming at a moment that denuclearization talks on the peninsula have been completely stalled.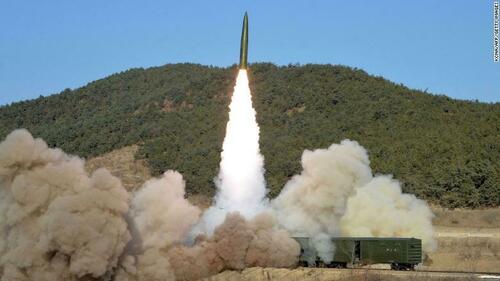 Last Sunday a projectile was launch from the country's Sunan, area, The Hill noted. That prior Sunday launch barely made a blip in global headlines, given international media's seemingly singular focus at that time had been on the shock Russian invasion of Ukraine.
Of that prior launch, some world leaders accused Pyongyang of intentionally using the distraction of the Ukraine crisis to its advantage: 
Japanese Defense Minister Nobuo Kishi called the launch "absolutely unacceptable."

"The missile was fired just as the international community is responding to Russia's invasion of Ukraine, while also in the middle of the Beijing Paralympics," Kishi said.
Rachel Minyoung Lee, a non-resident fellow with the 38 North Program at the Stimson Center, commented a week ago that "A confluence of these events -- the Ukrainian situation, South Korea's leadership transition period between now and the new president's inauguration in May, and the shifting global dynamics involving the U.S., Russia, and China -- make it extremely difficult to come up with and impose a coordinated response to North Korea, even if it were to resume intercontinental ballistic missile test-launches or nuclear tests,"
A natural disaster and North Korea's latest missile launch clouded South Korea's already-tight presidential race https://t.co/RYBpep2Cqk

— Bloomberg (@business) March 5, 2022
"This lays the perfect ground for Pyongyang to test its new weapons and continue to make advancements in its nuclear and missile technology," Lee said further.
Loading...