---
Northern Ireland Violence Worst In Decades; Fears Of "The Troubles" Return 
Sporadic rioting across several cities and towns in Northern Ireland has resulted in at least 70 injured police officers. The violence is some of the worst in decades as governments in Belfast, London, and Dublin have denounced the social unrest, according to BBC.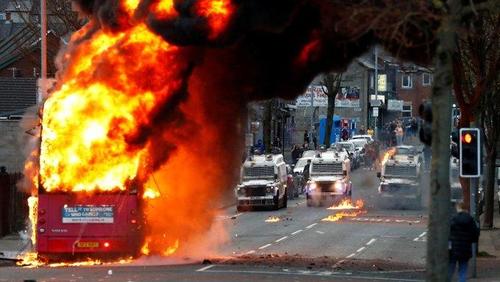 Unrest broke out a week ago amid rising post-Brexit tensions. A more immediate catalyst was a decision a few weeks back by public prosecutors not to charge anyone with alleged breaches of COVID regulations at an IRA funeral that sparked unionist outrage.
The unrest began on Mar. 29 in a small city in Northern Ireland called Londonderry. Since then, protests and rioting have spread to Belfast, Carrickfergus, Ballymena, and Newtownabbey.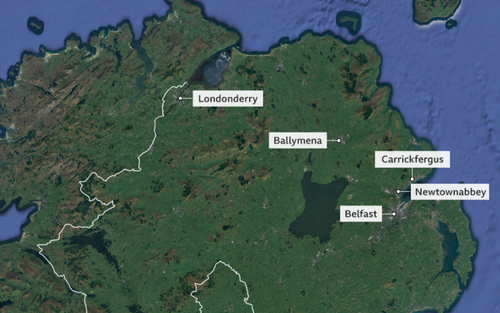 The rioting has mainly been loyalist youths hurling petrol bombs, bricks, and fireworks at police officers and their vehicles. But on Wednesday, the chaos intensified into sectarian fighting over a peace wall in west Belfast that separates Protestant loyalist communities from predominantly Catholic nationalist communities who want unification with Ireland.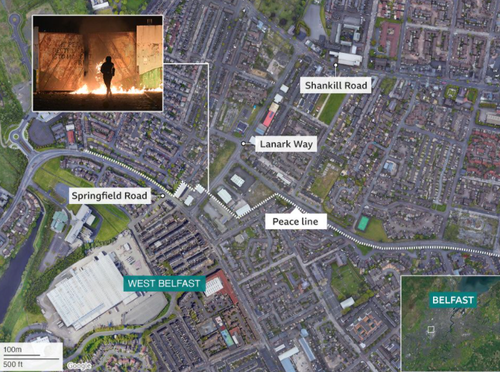 Irish nationalist and pro-British loyalists clashed at the peace wall, igniting fears about the revival of the "The Troubles," a dark period when both sides fought a low-level war against each other late 1960s to the late 1990s. The conflict claimed the lives of nearly 3,600 people as nationalists and unionists fought. At times, the conflict spilled over into the Republic of Ireland, England, and mainland Europe.
"We are gravely concerned by the scenes we have all witnessed on our streets," the compulsory coalition, led by rival pro-Irish Catholic nationalists and pro-British Protestant unionists, wrote in a statement.

"While our political positions are very different on many issues, we are all united in our support for law and order and we collectively state our support for policing," the statement continued.
Northern Ireland's assistant chief constable, Jonathan Roberts, said several hundred people on both sides of the wall were responsible the violence, and he accused outlawed paramilitary groups of inciting it.
"We saw young people participating in serious disorder and committing serious criminal offenses, and they were supported and encouraged, and the actions were orchestrated by adults at certain times," he said.

"Last night was at a scale we haven't seen in Belfast or further afield in Northern Ireland for a number of years," Roberts said.
In a tweet, the Police Federation for Northern Ireland called for calm, saying, "These are scenes we hoped had been confined to history."
Violence on both sides of the interface at Lanark Way now. Calm is needed on BOTH sides of the gates before we are looking at a tragedy. These are scenes we hoped had been confined to history. @NIPolicingBoard @NIOgov @PoliceServiceNI pic.twitter.com/SjtWq10UFo

— Police Federation for Northern Ireland (@PoliceFedforNI) April 7, 2021
Tensions in Northern Ireland have been growing since the United Kingdom voted to leave the European Union, creating a potential trade border between the British-ruled north and the Republican of Ireland in the south. The lack of a trade border has been the main reason why a peace deal has remained in place since 1998. 
Under the Northern Ireland Protocol of the Brexit withdrawal agreement, a trade border was placed around the Irish Sea with goods entering Northern Ireland from mainland Britain subject to European Union checks. This move infuriated unionists, who have accused London of abandoning them.
The British and Irish prime ministers held talks this week, while the Biden administration was concerned about the ongoing violence. 
British Prime Minister Boris Johnson said, "The way to resolve difference is through dialogue, not violence or criminality."
Meanwhile, Ireland's foreign minister, Simon Coveney, has called on local leaders to ease tensions.
As Philip McGowan writes, these protests have not suddenly appeared out of nowhere, but neither are they all about Brexit and the Northern Ireland Protocol. They are the culmination of a complex mix of change and a deep-rooted resistance to it, and an ingrained political and social inertia particular to this place. It's true that some things in Northern Ireland have changed enormously for the better on a day-to-day basis since the signing of the Good Friday Agreement in 1998, but look behind that surface improvement and quickly you will see evidence that other things have not changed that much at all. Meanwhile, our politics has atrophied as it has polarised in the intervening decades.
The point remains, however, that there are huge social issues here that are not being addressed by politicians: 120,000 children are living in poverty in Northern Ireland and more than 40,000 people are on the social housing waiting list – a rise of 10% in the past year. Between 1998 and 2014, more people died by suicide in Northern Ireland than were killed during the Troubles (and of those there were 3,600), and that devastating statistic keeps growing. An endemic lack of social and economic opportunity has been added to the load carried by a new generation, who are the children of the children of the Troubles.
Could things spiral backwards? Yes, if there is a continued absence of political leadership willing to take the forward steps needed to stabilise a volatile situation. Northern Ireland has never needed better political leadership than it does right now. It also needs the UK and Irish governments to accept and adhere to their responsibilities as set out in the Agreement, because the Agreement is the roadmap to resolve Northern Ireland's status as we move away from violence and toward peace. For the Agreement to have been overwhelmingly supported across all of this island (71% in Northern Ireland, 94% in the Republic of Ireland) was a remarkable feat. Stagnation politics since then has nurtured complacency about exactly what was achieved in 1998. Peace is an extraordinarily brittle entity. Democracy is a daily commitment to hearing and addressing the issues in front of us as they arise. It needs constant vigilance and it needs tolerance. It doesn't always produce the desired result, so it also requires compromise. But in terms of the problems that face us, we already have the solution in our hands: we worked it out after decades of pain and loss, but we still need to implement all the Agreement's commitments.
Northern Ireland needs leaders who accept the complexities at play in this new reality: our grave social deprivation and economic disadvantages; our shared peripheral status for decades; and the political inertia that defines our situation. All of this means economic and social problems are not being addressed, which, in turn, plays into the hands of criminal and gang elements happy to keep communities at the mercy of irresponsible and divisive forces who, I'm afraid, haven't gone away.