---
Now The US & Russia Are Holding Massive Rival Military Drills In Middle East
On top of the rival troop build-up between Russia and US-NATO forces in Eastern Europe over Ukraine, both sides are set to hold massive rival war drills further south in the Mediterranean and Middle East areas. 
Though largely under-reported given the prominence of Ukraine headlines this week, the US Navy is currently holding what's being called possibly the largest maritime exercise in history. A whopping 60 nations are participating across a huge expanse. Bloomberg detailed early this week: "Running through Feb. 17, the drills will cover waters off the Middle East, Southwest Asia, and East Africa. Known as both Cutlass Express 2022 and International Maritime Exercise 2022 — or IMX-CE22 — the war games will encompass nearly 10,000 personnel, 50 warships, and 80 unmanned systems."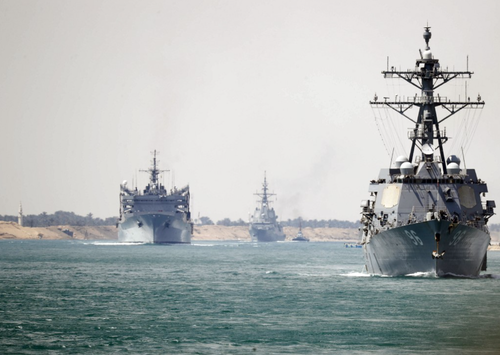 The multinational drills will also have an aerial component that includes drones, while there will also be unmanned experimental vehicles on the ground and in the sea. 
It's clear the huge exercises are focused on Iran at a time the Islamic Republic has gained more direct support from both China and Russia, both of which in the last two months have held joint exercises with Iran in regional Mideast waters.
"As Iran becomes emboldened by its growing relationship with China and Russia, its aggression in the congested waters of the Gulf and the Indian Ocean will likely increase," Bloomberg wrote . "Thus one goal of Cutlass Express is to tamp down Iranian adventurism at sea."
At the same time, on Tuesday Russia also continues flexing, this time in the Mediterranean and in Syria: "Russia has deployed MiG-31K fighter jets with hypersonic Kinzhal missiles and long-range Tupolev Tu-22M strategic bombers to its air base in Syria for naval exercises, Interfax news agency reported on Tuesday, citing the defense ministry," Reuters writes.
"The aircraft dispatched to Russia's Hmeimim air base will take part in exercises in the eastern Mediterranean, part of a surge of Russian military activity amid a standoff with the West over Ukraine and security in Europe," the report details. 
As part of continued Russian 'messaging' and flexing - no less that the head of Russia's armed forces, defense minister Gen. Sergei Shoigu was present off Syria's coast to inspect preparations for Russian military exercises on Tuesday...
"Russian Defence Minister, Army General Sergei Shoigu, inspected the exercises of the Russian Navy in the eastern Mediterranean Sea, conducted as part of a series of naval exercises in operationally important areas of the World Ocean, as well as in the waters of the seas adjacent to Russia," the defense ministry was cited as saying. 
Loading...