---
Nuland Warns Russia May Seize Ukraine Biolabs, Could Stage False Flag Using Bioweapons
On Tuesday morning, Bloomberg reported that China had accused the US military of operating "dangerous" biolabs in Ukraine - which "echoed a Russian conspiracy theory that Western officials warned could be part of an effort to retroactively justify President Vladimir Putin's invasion."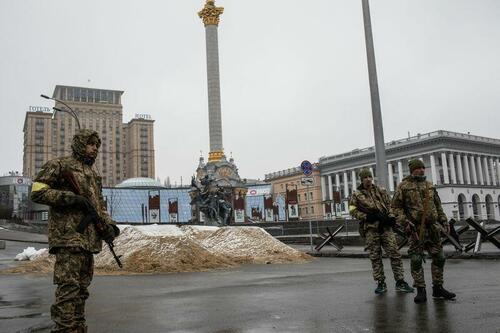 "U.S. biolabs in Ukraine have indeed attracted much attention recently," said Chinese Foreign Ministry spokesman Zhao Lijian in response to a question from a local reporter - adding that "all dangerous pathogens in Ukraine must be stored in these labs and all research activities are led by the U.S. side."
Zhao called on "relevant sides to ensure the safety of these labs" and said that "the U.S., as the party that knows the labs the best, should disclose specific information as soon as possible, including which viruses are stored and what research has been conducted."
According to the report, these claims 'mirror the diversion tactics China's diplomats used last year when questioned about the origins of Covid-19'.
"China demands answers from US for '26 biolabs in Ukraine'" https://t.co/8uxZJmmlSB pic.twitter.com/ywcLIPDGHQ

— Bata Milojevic (@Bata_Milojevic) March 8, 2022
Meanwhile, Britain's Defense Ministry tweeted on Tuesday that it had noticed an uptick in allegations by Russia that Ukraine has, or is working on, biological or nuclear weapons.
"These narratives are long standing but are currently likely being amplified as part of a retrospective justification for Russia's invasion of Ukraine," it added.
RUSSIA PUBLISHES DOCUMENTS ALLEGING UKRAINE AND US WERE WORKING ON ANTHRAX AND PLAGUE IN BIOLABS https://t.co/OpoY2PJnQj

— The_Real_Fly (@The_Real_Fly) March 8, 2022
The labs exist
Hours later, US Undersecretary of State Victoria Nuland told Sen. Marco Rubio during a hearing that the labs do indeed exist, and must be protected from Russia - which, as Rubio suggested - may stage a biological or chemical false flag attack that they blame on Ukraine.
"Ukraine has biological research facilities, which, in fact, we are now quite concerned Russian troops, Russian forces may be seeking to gain control of. So we are working with the Ukrainians on how they can prevent any of those research materials from falling into the hands of Russian forces should they approach."
Rubio responded - "I'm sure you're aware that the Russian propaganda groups are already putting out there all kinds of information about how they've uncovered a plot by the Ukrainians to release biological weapons in the country and with NATO's coordination. If there's a biological or chemical weapon incident or attack inside of Ukraine, is there any doubt in your mind that 100% it would be the Russians that would be behind it?"
To which Nuland replied: "There is no doubt in my mind Senator, and it is classic Russian technique to blame on the other guy what they're planning to do themselves."
Watch: