---
Opening For US Troop Exit? NATO Heeds Trump's Call To Expand In Iraq
At a NATO defense meeting in Brussels this week, the alliance's Secretary General Jens Stoltenberg announced to reporters: "Allied ministers had reaffirmed their support to Iraq and agreed in principle to enhance NATO's training mission."
However, there appears to have been little to no consultation with Baghdad over the Western military alliance "enhancing" its mission inside the country (or less delicately stated, expanding appears to be the reality). Pressed on this point, Stoltenberg said:
"NATO is in Iraq on the invitation of the Iraqi Government, and we will only stay in Iraq as long as we are welcome. Because NATO fully respects Iraq's sovereignty and territorial integrity."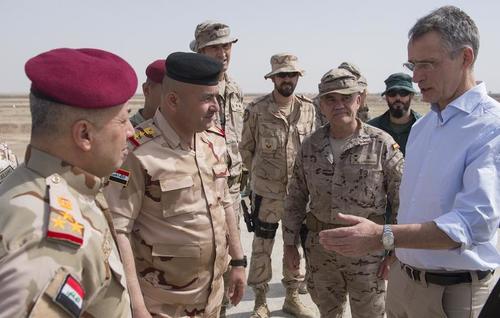 That question of "welcome" is anything but certain, after in January Iraq's parliament held a decisive early vote in favor of ousting all foreign troops, followed by weeks of popular protests and unrest which at one point saw hundreds of thousands — or as some reports said up to one million Iraqis — in the streets demanding that the US coalition get out. 
Stoltenberg further asserted that, "Everything we do will be in close consultation and coordination with the Iraqi government."
"We are already in Iraq today and we are in consultation on the possibility of scaling up and doing more… all allies supported the decision to do more in Iraq," he added. "In the first instance, this will consist of taking on some of the global coalition's current training activities."
He said: "Ministers also agreed to explore what more we can do beyond this first step."
This does appear the crafting of an 'alternative' option for Baghdad: as opposed to the deeply unpopular beefy American presence of over 5,000 soldiers, the smaller Canadian-led mission of some 500 NATO troops which initiated their mission to train and advise Iraqis in 2018 could be a compromise alleviating the West's "security concerns" about either Iranian expansion or an ISIS resurgence. 
The White House itself could then be given political breathing space to finally leave, given that in January President Trump called on the NATO alliance to "become more involved in the Middle East".
In his Wednesday statements to reporters, Stoltenberg speculated that a mere "couple hundred" soldiers could be added to the existing mission — though again it's as yet unclear what Iraq's leaders and the people themselves think about this.